Do you want to work as a teacher in the USA? If so, you need to know all about the application process of going there. Most teachers wanting to teach in the US seek the help of an agency to do so. While this requires you to spend a lot of money, going through an agency helps make the whole application process smooth and secure. They even assist you in finding a teaching job in the US.
Also Read: How to Apply as a Nurse in the USA
Fortunately, there are many resources online, including YouTube videos, that teach you how to apply as a teacher in the USA through an agency. One such video is featured in this article, and it comes from an OFW teacher working in a school district in Arkansas. Read on to find out more about this topic.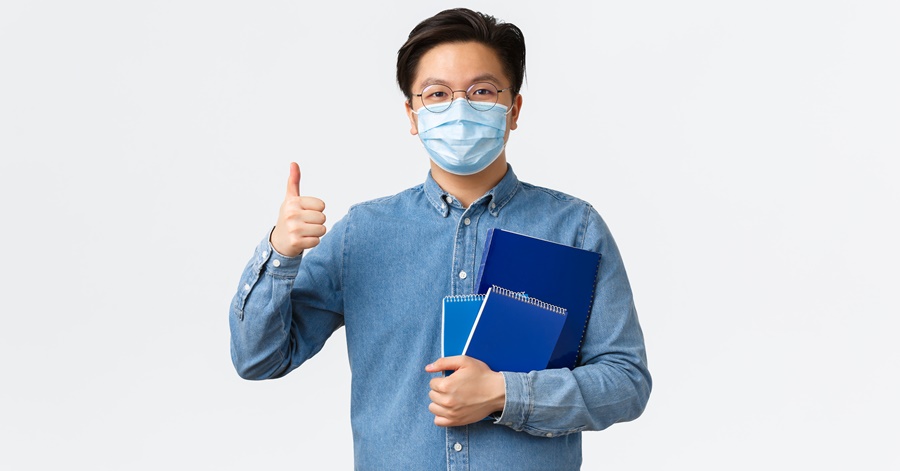 Disclaimer: The information posted here is based on the personal experiences shared by the OFW in the video below. Please let this post serve as a guide only. If you have specific questions, you may ask the OFW by commenting on their video on their accounts.
As mentioned above, the information presented below is based on the YouTube video by an OFW teacher working in the USA. Her YouTube channel is called justme.ruby, and if you are interested to watch the full video, just click on the link below. Also check out her other videos from her YouTube channel.
The vlogger created a video that highlights applying to the US as a teacher through an agency. But she went further than that and actually advertised a certain agency in the Philippines that she said was really good and was easy to work with.
She asked permission from her agency to name-drop so that she can share it in her vlog. This is for her audience because it is a popular request among her YouTube viewers.
The video is not sponsored, she really just wanted to mention her agency. Also, we can learn from this video by knowing what constitutes a great agency.
Agency
From the video, what can we learn about what makes an agency great? Here are some of them:
The agency is approved and recognized by the POEA (Philippines Overseas Employment Agency)
The agency has a reputation for successfully sending lots of applicants to their destination.
The agency has hard-working, friendly, and diligent staff
Know about what fees you need to pay the agency and then decide from there.
The agency doesn't ask for huge payments unless they are certain you are already hired.
The agency is tied up with other agencies abroad and other offices like medical clinics, etc.
The agency prompts you to do your part and keeps everything organized.
The vlogger is proud to say that she came from Success International Placement Incorporated. It is a well-renowned agency, and it is more commonly known as "Success". It is located in Bangkal, Makati, and you can just go to the POEA website for more information about the agency, including their license number which shows that agency is truly legitimate.
Finding the Agency
The vlogger mentioned that she was able to contact lots of agencies, but the thing about her eventual agency is that they were the ones who provided clarity to her in terms of direction.
So how did she know about this agency? This is an important question since it may also allow you to think about using the same tactic or opening up similar doors of opportunity when you start finding agencies for your own.
In the vlogger's case, she said she has a co-teacher that was neighbors to another public school teacher who applied to work as a teacher in the USA. Now, the processing was quick due to Success. They were impressed, so they asked that teacher for the address of the agency.
Right away, they went to Makati, to the actual office of the agency. They asked questions and inquire about the process. They were then given a schedule for orientation, then they attended the orientation to learn more about the process.
They then asked them about the first step of the process. This is where it all started. Success is only based in the Philippines. However, they have a counterpart agency in the USA. That counterpart agency is responsible for looking for sponsors for teacher applicants to the USA.
The vlogger mentioned that she still can't share the name of the counterpart agency, since she hasn't asked for permission yet.
Steps for Applying as a Teacher in the USA
From the video, we can learn the following steps to apply as a teacher through an Agency:
Go to the agency's main office
Process credential evaluation
Wait for approval at a school district
Getting hired
The interview process
Pay the expenses
1. Go to an agency – make sure this agency is recognized by the POEA. Aside from the above-mentioned guide regarding what makes a good agency, you also need to know the following:
You need to be sure that you read any document that you are signing.
If you have any questions at all, feel free to ask the agency.
Make sure that you have access to your passport.
2. Process credential evaluation – this includes all your transcript of records (TOR), for your college, master's or doctorate. Collate all of them and give them to the agency. The agency will then send those documents to the USA so they can be evaluated. The grades in the USA are letters, while in the Philippines it is numbered, so there will be a conversion.
3. Wait patiently – it takes around 1 month or 3-4 weeks of processing. After which, they will then return it to the agency. All of this is not free, though. You will be paying 360 to 400 USD. During her time, the vlogger mentioned that she paid more than 19,000 pesos.
4. School district – Once the agency receives your credential evaluation, they will now look for a school district. The agency will call their counterpart agency in the USA, then forward your credential evaluations and application to them. The USA agency will then contact school districts. They will tell these school districts that they have an applicant from the Philippines.
5. Getting hired – after the school district evaluates your resume and credential evaluations, and if they are interested in you, they will then contact the agency in the USA. They will tell them that they would like to set an interview with this teacher. The agency will then contact the agency in the Philippines, which will then contact you, and then you will have an interview.
6. Interview – you have to do well in the interview. You have to show them that you really want the job and that you are highly qualified. You have to be confident that you can answer all questions.
7. Getting an offer letter – once you pass the interview, there will be an offer for you regarding a job. In other words, you will get an offer letter. From here on out, all other expenses will start appearing. The expenses are not the same for all teachers since it really depends on a lot of factors, including the sponsor.
8. Expenses – In a previous vlog which you can access through her YouTube channel, she said that she spent as much as 500,000 PHP, including her pocket money going to the USA.
Agency Payment
You have to pay a service fee for the agency. This is for the fact that they worked for you; they processed your papers and documents so that it is less hassle for you. In Success agency, she paid 1500 USD, which is around 75,000 Philippine Pesos. That's kind of high, but the good thing is that the agency did not ask for the payment right away. In fact, they only asked for the service money when it was already confirmed that they were already departing for the USA.
So that's the great thing about her agency; they will only ask you to pay for the huge sum once they know you are one hundred percent hired. The vlogger mentioned that she is not sure if that is the same for other agencies as well.
Here is a summary of the expenses at the agency so far:
Credentials evaluation – around 20,000 pesos
Service fee – around 75,000 pesos (paid when you are ready to go)
Medical fee – around 5,000 pesos. The agency has a partner clinic and the vlogger decided to have her medical examination there.
She also mentioned that some of her other expenses were not related to the agency. These include the following:
TOEFL exam
TOEFL review
Embassy payment – when you are being scheduled for an interview with the embassy, you have to pay for that as well. You pay around 8,000 pesos through BPI
SEVIS fee – this amounts to 220 USD or around 11,000 pesos. You pay this using a credit card. It doesn't have to be your own credit card, after all, you will be indicating your name while you are paying. They will send you an email for confirmation that you already paid your SEVIS.
Having said all of these, it is important to note that payments are not the same. These really depend on the sponsor that the agency got for you.
Legitimacy of the Agency
Many people are asking the vlogger if Success is legitimate. She responded that it is truly legitimate for many reasons. One is that it has sent many teachers to the USA to work, including the vlogger of course.
She mentioned that the great thing about the agency is that they are very easy and smooth to talk to. The staff is very hardworking as well and they are happy to assist you and many other teachers who wish to go to the USA as well.
Through her agency, the process is really quick, but at the same time, you need to do your part as well. For example, if the agency asks you to take the TOEFL exam, then you have to comply as soon as possible if you want to start working in the USA as soon as you want.
When it comes to the TOEFL exam, some states require it but others don't. In the case of the vlogger, she is currently teaching at Arkansas, and she was required to have the TOEFL exam. Not only that, she was asked to target a specific grade or score so that the state's Department of Education can consider you.
So what if you really want to work in the USA but you don't have the money? Well, you can always borrow from lending firms. However, just take note that most of these lending firms will not allow you to borrow from them unless you are hired. Often it's enough to show the offer letter and the contract you signed as proof that you are able to pay them during the deadline.
That's why you need to process your application immediately and really do what the agency tells you to do as soon as possible. Help yourself and don't rely on the agency for everything.
When to Process the Application
To this question, the vlogger mentioned that you need to process as early as possible and that the earlier the better. The real question here is, when are you planning to work as a teacher in the USA?
For example, if your target is to be able to teach in the USA for the school year 2021 to 2022, then you should have processed last year, around November and December at least. You should have gone to the agency by then, submitting a letter of interest or application letter.
Usually in the USA, schools start by August. It's probably best to plan at least a year ahead so that you don't have to be too stressed out cramming every requirement and scrambling to meet deadlines.
There you have it. The process of applying as a teacher in the USA is quite lengthy and tedious, but if you make it, the rewards more than makeup for your hard work. After all, the US has some of the best schools in the world, with some of the best facilities and teachers you'd definitely want to work with.