Are you having an unfair working environment due to the pandemic? Do you need advice on how to handle this issue or even just want to know how to get help? Fret not. You're most likely not the only one. At least not during extraordinary times. But what can you do? Is this what the law allows for under these difficult circumstances? These questions are worth asking. And you can direct them to the appropriate authorities accordingly.
If this sounds good to you, did you know that workers and employers in Metro Manila can now use the DOLE-NCR e-Filing services to file labor-related queries? Isn't that great news? Keep reading below to learn more.
Here's How To File A Labor-Related Inquiry Online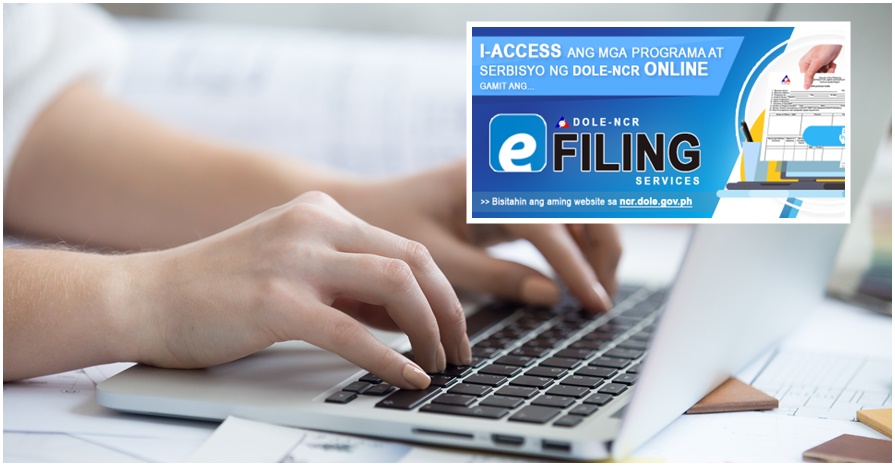 The Department of Labor and Employment's e-filing system was launched in June 2020 following the nationwide shutdown. It allowed workers and employers to file their payroll electronically and communicate with the agency's NCR office, despite the restrictions on their movements and the lack of public transit.
What's the DOLE E-Filing Services?
The DOLE-NCR electronic filing, or e-Filing Services,  is a free online service that allows users to complete various tasks related to the Department of Labor (DOLE). This includes filling out various forms and submitting reports.
Through the e-Filing Services, you can easily file an inquiry without any charge. You can also do various transactions through the portal, such as:
Fill out forms
Submit applications or monitor reports
Request permits and certifications
Submit other DOLE-related documents
How to use the e-filing system:
To get started, here are the steps you need to do:
Access the system at https://ncr.dole.gov.ph or https://tinyurl.com/dolencr-efiling on the DOLE-official NCR's website.
You can choose from 11 different e-Filing Services once you've logged in:
Annual Medical Report
Application for DOLE Clearance (Certificate of No Pending Case on Child Labor)
Application for DOLE Clearance (Certificate of No Pending Case)
Construction Safety and Health Program Application (comprehensive)
Construction Safety and Health Program Application (simplified)
Registration of Establishment under Rule 1020
Registration of Job, Service Contractor, Subcontractor (D.O. 174-17)
Report of Safety Organization
Request for assistance
Request for Certificate of Involuntary Separation for SSS
Request for Technical Safety Inspection
Because the online form is a Google document, you'll need a Gmail account to use it.
You can contact DOLE using the following methods: email, phone, or cell phone. To ensure that you're receiving accurate and up-to-date information, make sure that you include all of the necessary details.
Important Reminders
You may submit your online applications and inquiries anytime, but the DOLE only accepts these during the hours of 8 AM to 5 PM.
For grave labor cases that require thorough review and discussions, it is usually necessary to call a DOLE office or hotline.
VIDEO: DOLE-NCR E-Filing Service – What You Need to Know
Here's an instructional video, providing an overview of the DOLE-NCR's e-filing services. If you would like to know more about the program, you can find all the basic information outlined in this guide echoed in the video. Plus, you will see the step-by-step guide on how to register on the system and file a labor-related inquiry to DOLE.
Final Thoughts
Despite the extraordinary circumstances, we're all in, it's important that we can still differentiate what is ideal from what is acceptable and what is illegal – especially in the area of employment or worker rights.  With this in mind, it's crucial that we understand where to seek help or know more about our options when it comes to employment and labor laws. This is what the DOLE-NCR e-filing service aims to provide a solution to. By taking note of all the points mentioned in this guide, you can have the first step to finding a way to deal with your situation at work.
READ NEXT: Lost Your Job due to the Pandemic? Apply for SSS Unemployment Benefit Online