Opening an EastWest Bank savings account is easy and convenient, and it offers a number of benefits. For starters, you can use EastWest Bank's online banking platform to manage your account and transfer funds. Plus, you'll earn interest on your deposited funds, which can help you grow your savings over time. And if you ever need to access your money, you can do so quickly and easily through an EastWest Bank ATM. So why not open a savings account with EastWest Bank today?
Also Read: How to Apply for EastWest Bank OFW Loan
To open a savings account with EastWest Bank, you will only need to provide a few pieces of identification, and once the account is open, you can access it either online or through a mobile app. Additionally, customers of EastWest Bank can take use of a variety of features and benefits, including a high-interest rate, the absence of a monthly maintenance cost, and a complimentary ATM card. Reading the rest of this tutorial will provide you with additional information on how to establish a savings account.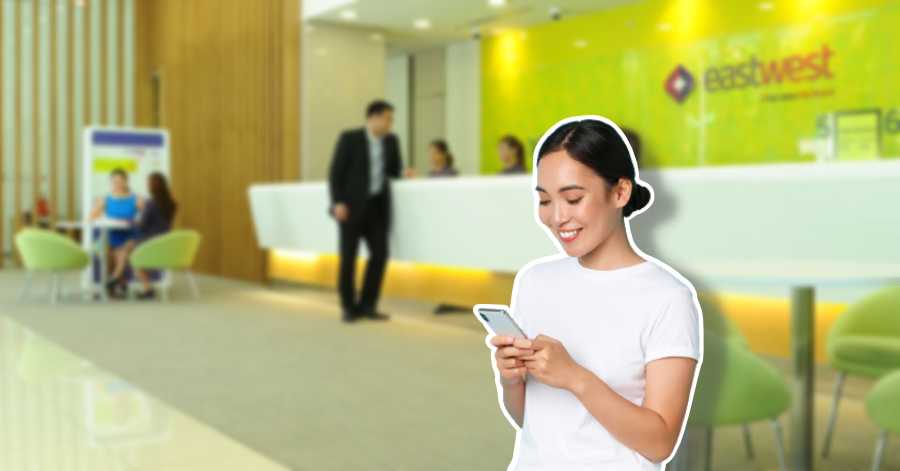 Opening an Eastwest Bank Savings Account
EastWest Bank is one of the leading banks in the Philippines. It offers a wide range of products and services to its clients, including savings accounts. Opening an EastWest Bank savings account is easy and convenient, and can be done in a few simple steps. You can open an account online in a few simple steps, or you can visit a branch near you. Either way, you'll need to provide some basic information and choose a deposit amount. Once your account is open, you can start saving money right away!
Why Bank with Eastwest?
The Right Products For You: Start saving with easy to manage deposit products that match your needs.
Competitive Interest Rates: Enjoy competitive interest rates when you bank with them.​
Convenient and Secure Access to Your Funds: Easily transact anytime, anywhere via EastWest Online and Mobile, and in over 1.8 million ATMs in the Philippines and abroad with the EastWest Visa Debit Card.
What are the various EastWest Bank Deposit Products (Savings)?
Basic Savings (Initial Investment: PHP 100.00) is EastWest Bank's most affordable interest-earning savings account, with an extremely low initial deposit and maintaining balance requirement. It includes a debit card that can be used for in-person transactions at any EastWest Bank branch, ATM withdrawals, EastWest Bank online services, and Visa-accredited merchants globally.
Kiddie Savings (Initial Deposit: PHP 2,000.00) is another peso-savings deposit account that earns interest for children who benefit from early financial management instruction. It includes a passbook and allows for over-the-counter transactions as well as fund access through the EastWest Bank online facility.
Passbook Savings Account (Initial Deposit: PHP 5,000.00) is a good option for conservative depositors who want to keep track of everyday transactions and have a history record on hand. It allows deposits and withdrawals at any EastWest Bank servicing branch at any time, as well as fund access through the EastWest Bank online facility.
Passbook Savings with Debit Card (Initial Deposit: PHP 10,000.00) includes a classic passbook as well as a Visa debit card that can be used to secure documented transactions while enjoying the conveniences and convenience of today's banking system.
Regular Savings with Debit Card (Initial Deposit: PHP 2,000.00) is a savings account that earns interest and comes with a debit card that can be used to make over-the-counter transactions, local ATMs and Visa Plus ATMs worldwide withdrawals, and online and offline purchases with EastWest Online Visa-accredited and Visa-accepting online merchants.
Super Saver (Initial Deposit: PHP 500,000.00) is a high-end EastWest Bank savings account with tiered interest rates that pays interest in greater amounts as the account balance grows.
Note: All EastWest Bank deposit products receive variable rates of interest. You can inquire about additional deposit products and current interest rates at the local service branch.
Features and Benefits of an EastWest Bank Savings Account
Your specific requirements can be accommodated by EastWest Bank's wide selection of savings accounts. EastWest Bank can accommodate your needs regardless of whether you want a simple account with no extra perks or a more advanced account with specialised features. In addition, each of our savings accounts comes with access to the internet around the clock as well as excellent interest rates. Take a look below for an in-depth discussion of some of the characteristics and advantages of our savings accounts:
A relatively high rate of interest
There are no fees charged on a monthly basis.
Free use of an ATM card
Interest rates that are competitive across the board for all accounts
online access around the clock and a mobile app to make account administration simple
insured by the FDIC up to a maximum of $250,000
Who are Eligible to Apply for an Eastwest Savings Bank?
The Eastwest Bank Savings Account is offered to all persons, regardless of whether or not they are currently banking with the institution. It is one of the most convenient bank accounts that can be opened because there is no requirement for an initial deposit and there is no requirement for a maintenance balance. In addition, you will receive a free ATM card with this account, which can be used at any EastWest Bank ATM in the country. Because the interest earned in this account is larger than the interest earned at most other banks, it is an excellent alternative for individuals who are interested in growing their savings.
What are the Requirements for Opening an EastWest Bank Savings Account?
The following are the minimal documentary requirements for opening an EastWest Bank savings account (requirements may change depending on deposit accounts and selected service branches):
2 pieces 1×1 (or 2×2) latest ID pictures
Tax Identification Number (TIN and other information, for completing forms)
Original and clear copy of at least one (1) valid photo-bearing identification document issued by an official authority (or better bring all available IDs)
Required initial deposit
Proof of Billing
How to open an EastWest Bank savings account
Opening an EastWest Bank savings account is a simple process that can be completed in just a few minutes. There are a few things you will need to have on hand to open the account, including your personal information, a valid ID, and your initial deposit. The process is quick and easy, and you can start earning interest on your savings right away.
Online
For New Deposit Customers:
Download and fill out the account opening form here.
Email the completed form and requirements here.
Visit your preferred store upon receipt of email confirmation to claim your EastWest Visa Debit Card and/or passbook.
For existing deposit customers, you may request a callback here.
In-person
Opening savings and other deposit accounts, along with requirements, can be almost the same across all banks in the Philippines. The process usually involves a few forms, ID cards, and other requirements, as well as personal information that can be checked.
1. Get Entertained at the New Account Section.
As soon as you reach the bank, tell the welcoming guard that you wish to open a savings account. Your transaction will be accommodated in the New Account Section. Your attending bank clerk will brief you about available deposit products (or applicable savings accounts) and the bank rules and regulations in handling deposit accounts.
2. Fill Out Account Opening Forms.
After deciding on a deposit product, you will be asked to accomplish a few forms required upon opening a new bank account. Fill them out with accurate details and try to write legibly. At any EastWest Bank branch, the following are the required forms:
Customer Record Form
Signature Cards
Application for ATM Card/Debit Card (if applicable)
Authorization to Debit (if initial deposit in debited to another account)
Deposit Slip (for the initial deposit required)
3. Present Your Documentary Requirements.
Give the bank clerk the paperwork you have ready to open an account (Check EastWest Bank Account Opening Requirements listed above). Before you leave the bank, don't forget to double-check that the IDs you gave them are back in your hands.
4. Make Your Initial Deposit and Claim Your Passbook (if applicable).
After filling out all the forms and sending in your requirements, you'll be asked to pay the initial deposit. (See the above list of EastWest Bank Deposit Products). For example, the EastWest Bank Passbook Savings with Debit Card needs the first deposit of PHP 10,000.00. Most branches let you get your passbook right away after you make a deposit.
5. Come Back After a Week for Your ATM Card/Debit Card (if applicable).
If you chose an account with a debit or ATM card, you'll be told to come back in a week to get it. Don't forget to ask for the branch's phone number so you can call them before you try to claim it. As soon as you get your ATM/Debit card, change your PIN at the bank machine. Keep in mind that there are not as many EastWest Bank branches as there are at other commercial and universal banks.
Frequently Asked Questions
1. What is the initial deposit of EastWest basic savings account?
Maintaining the Balance Balance in Order to Earn Interest EastWest Passbook Savings Account P100 P100 EastWest Basic Savings P100 P100 EastWest Kiddie Savings P2,000 P2,000.
2. What is the EastWest savings with debit card offer?
This promotion is only offered to new-to-bank individuals with personal banking accounts. Open an EastWest Regular Savings Debit Card and receive a FREE EastWest Visa Prepaid Card to enjoy worry-free shopping!
3. How much balance to earn interest in EastWest?
Interest Earning Balance EastWest Fundamental Savings P100 P100 P100 EastWest Children's Savings EastWest Passbook Savings Account P2,000 P2,000 P5,000 P5,000 EastWest Passbook Savings w/ Debit Card P10,000 P10,000 EastWest Debit Card Regular Savings P2,000 P2,000 EastWest Super Saver (****10,000,000+) P500,000.00.
Tips on Opening an EastWest Bank Savings Account Online:
1. Research about your Account Type
Before you open your first bank account, educate yourself on the various types of accounts available. Do you want to open a checking or savings account? Maybe you'd like a little bit of everything! Whatever account you choose, make sure to enquire about the benefits and drawbacks of the other options. The law requires you to gather information about your financial situation.
2. Learn how to keep your account up to date.
Deposit policies are in place at several banks. You may not have direct access to funds for a few days while the deposit is being processed. This is something you should investigate more! A "minimum balance" requirement is another type of restriction that many banks use. If your account balance goes below that level, you may be fined or have your debit card or ATM access blocked.
3. Inquire about the bank's fees
Here are some things to consider before opening a bank account. Some banks have hidden fees that are not immediately obvious. ATM fees, bank fees, overdraft fees, fees for keeping a minimum balance, fees for keeping a minimum usage or activity, and monthly or annual account fees are just a few examples. Make sure you're familiar with these costs so you're not caught off guard when you get your bill.
4. Don't settle for the first bank you come across when opening an account.
You should not feel forced to open your first bank account with the first bank that comes to mind. You should go to a few different banks. By walking around different banks, you can obtain information from each one. Investigate the financial institution that a member of your family, a close friend, or an acquaintance has used for some time. If the bank discovers that you were referred by a long-term customer, they will almost probably extend further incentives to you.
5. Look for digital platforms
Online banking is one of the most useful technologies accessible today. The vast majority of financial institutions will provide it, but a minority may not. Make it a point to inquire about this instrument as soon as possible. Bill payment and the ability to transfer funds between accounts are just two of the many useful features that come standard with internet banking. When dealing with hectic days and packed schedules, the option to handle one's banking online can be extremely beneficial. Gain control of your finances even if you are unable to visit the bank on a daily basis.
6. Weigh the Benefits
Here are some pointers to assist you in opening your first bank account. Make it a point to inquire about a financial institution's benefits. Some financial institutions provide free checking and savings accounts, as well as reduced costs for using ATMs and debit cards, free checks, and paperless billing. Before you commit, find out what the bank you want to work with has to offer!
7. Take charge of your account
Having no control over a bank account is one of the most aggravating financial scenarios imaginable. Keep in mind that you are expected to take on responsibility as a young adult. Doing the math will teach you how to balance your chequebook. Bring your cash register and, if you have one, and up-to-date debit card. Maintain complete control over, and constant awareness of, the amount of money in your account.
Video: How to Open an EastWest Bank Savings Account Online
Here's a quick video walkthrough of how to open an Eastwest Bank savings account online. This process is straightforward and convenient for everyone, especially for overseas Filipino employees who want to save money for themselves and their families. The video also discusses the many types of savings accounts available. Hopefully, this has shed more light on what you can expect from this savings account and how to make the most of its features and benefits.
Summary
Opening an EastWest Bank savings account is easy and fast, and it comes with numerous benefits. Opening an EastWest Bank savings account is simple, and you may access your account online or via a mobile app. EastWest Bank also provides other advantages and perks, including a high-interest rate, no monthly maintenance cost, and a free ATM card.
When you search for the best savings account, always start by looking in the right places. While banks that are closer to your home may seem like a good bet, if they don't have the best interest rates then they probably won't be in your best interest. Of course, you need to compare all of your options to ensure that you are getting the best possible deal. Check out this article to learn more about what interest rates to look for in different types of savings accounts and how to compare them effectively when choosing the best savings to account for your needs.
EastWest Bank offers great savings account for those who are looking to save money. The account offers a competitive interest rate and has no monthly fees. Additionally, EastWest Bank offers a mobile app that makes it easy to transfer funds and track your account balance. Overall, the EastWest Bank Savings Account is a great option for those who are looking for a simple and convenient way to save money.
Visit your nearest EastWest Bank branch today to open your savings account.
READ NEXT: How to Apply for EastWest Bank OFW Loan
Contact Information
EastWest Bank Philippines – Head Office
Address: 2264 Chino Roces Ave, Makati, 1232 Metro Manila
Telephone Number: (632) 8888-1700
Website: https://www.eastwestbanker.com/
Email: service@eastwestbanker.com
Google Map Location: