Owning a home is one of the dreams that many Filipinos aspire for. For some, it may be quite a feat to accomplish. Even with housing loans, acquiring a house in the Philippines requires a lot of money and tons of paperwork. Nevertheless, it's not impossible even for regular workers, thanks to the housing loan afforded by the Pag-IBIG Fund to its members. 
Also Read: 13 Best OFW Loans in the Philippines (Banks and Government Agencies)
In the past year alone, Pag-IBIG Fund released approximately PHP 1 billion worth of Pag-IBIG housing loans. But, it doesn't mean that applying for a Pag-IBIG housing loan always ends up successful. There are instances when the loan is disapproved, and it is for this reason that we created this article—to help ensure that your Pag-IBIG housing loan will be approved.
If you are in the process of looking into investing in real estate by seeking a housing loan from Pag-IBIG Fund, then read on to understand the program's basics. We also put in a few Pag-IBIG housing loan tips to help increase your chances of getting approved for the most affordable housing loan—the Pag-IBIG Housing Loan—with interest rates that go as low as 3% and repayment terms of up to 30 years.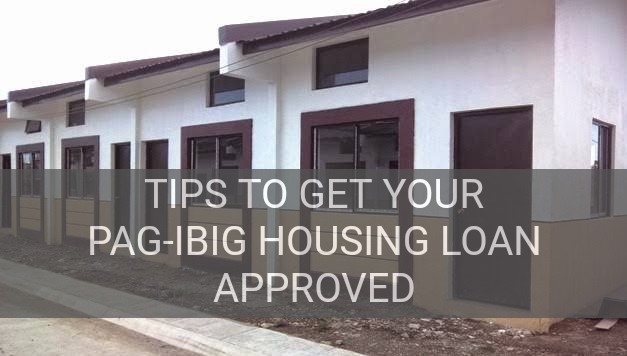 Top 9 Tips to Get Your Pag-IBIG Housing Loan Approved
According to Pag-IBIG Fund, a Pag-IBIG housing loan is a fund made available to the members so they can borrow up to P6 million under very low rates and at the friendliest terms. This is offered to qualified Pag-IBIG members to help them fulfill their dreams of owning a house.
Understanding the basis for a Pag-IBIG Housing Loan approval is the first step to a successful loan application. To get there, one must know what it can be used for as well as the criteria for approval that is employed by Pag-IBIG in vetting the loan applications.
Once your housing loan application is ready, make sure you that you prepared enough to get it approved. If you aren't sure about all the other things you need to check, here's a list of a few important things to watch out for in order to increase your chance of getting approved for a Pag-IBIG housing loan.
Make sure you don't have any overdue Pag-IBIG loan payment in your name.
It's okay to have an outstanding loan with Pag-IBIG, but if you are looking to secure a Pag-IBIG Housing loan, then it's in your best interest to check on your loan records. Check for any missed payment that can ruin your chance of getting approved for a new loan. Make sure you do not have any unclosed accounts. Note that Pag-IBIG is very specific about declining housing loan applications by borrowers with unpaid multi-purpose loans or foreclosed/canceled housing loan accounts with the agency.
So check your existing Pag-IBIG loan accounts and make sure to pay off any outstanding loan before you apply for a housing loan with Pag-IBIG.
Keep a stable income stream.
If you are thinking of filing for a Pag-IBIG Housing Loan, then you might want to think again about handing in your resignation letter. Afterall, it is still a loan and you can just imagine how bad it would look if you were to take loans without having the means to pay it back. It's easy to say that resigning from your job will only hurt your chance of getting approved for a housing loan. It's even more of a bad news if you are to switch to a lower-paying job or a career with irregular income.
Pag-IBIG will check your employment history to assess if you're financially stable enough to handle all your monthly mortgages. Your employment tenure proves your income stability. 
Ideally, you have a steady income source for at least two years. The longer you stay with your employer, the better. So you're better off sticking with your current job if you'll apply for a Pag-IBIG housing loan soon.
Check your credit report and improve your credit score.
You may not think of your credit score as important but you'll definitely change your mind when you apply for a Pag-IBIG Housing loan and get rejected. Yes, that's right. A bad credit rating is enough reason to get your Pag-IBIG Housing Loan application to get rejected. After all, who would trust you to pay back your loan when you have a history of failing to do so? 
If you haven't yet, it's time to start checking on your credit card and loan payments to see if you have any delinquent payments or if you have already developed a bad credit record. 
To ensure that you are ready to take on a Pag-IBIG Housing loan application, review your credit report for at least a year prior to your loan application. Correct or repair anything reparable, and settle your debts to improve your credit score and your chances of getting approved for a Pag-IBIG Housing Loan. After all, it is your credit score that represents how trustworthy and responsible you are when it comes to handling your loans and other financial obligations.
For more information on your credit score, you can access your credit report through the Credit Information Corporation or any one of its accredited credit bureaus.
Apply only for loan amount you can actually pay.
Qualified Pag-IBIG members can take a housing loan amounting to up to PHP 6 million. Though the threshold is up to that amount, it doesn't mean that you should apply for the maximum amount. After all, the agency will still evaluate your ability to pay for the loan amount before it gets approved. 
To ensure that your housing loan application will be approved, carefully plan and be realistic about the amount you're going to borrow. Consider your financial capacity to repay the loan you will take. 
You may also use the Pag-IBIG housing loan affordability calculator to quickly compute how much you can borrow and pay in monthly amortization. The calculation will be based on your income, your chosen loan term and fixed pricing period, and the estimated value of the property you want to buy. The Pag-IBIG housing loan calculator is also useful if you want to know the required gross monthly income for the amount you want to borrow.
Make a higher down payment.
Strive to put at least 20% down payment on your purchase to prove that you have the financial capacity to support your purchase. If you can pay more, then it's best to do so as it will show the loan officer that you prepared for the purchase and are actually capable of paying for it. It's also good for you because it would mean lower monthly amortization.
Now, if you can raise a higher down payment and are willing to delay your purchase, you may try creating another income stream, to ensure that you'll have a fall back in case of an emergency.
Ensure your income document reflects all your earnings.
Your Certificate of Employment and Compensation (CEC), an income document that shows your gross monthly income and other monetary benefits, can make or break your Pag-IBIG housing loan application. Likewise, your employment record has the ability to affect your loan application, as it would prove whether or not you have the ability to pay the amount loaned to you. 
Note that your CEC must contain accurate and updated information regarding your latest monthly salary, benefits, or non-taxable allowances. If it doesn't, make sure to put in a request to your HR manager to include such details as well.
Make a checklist and some extra copies of all Pag-IBIG Housing Loan requirements to submit.
Do you think you've prepared enough for a Pag-IBIG Housing Loan application? You can never be too sure. To be as prepared as you possibly can be, you'd want to make a requirements checklist where you can cross off all the documents you have already prepared. This way, you can be sure that you won't lose track of which documents you've already secured and those you still need to work on. After all, the human mind can be quite fickle and forgetful, so it's best not to fall victim to it by being arrogant about creating a checklist of all your Pag-IBIG housing loan requirements.
What are the eligibility and documentary requirements for a Pag-IBIG housing loan application? 
A Pag-IBIG housing loan application isn't as easy as it sounds, though. Neither is getting approval for the loan. It will take so much of your time, energy, and even money, to comply with all the eligibility and documentary requirements.
Eligibility Requirements
To start off, check if you satisfy the following eligibility requirements for applying for a Pag-IBIG Housing Loan:
Have at least twenty-four (24) monthly membership contributions or savings (a lump sum payment of the required monthly membership savings is allowed);

Are of not more than sixty-five (65) years of age at the date of application and not more than seventy (70) years at maturity of the loan;

Has the legal capacity to own real property;

Has the ability to pass satisfactory background, credit and employment, or business checks conducted by Pag-IBIG Fund;

Has no outstanding Pag-IBIG Short-Term Loan (STL) in arrears at the time of the loan application;

Has no Pag-IBIG Housing Loan that was foreclosed, cancelled, bought back due to default, or subjected to

dacion en pago.

If a borrower has an existing Pag-IBIG Housing Loan as a principal buyer, borrower or co-buyer, or co-borrower, the account under the borrower's must be updated.
Documentary Requirements
Once you know for sure that you are eligible for a Pag-IBIG Housing Loan, you may then proceed with the preparation of the following documentary requirements as well as the actual processing of the loan application.
Housing Loan Application Form

Vicinity map of the property

Additional requirement by loan purpose. For example, if you're applying for a home renovation or house construction loan, you need to submit the Bill of Materials or Construction Cost duly signed by a registered engineer or architect. 

Proof of income

Updated Tax Declaration or Tax Receipt

Updated land title

Valid IDs 
For more information on the list of valid IDs in the Philippines, you may read this article on Complete List of Valid Philippine IDs You Need to Have as a Filipino.
You also need to prepare for the Pag-IBIG housing loan approval, by doing your research well and checking out all information regarding the amount to be loaned, your capacity to pay, requested loan amount, actual need, and the loan-to-value ratio. Note that Pag-IBIG conducts background, employment, and credit investigations to evaluate your eligibility for a housing loan with them.
Also, make sure to keep extra copies of all your documents and compile them in one folder or envelope to ensure everything's in place and easy to find when you submit the housing loan requirements to Pag-IBIG.
For more detailed information on how to apply for a Pag-IBIG Housing Loan, you may check out our previous article on Pag-IBIG Housing Loans Made Easier for Filipinos.
Bid Wisely on Properties Under Negotiated Sale
Pag-IBIG members or borrowers who want to buy real estate properties under negotiated sale are required to make a bid. To do so, they will need to submit an Offer to Purchase in a sealed envelope. The buyer/borrower with the highest bid gets the chance to purchase the property. Note that Pag-IBIG properties available under negotiated sales are available with a specified bidding period you need to comply with.
Bidding can be very exciting, but it's not easy. Bidding for real estate takes a lot of work and thinking. It's recommended that borrowers visit the showcased property first, because most properties under negotiated sale are fully constructed, though some may need renovation or were already abandoned and in various stages of damage.
Things to Remember When Bidding for Pag-IBIG Properties under Negotiated Sale
If you are intent on bidding for properties under negotiated sale, here are a few things you should remember before making an offer:
Properties are sold on an "as is, where is" basis, which means you are offering to bid and buy the property as it is, regardless of its current physical condition.

All offers should be within the threshold of the property market value set by Pag-IBIG.

Properties or homes under negotiated sale can also be purchased at the following discounted terms depending on your chosen mode of payment which you'll  also have to state when bidding for the property. 

30% discount for cash purchases payable within 30 days 

20% discount for short-term availment payable in equal monthly installments for 12 months

10% discount for long-term availment
Consider applying for the Pag-IBIG Affordable Housing Loan Program
Have low income but still want to take a Pag-IBIG Housing Loan for that dream house? Then, you'd want to consider applying for Pag-IBIG's Affordable Housing Loan Program (AHP).
That's right. Even if you have low income or you are a minimum wage earner, there's a housing loan available for you. Under the AHP, for those who earn PHP 15,000 monthly in Metro Manila and PHP12,000 monthly in the provinces, the maximum loanable amount is PHP 450,000. This housing loan comes at a 3% interest rate for a five-year fixing period. Depending on the loan term, the highest monthly repayment is at a little over PHP 8,000, and the minimum repayment is at PHP 1,897.
Learn what you can use a Pag-IBIG Housing Loan for
With the help of the Pag-IBIG Housing Loan, a member may consider looking at more affordable options, provided that they satisfy any one or a combination of the following criteria:
Purchase of a fully developed residential lot or adjoining residential lots not exceeding 1,000 square meters;

Purchase of a residential house and lot, townhouse or condominium unit;

Pre-owned or brand-new condominium units,

A property mortgaged with Pag-IBIG Fund; or

Adjoining house and lots / townhouses / row houses / condominium units.

Construction or completion of a residential unit on a residential lot owned by the borrower or a relative of the borrower;

Home improvement; and

Refinancing of an existing home loan, provided, that the borrower must be regularly paying the amortizations of the said loan without any payment made beyond thirty (30) days past due for the last six (6) months from the date of application

Combined loan purposes
Disapproved Pag-IBIG Housing Loan? Here's What To Do Next
If, despite everything, your Pag-IBIG housing loan application is still rejected, don't lose hope. Sure, it can be stressful and painful, and it's so easy to just give up, but there are other things that you can do. Getting one housing loan application rejected doesn't mean that it's the end of your dream of owning a home.
It's okay to feel down about the rejection, but you'll eventually have to pick yourself up, get back on track, and look for other ways to own your dream house. 
To help you out, here's another list of Pag-IBIG housing loan tips you can follow after dealing with a denied application.
If your salary isn't enough to get you the house of your dream even through a housing loan, then it's in your interest to take advantage of the privilege to apply for a loan with a co-maker or co-borrower with a stable source of income.
That's right. Pag-IBIG allows up to three people (including the principal borrower) to share in a single housing loan, also known as a tacked loan. However, there are certain criteria that your co-borrower should meet before they are allowed to apply for a tacked loan with you. 
Here are the things to remember when finding a co-maker for your Pag-IBIG Housing loan:
Pag-IBIG housing loan co-borrowers or co-makers can be a relative (within the second degree of consanguinity or affinity) or non-relative.

If the co-maker is a relative,

it could be related to you by blood within the second degree of consanguinity or within the second degree of affinity.

Pag IBIG will evaluate both the principal borrower and the co-borrower/s to make sure they meet all eligibility requirements, gross monthly income, and capacity to pay.

If the co-borrowers are non-relatives,

they have to meet the same eligibility requirements.

They also need to meet the following conditions as stated in Pag IBIG Circular No. 3961:

The purpose of the housing loan is either for the purchase of a residential unit or lot or purchase of lot with house construction;

The subject property shall be registered in the names of all the borrowers;

All the borrowers shall execute the REM; and

The mortgage shall be released only upon full payment of the entire housing loan obligation.
However, you need to be cautious about asking someone, even if they are relatives, to cosign a loan with you. After all, there is a reason why they say that money breaks all relationships. Not many people would be thrilled to share debts, especially unpaid ones, so be careful about choosing who to share your debts with. It's best to find someone who's not only willing to help you out, but would also be interested in sharing a home with you. 
Buy a lower-priced or a more affordable home.
While you're scouting for a new home, be practical. Sure, we all have our ideal house that's not only beautiful, but also convenient location-wise. The question is: can you afford to pay the monthly amortization without struggling and missing on your payments?
Expert tip: If you want your application to be approved without any problem, choose a house that you can afford. Even if you purchase a real estate property that doesn't match your idea of a dream home, you'll be comforted by the fact that you aren't behind on your monthly payments and are in no danger of being ousted because you can't afford to pay your monthly amortizations.
If you haven't found a more affordable home yet and you're not in a hurry to buy and settle into a new house, keep your options open and keep looking around. You'll eventually find thriving locations and communities with cheaper properties, or if all else fails, consider buying a pre-selling property.
Consider other alternatives to Pag-IBIG housing loan
While the Pag-IBIG housing loan is the top-of-mind choice of Filipino homebuyers because of the apparent perks of taking a loan from a government agency, it's not the only option out there. There are other available options for the average Filipino who wishes to buy a house and to finance the purchase of their dream home with a loan.
One such example is through bank financing. Bank financing is another way to borrow money for a home purchase. This type of home loan comes from banks and typically offers competitive rates (mostly 5% to 6%). The only downside is, just like the Pag-IBIG Fund, banks also have strict requirements and credit evaluations for those who are looking to borrow from them.
Another option which is also the easiest one there is when it comes to financing a home purchase is through what is known as in-house financing. Instead of going through a third-party lender, the interested homebuyer deals with the seller or property developer directly to avail of a home loan and own their dream house. Not only are the requirements minimal, the application process is also simple and straightforward. The only downside is that in-house financing, while easily available, has higher interest rates and shorter payment terms than any other housing loan providers.
Also Read: 5 Best Housing Loan Options for OFWs
Frequently Asked Questions (FAQs)
How Long Does it Take to Process a Pag-IBIG Housing Loan?
The processing period of a housing loan from Pag-IBIG, as per the Pag-IBIG Citizens Charter 2020, takes around 20 working days. This means that upon submission of the complete Pag-IBIG housing loan requirements and application, it takes about 17 days of processing before a result (approval or denial) is issued. If Pag-IBIG approves the housing loan application, it will take three days to complete the release of the loan proceeds. This will happen, provided that the borrower submits all the required post-approval documents.
How much gross monthly income must I have to qualify for approval for a Pag-IBIG housing loan?
Pag-IBIG checks that your monthly repayment remains lower than 35% of your monthly income. That means, if you are to borrow an amount that would require you to pay a monthly installment of PHP 7,000 for the Pag-IBIG housing loan, then your salary should be higher than PHP 20,000. 
You may also use the Pag-IBIG loan calculator to find out exactly how much you can afford for the monthly amortizations. This way, you will have a higher chance of approval and your budget will not be affected.
What if my salary isn't enough? Can I list all other income streams?
Yes. If your gross monthly salary is not enough to reach your target price for a dream house, you may consider listing  all your other sources of income. Pag-IBIG considers all other types of income streams including freelance gigs, provided that you can submit proof of regular remittances from your freelance employers for at least the last 12 months.
Here are some of the financial documents acceptable to Pag-IBIG, in case you are unable to submit a Certificate of Employment and Compensation (CEC), or if you have low monthly income: 
Commission vouchers with the issuer's names

Certified True Copy of Transport Franchise from LGU for tricycle drivers and LTFRB for drivers of other public utility vehicles

Copy of contract of lease and tax declaration for those who own a rental property

Barangay certificate and notarized Certificate of Engagement for owners of sari-sari stores, on-call maintenance personnel, technicians, and owners of mini groceries
I have other loans from banks. Will this affect my Pag-IBIG housing loan application?
Yes and no. Yes, Pag-IBIG conducts credit checks to see if you have loan delinquencies or outstanding debts from banks or other lenders. However, the loans itself will not affect your loan application, as long as all your total loan repayments can still be covered by your regular income and you've paid your dues on time. The only time it will reflect poorly on you is if you have delinquent payments from existing loans elsewhere.
I don't have a total of 24 months' savings or mandatory contributions. Can I still qualify for a Pag-IBIG housing loan?
Yes. Pag-IBIG now allows their members to make a lump sum payment of contributions and savings. So, if you have enough cash on hand, but you have yet to complete the mandatory 24 month contribution and you can't wait to secure a housing loan, then you can just make a one-time payment to comply with this 24-month requirement. 
What is the maximum amount I can borrow from Pag-IBIG?
The maximum loanable amount for a Pag-IBIG housing loan is PHP 6 million. However, it doesn't mean that all eligible Pag-IBIG members can get approval for this amount. The truth is, Pag-IBIG considers a lot of factors including your actual need, your desired loan amount, your capacity to pay, and the Loan-to-Appraised value ratio, before deciding on the final loan amount.
When applying for a Pag-IBIG housing loan, you must make sure to consider the following factors before writing down the amount you're applying for, and submitting the documents indicating the price of the property to be purchased or the construction cost. 
Conservatively, the loanable amount can amount to up to 95% for appraisals of up to PHP 1.7 million and 90% for appraisals above PHP 1.7 million. 
Do I need to pay insurance for my housing loan?
Yes. A portion of your housing loan payment will automatically pay for the Mortgage Redemption Insurance (MRI) complete with fire protection coverage. 
Also Read: 13 Best OFW Loans in the Philippines (Banks and Government Agencies)
Final Thoughts
Owning a real estate property may seem like a daunting dream. But, with Pag-IBIG Fund to back you up, this dream can become a bit more achievable. Note that while the application may seem complicated and demanding, a Pag-IBIG Housing loan remains to be a benefit, offered by the government to ensure that all Filipinos will have a better life. Remember it is a benefit that you reap in the end: a lower interest rate and convenient payment term.
If you want to fast-track your application process, keep the above-mentioned Pag-IBIG housing loan tips in mind. Make sure you prepare enough. Get in touch with Pag-IBIG personnels for details, and more information about the documentary requirements to ensure better chances of approval.
If, for some reason, you got rejected for a Pag-IBIG housing loan, don't lose hope. We included a few tips that you can consider in the list above. Plus, you can always look at other home financing options available in the Philippines, such as housing loans from banks and developers that you can avail at competitive rates.
Also Read: How to Pay Pag-IBIG Housing Loan
Did you find our tips useful? Share your thoughts with us!