Amid the growing unrest in the Middle East, suspicions are on the rise as to who are directly responsible for terror attacks, which needlessly affect many civilians including Filipino workers who are on the job, either on land or at sea.
And while it can be said that eventualities in the sea are considered part of the hazards of the job, it's not so easy to dismiss intentional activities of terrorism that could affect tens and hundreds of people's lives, who by any means are not involved in the issues being raised by opposing groups involved.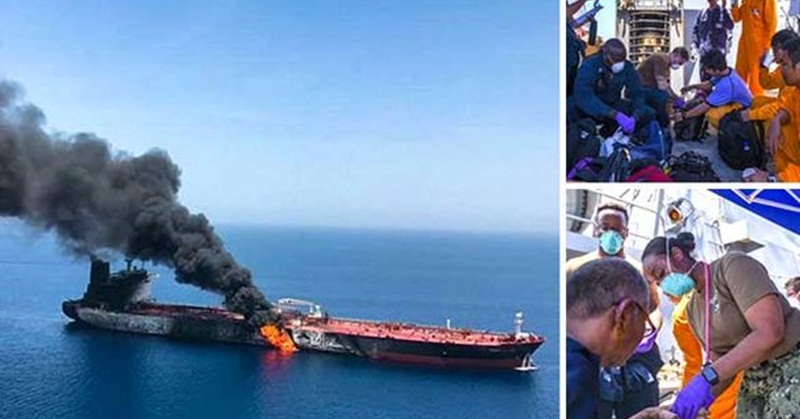 Pinoy Seafarers Involved in Tanker Attack All Safe & Accounted For
Thirty-two Filipino crew members of the two tankers that were allegedly attacked on Thursday in the Gulf of Oman are in good condition and awaiting repatriation, the top Filipino diplomat said on Tuesday (June 18), as shared in a report by the Gulf News.
Hjayceelyn M. Quintana, Philippine Ambassador to the UAE, has already met with the 11 Filipino seamen of the MT Front Altair and the 21 Filipino seamen of the MT Kokuka Courageous in two separate meetings.
Through the speedy assistance of UAE authorities, Quintana shared the good news that "all Filipino seafarers are unharmed and in good condition."
According to Quintana, the seafarers are appreciative of the concern extended to them by the Philippine government and all those involved in their rescue. The manning agencies are now looking after the crews' well being and are dealing with their repatriation.
The Norwegian-owned oil tanker's crew members arrived in Dubai after spending two days in Iran.
According to reports, the suspected attacks took place early morning Thursday, about 40 kilometres off the southern coast of Iran.
Two tankers were hit in suspected attacks in the Gulf of Oman, a month after a similar incident in which four tankers in the region were attacked.
At this time, it's quite difficult to predict how long the political situation in the region will return to normal, as there are many factors involved in the issue. Until then, it's important for all residents in the affected region to remain updated and to always exercise caution in their day-to-day activities.
Meanwhile, for Filipinos who are planning to accept offers in the countries where there is political unrest, it's important to always coordinate with the DFA, and to gain information as to how things are developing overseas prior to accepting an offer or deciding to travel abroad.