For many years now, Filipinos have found a second home in the Middle East to find employment and to gain income to support their families back in the Philippines.
However, with the recent drop of oil prices in the world market, along with policy changes between the Philippines and other partner Arab nations, the downward trend in the deployment of OFWs might persist in 2019.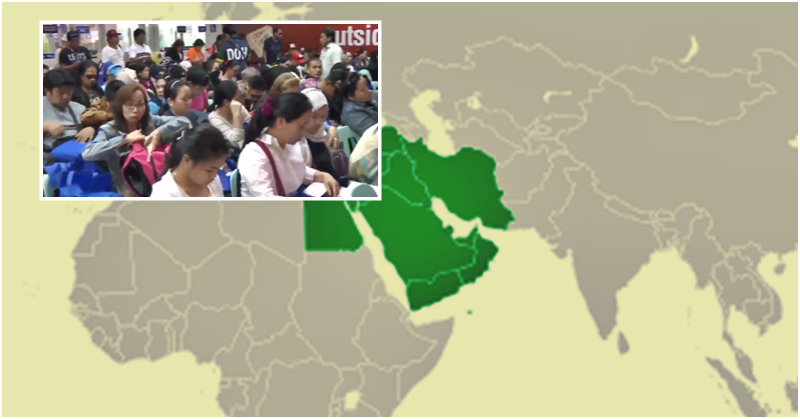 Deployment of OFWs in Middle East Countries Expected to Dip in 2019
In a report shared by the Inquirer-Cebu, recruitment consultant and migration expert Manny Geslani shared that the economies of some Middle East countries, particularly Saudi Arabia, is expected to remain flat with lower crude prices.
In 2017, the deployment of OFWs went down by nine percent while there was an eight to ten percent dip in 2018 due to the instability of oil prices.
Also, due to the deployment ban of household service workers (HSW) in Kuwait ordered by President Duterte last January, which lasted for almost five months, only 20,000 HSWs were authorized to leave for Kuwait this year.
The numbers, according to Geslani, was a far cry from the usual average deployment of 60,000 newly hired HSWs in 2017, which only comes second after Saudi Arabia's turnout of 170,000 HSWs.
Meanwhile, over 3,000 OFWs in Saudi Arabia were sent home packing after they have been laid off due to the "disastrous" closures that befell several construction and manufacturing companies when the government failed to pay off their contracts.
This, along with the "flat" economic performances of other Middle Eastern countries such as Kuwait, Oman, United Arab Emirates, Iraq, and Iran due to the lower oil prices in the global market have made the prospect of work in the Middle East quite questionable for the incoming year.
Geslani noted, however, that only Qatar managed to avoid the downward trend in the deployment of foreign workers because of the steadier prices of natural gas. Furthermore, there is currently a massive employment boom in Qatar in preparation for the World Cup in 2022.
Despite all this, the Philippine government is serious at work to provide more work for all of its citizens through a new policy that will benefit local businesses and workers in the country.