The Philippine government recently launched the second tranche of Premyo Bonds, a type of bond that allows investors to earn passive income, while having the chance to win big prizes. It is offered by the Bureau of the Treasury, in coordination with the Department of Finance.
ALSO READ: 7 Life-Changing Tips to Inspire OFWs to Save While Working Abroad
Each Premyo Bond unit costs only PHP 500 each, making it perhaps the most affordable retail treasury bond (RTB) ever. It has a one-year maturity term at 3-percent annual interest, inclusive of 20-percent withholding tax. There are different ways to buy Premyo Bonds, one of which is through the Bonds.ph mobile app, which we will discuss in today's article.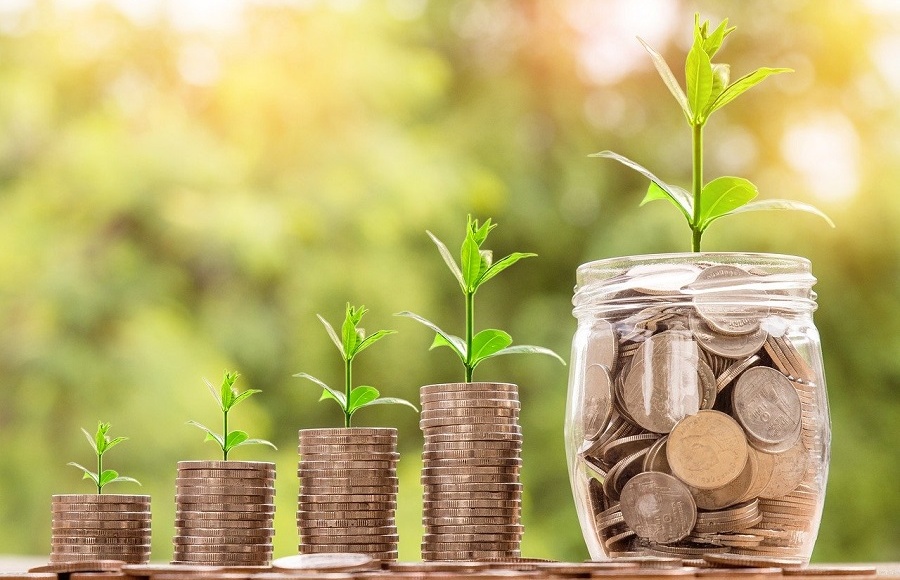 Guide to Using the Bonds.ph App for Investment
Bonds.ph is brought to us by the Union Bank of the Philippines, in partnership PDAX, a virtual currency exchange that is recognized by the Bangko Sentral ng Pilipinas (BSP). The aim of the mobile app is simple: to enable investors to buy and sell RTBs without having to go out!
What are RTBs?
Before anything else, let's talk about RTBs. As the term implies, retails treasury bonds cater to "retail investors," including individuals and corporations. Since they are offered by the government, they are considered as low-risk investments that you will surely get back after the maturity period. Through investing in RTBs, you not only get the chance to earn passive income, but you are able to help uplift the local economy as well.
Compared to the usual savings and time deposit accounts in most banks, RTBs have higher interest rates, which are paid to investors every quarter. RTBs typically cost PHP 5,000 each, though from time to time more affordable ones such as Premyo Bonds are also put on sale.
What is Bonds.ph?
Offering a fully digital platform, Bonds.ph invites people to sign up for an account, cash in through online banking (e.g. BPI, Landbank, Metrobank, etc.) or using an e-wallet (e.g. GCash, Paymaya, etc.), and easily buy RTBs like Premyo Bonds. The app can be accessed anytime, anywhere using a mobile phone, provided that there is an Internet connection.
Who Can Use Bonds.ph?
Any Filipino citizen who is 18 years old and above, who may or may not have a bank account, is invited to use Bonds.ph. You don't need to have an account with Union Bank to sign up, either. You can access it even if you are outside the country. Overseas Filipino workers (OFWs) who are based anywhere in the world can also download and use the app on their phones!
How to Create a Bonds.ph Account?
To sign up and create an account, simply follow these steps:
Download the Bonds.ph app from Google Play Store (for Android devices) or the App Store (for iOS devices).
Click "Sign Up" and set a 6-digit PIN.
Enter your name, email address, and mobile number.
Click on the verification link sent to your email. Likewise, enter the code sent to your mobile phone for verification.
As part of verification, you will also be asked to take a "selfie" and to upload one valid primary ID.
Within two businesses days, you will receive a notification via email, stating that your account has been verified.
List of Valid Primary IDs
Below is the list of acceptable IDs. You need to provide just one valid primary ID to open a Bonds.ph account:
Passport
Postal ID
Voter's ID
Driver's License
Senior Citizen ID
Tax Identification Number (TIN) ID
Integrated Bar of the Philippines (IBP) ID
Professional Regulation Commission (PRC) ID
National Bureau of Investigation (NBI) Clearance
Overseas Workers Welfare Administration (OWWA) ID
Social Security System (SSS) ID or Unified Multipurpose ID (UMID)
Government Service Insurance System (GSIS) e-card or GSIS Membership ID
Private Company ID – for companies enrolled in UnionBank's corporate payroll program, as well as for companies regulated by the Securities and Exchange Commission (SEC), Bangko Sentral ng Pilipinas (BSP), or the Insurance Commission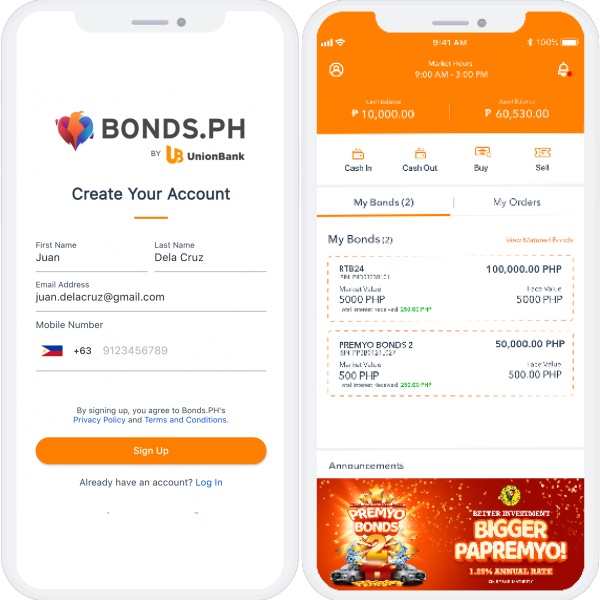 How to Cash In at Bonds.ph?
As soon as your Bonds.ph account has been verified, you need to cash in before buying RTBs. To do this, simply:
Log in to your Bonds.PH account.
Click "Cash In."
Choose your preferred payment method. The options include Instapay, PESONet, GCash, Paymaya, bitcoin, and bank deposit.
Enter the amount that you plan to cash in. Take note that there will be a "convenience fee" added, depending on the payment method.
Pay the total amount due. That's it!
How to Cash Out at Bonds.ph?
In order to cash out from your account, just take the following steps:
Log in to your Bonds.PH account.
Click "Cash Out."
Choose your preferred cash out method (i.e. Instapay, PESONet, GCash, Paymaya, bitcoin, and bank deposit).
Enter the amount that you plan to cash out. Again, keep in mind that there will be a "convenience fee" added, depending on the cash out payment method.
You will receive an email message after submitting your request.
How to Buy Bonds Using Bonds.Ph?
After your account has been verified and you have cashed in, you can now start buying RTBs. The steps are as follows:
Log in to your Bonds.PH account.
Click "Buy."
Choose the RTB you plan to buy (e.g. Premyo Bonds).
Enter your investment about.
Click "Next."
Review all the details to check and confirm your order.
Click "Buy."
A confirmation message will be displayed onscreen. An email stating the RTB's terms and conditions will also be sent to your email.
Contact Information – Bonds.ph by Union Bank and PDAX
Address: Union Bank Plaza Bldg., Meralco Ave. corner Onyx St., Ortigas Center, Pasig City, Philippines
Telephone: +63 2 8841 8600
Email: bonds.ph@unionbankph.com
Website: https://bonds.ph/
Facebook: https://www.facebook.com/bonds.ph
Twitter: https://twitter.com/BondsPh
YouTube: https://www.youtube.com/watch?v=-_Jg82XWiIU
Video – How to Use Bonds.ph Mobile App
Check out this video about how to use the Bonds.ph mobile app, as shared through their official Facebook page:
DISCLAIMER:
The above guide is presented for information-sharing purposes only. Before signing up, cashing in, and buying retail treasury bonds, please read more about the mobile app by contacting Bonds.ph via telephone, email, or by visiting their
official website
.
READ NEXT: What is Pag-IBIG MP2 Savings Program?