A BPI account number is a 10-digit number assigned to every BPI account holder. It is used as a reference when accessing an account or making transactions such as sending or receiving money via Bank Transfer. The BPI Account Number can only be found when you contact the call BPI call center, go online to your BPI account or visit a BPI branch and ask for the Account Number directly from the counter after you present your bank details.
Also Read:
If you are a BPI bank account owner and you want to want to send money or know your account number for whatever reason, it is important to have your account number handy. This article shows you how to know your BPI account number, which is an account number of the Bank of the Philippine Islands.
This number is used as a reference when accessing the account and making money transfers and transactions. Please follow the guidelines below on how to find your BPI account number.
BPI Account Number Digits
A BPI account number has 10 digits and it is a unique number assigned to your account. It is essential in order to send money, access your bank account, and make transactions.
This is also used to conduct a range of banking activities, such as online banking account and over-the-counter deposits and withdrawals.
When sending money locally using InstaPay or PESONet, or via international wire transfer, the recipient's BPI account number is also necessary.
In this post, we share some tips for BPI account holders on how to find their account number and then answer some FAQs which users may have regarding their accounts.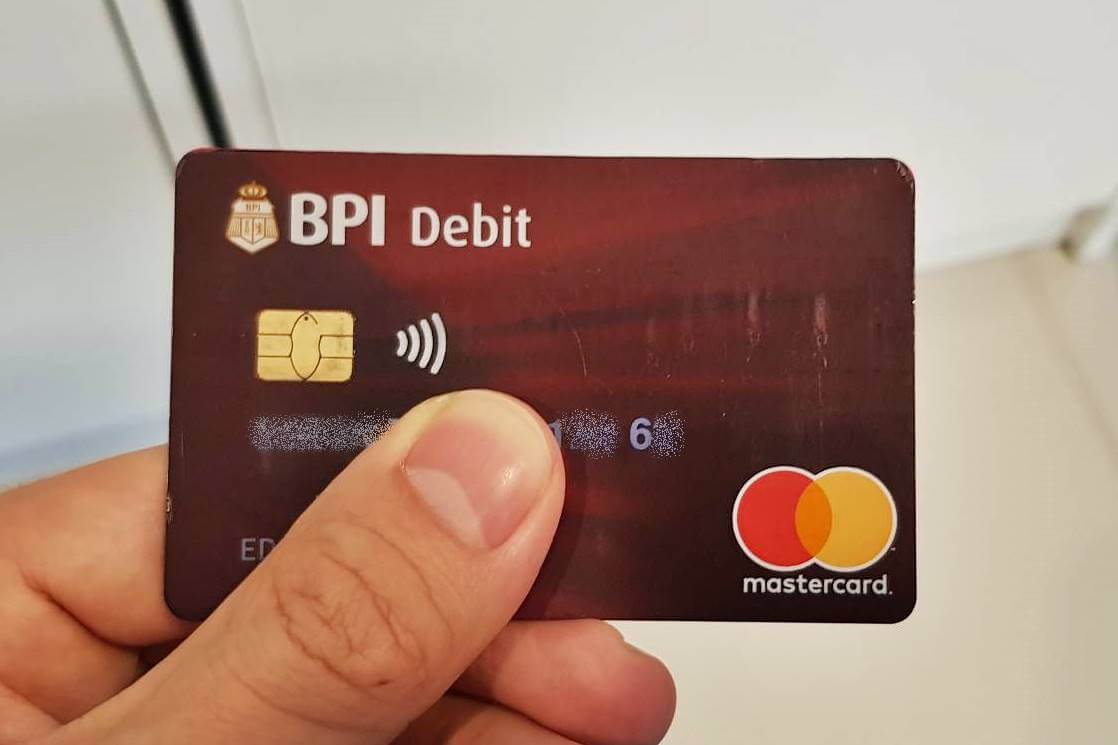 Number of Digits in a BPI Account Number
First off, a BPI Account number has 10 digits.  However, the total number of digits may be more than 10 depending on the total number of BPI account holders out there. Therefore, if you are asked to provide a 13-digit BPI account number, simply add three zeros (000) at the beginning of your account number (i.e. 0001234567890).
For OLD BPI cards, you could find your (4) 10-digit BPI Account number via the back of the card. But now it's been updated and the BPI account number is no longer on the card. You have to call BPI to request for it.
UPDATE: For the BPI EMV account, the BPI Account Number can only be found when you contact the call BPI call center, go online to your BPI account or visit a BPI branch and ask for the Account Number directly from the counter. So again the 4 options now to find your BPI account number are:
Check via ATM Machine (after you enter your card and make a transaction)
Check your Online BPI Account Banking (if you set up online banking)
Check your BPI Checkbook/Passbook (if your account has a checkbook)
Contact the BPI Call Center (and after verifying security information)

Send an Email to BPI (with your ID for verification)
Visit any BPI branch (you will need to present a valid ID)
Usually, the more common account number for BPI members is just 10-digits.
BPI ATM Card Sample
Below is an image of the new EMV debit card of BPI. If you still have the blue one, you may call your branch and request for your card to be replaced. You will have to visit your BPI branch in order for them to replace your old BPI card.
Here's the front side of the BPI card: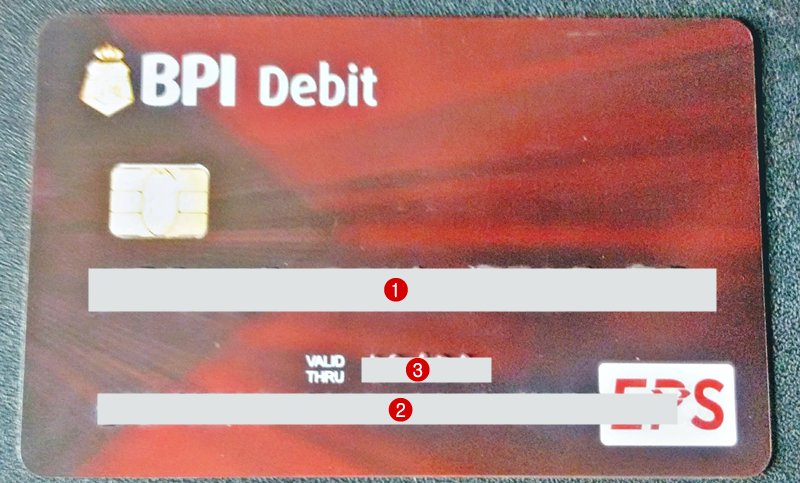 Here, you will find the (1) account holder's name, (2) the card number, and (3) the card validity date.
Below is an image of a BPI Debit Card's back side. There is only an area where you an input your Signature. There is also a (4) security code.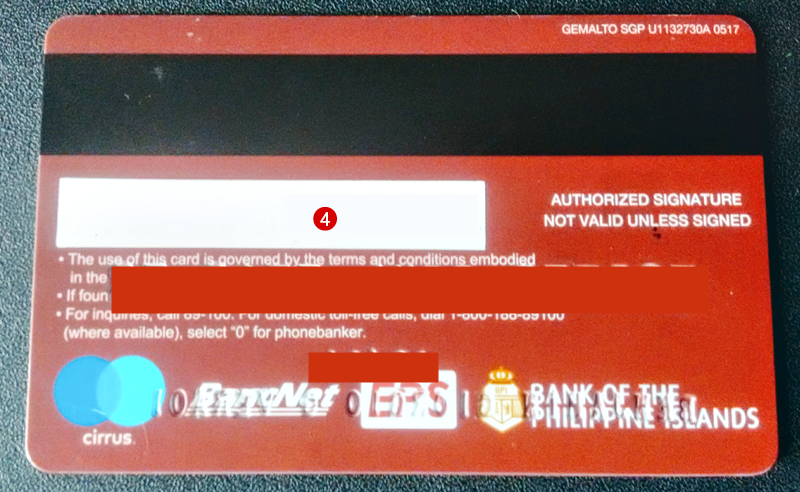 1. Know BPI Account Number via ATM Card Machine
You may check your account number by making a transaction via ATM machine available. Once you make a transaction, the account number will be shown on the screen.
Go to your Nearest BPI ATM Machine.
Insert your BPI ATM card.
Enter your PIN.
Make a Balance Inquiry or Withdrawal. Take a photo of your Account Number displayed on the screen.
2. Know BPI Account Number Online through Online Banking
In case you are wondering how to check the BPI if you have online banking set up, you can easily pull up the account number by signing in to your account. This is only applicable if you are registered the online banking feature.
Log in to BPI Online Banking with your username and password.
Check the Account Number located below the "Savings Account" information.
Take note of this. And if you have enrolled your BPI account online thru BPI Express Teller Online Banking (BPI-EOL), you can also find this information as shown in the image below: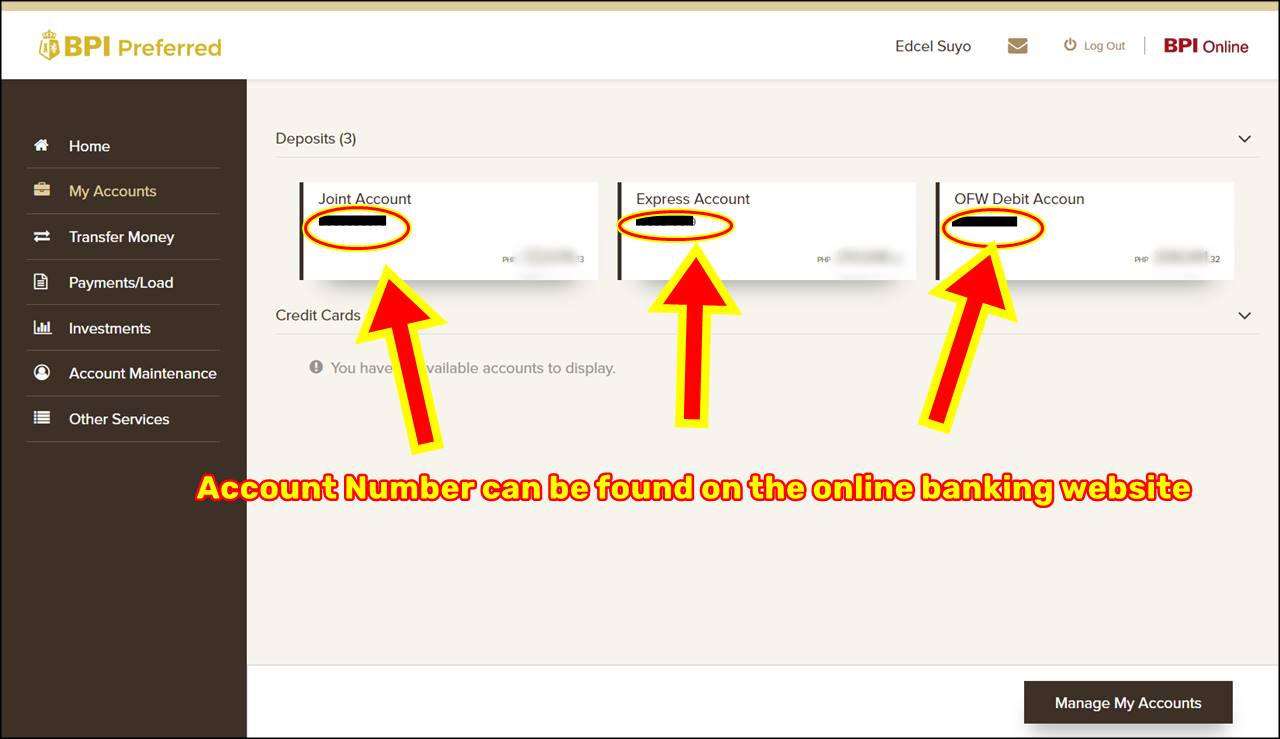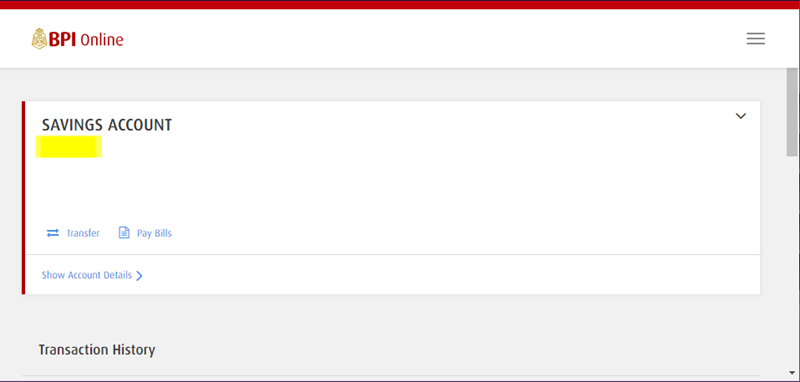 3. Know Account Number via Checkbook/Passbook
For BPI passbook account holders, you can also find your account number printed on your booklet. You can easily check it via the printed passbook.
Get your BPI Passbook.
Check the account number on the first page of your Passbook (where your other details are included)
Because some BPI bank accounts only provide ATM cards, not passbooks, this is out of the question for many BPI customers.
4. Know Account Number by Sending an Email to BPI
Send an email to help@bpi.com.ph to obtain your account number. Please attach a digital copy of your valid ID for verification in the email. After all, they will not just give out this sensitive information without verifying security.
Inquiries may also be submitted via the BPI's main website. Simply complete the Contact Form and provide your account information (such as the last 10 digits of your ATM card number), along with your concern.
5. Know BPI Account Number by Contacting BPI Call Center
Another option is to call the BPI customer service hotline. The following are the BPI contact phone numbers and support hotlines that you may use to get help:
Domestic Long Distance: (+632) 889-10000
International Calls: (+632) 889-10000
Mobile Phones in the Philippines: (+632) 889-10000
PLDT Domestic Toll-free Number: (+632) 1-800-188-89-100
Before dialing, make sure you have a pen and paper ready to write down your account number. You may also be required to supply personal information such as your birthday or mother's maiden name to verify your identity.
Note: The BPI customer service lines are accessible 24 hours a day, 7 days a week. If you're phoning from your cell phone or from a non-PLDT landline, be aware that airtime and long-distance costs may apply.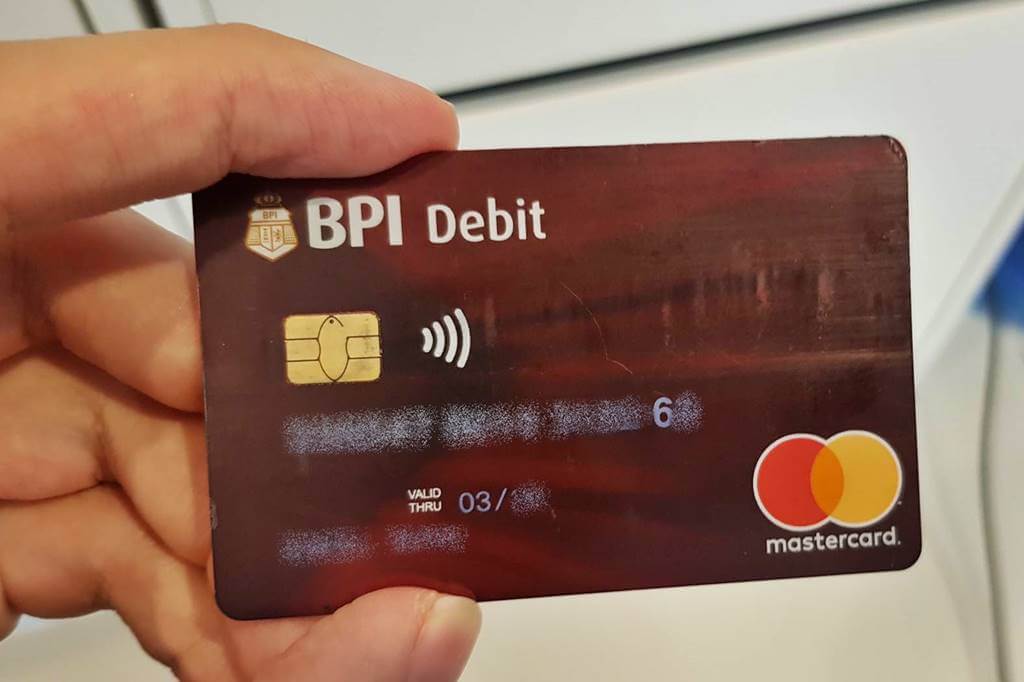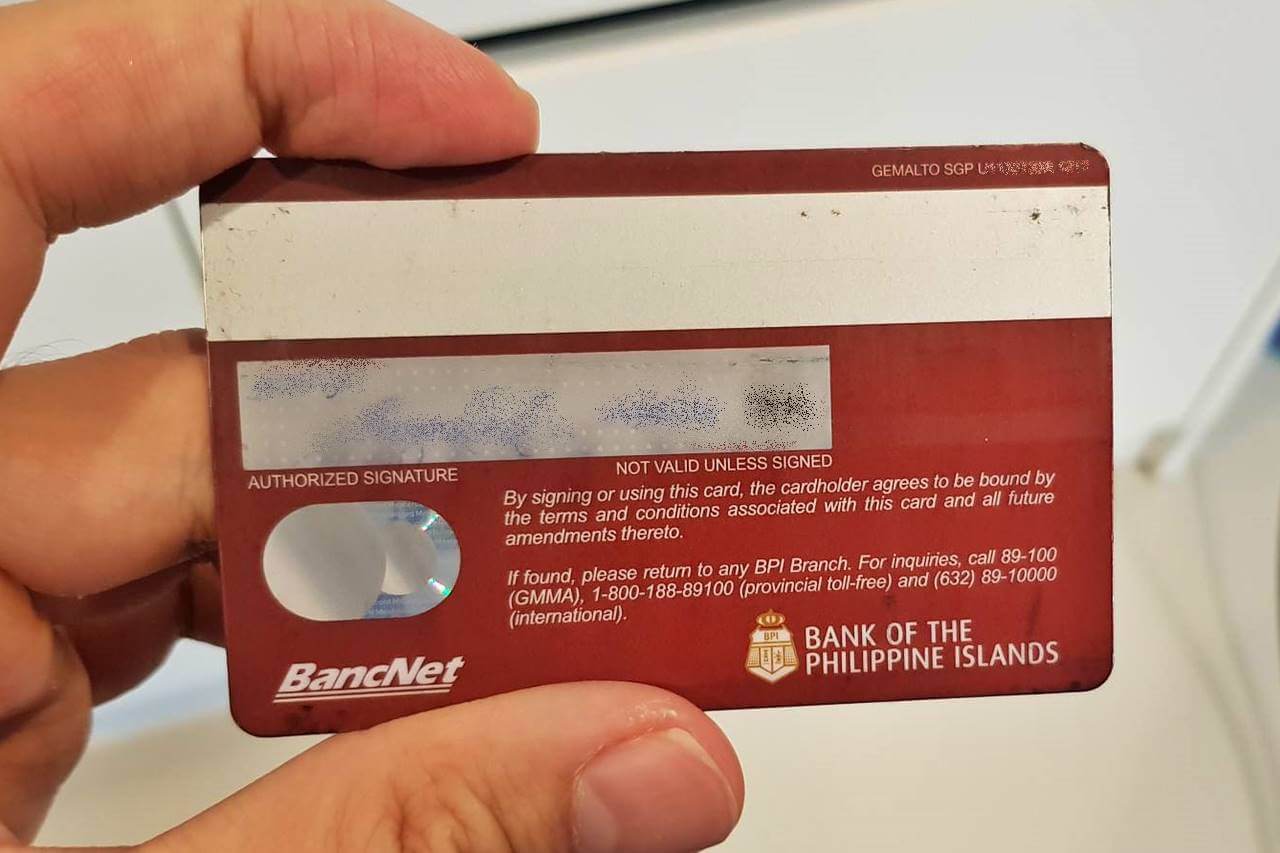 6. Know BPI Account NUmber via BPI Bank Branch Visit
You may also check your account number by visiting your nearest BPI branch. This is a bit more hassle given that you will wait in the queue, depending on the number of people waiting in line. This is also less convenient especially during these times when we are advised to stay at home and practice social distancing. But it is still possible to get your account number.
Go to the nearest BPI branch.
Provide your ID to the Bank Teller for security purposes.
The Bank Teller will give you your account number.
Can I View BPI Mastercard Debit Account Number on the ATM Card?
Some of you may be wondering if the account number is on the card. The answer is NO. The number that is printed on the card itself is called a Card Number – usually about 16 digits. You may use these when you make online purchases and transactions. But this BPI Card Number on the card is NOT the account number.
Below is an image of the BPI Debit Card with Mastercard logo. These are the latest types of cards being issued to regular debit card members.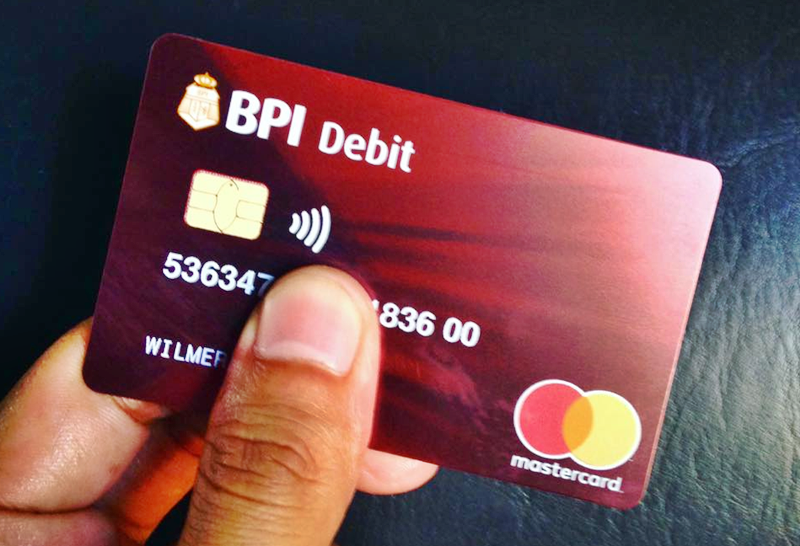 Is ATM number and account number the same?
No, these are totally two different numbers. BPI has a card number at the front which is 16 digits and this is used when you make online purchases/transactions. The account number is basically just 10 digits.
What is the BPI Swift Code?
The Swift Code is used for those sending money to a BPI account. The BPI Swift Code is: is BOPIPHMM
What if I Forget my BPI Account Number?
In the event that you forget your BPI account number or are in need of assistance to recover it, you can go to your BPI depository branch or any BPI branch near you. Alternatively, you may also contact BPI customer care hotline/s:
Metro Manila: 89-100
Domestic toll-free calls: 1-800-188-89100
Mobile phone users: (02)89-10000
E-mail: expressonline@bpi.com.ph
Video: How to Look for BPI Debit Card Account Number
Here's a quick video tutorial where you can check how you can locate the account number of your BPI debit card (or actually any card of the bank). Please be guided on the steps accordingly:
Summary
For most of us who try to achieve a work-life balance, it could sometimes be difficult to keep tabs on every little detail concerning our personal lives – this includes our bank account numbers, passwords, (even birthdays of family members), and such. Thus, it's quite understandable to sometimes forget which is which, but not knowing can be quite problematic.
Keeping on top of everything can be quite difficult for anyone who has to attend to so many things. And while memory may fail us, there's always help you can find – if you know where to look.
Contact Information
BPI – Bank of the Philippine Islands
Address: Tower One, Ayala North Exchange, 6796 Ayala Avenue corner Salcedo St., Legaspi Village, Makati City 1229
Customer Service Hotline: (+632) 889-10000
Email: help@bpi.com.ph
Website: bpi.com.ph
[Disclaimer: This article is shared for the purpose of information-sharing only. Any queries or specific concerns about your BPI account transactions and details should be referred to a BPI representative or at a BPI branch near you.]