Ever been in that situation where you needed to make a purchase or a bills payment but don't know where to look for your Metrobank account number to proceed?
(ALSO READ: How to Find your BPI Account Number)
Yes, we've all been there, but the good news is we either learn from our experience, or we get help even before we need it. Hopefully, the latter would be the case for you. Here are several ways for you to find your Metrobank account number:
Where to Check Your Metrobank Account Number
Metrobank card holders can find their account numbers below their account name in their Metrobank ATM card, as shown below: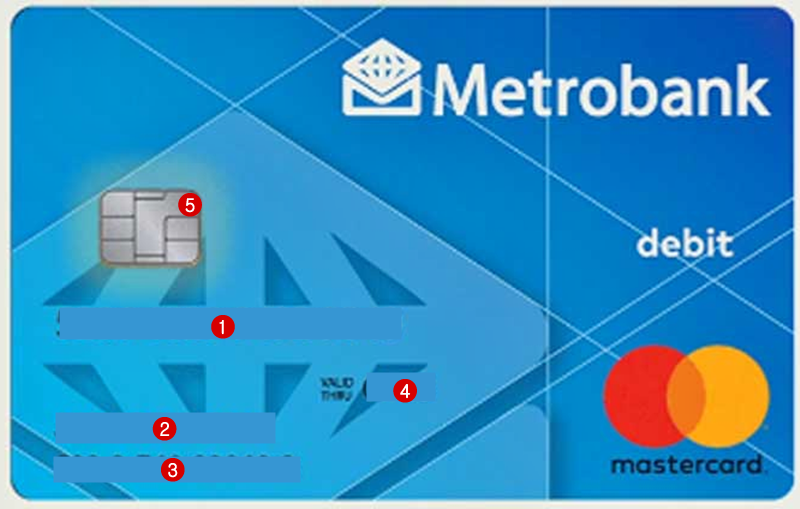 Here is the front side of the new Metrobank EMV debit card, which shows the (1) ATM card number, the (2) account holder's name, the (3) account number, the (4) card validity date, and the (5) EMV chip.
The account number can be found on the lower-left side of your ATM card.
Tip: In order to help you avoid forgetting your Metrobank account number, keep a private copy of this info on your phone, or written on a piece of paper then placed securely inside your wallet.
Otherwise, you may visit your Metrobank depository branch or any Metrobank branch to request for this information over the counter. Just be sure to have your ATM card and at least two (2) valid IDs with you for verification purposes.
But if visiting the bank is not a convenient option for you or if you are based overseas, you may get in touch with a Metrobank Customer Care specialist through the following contact information:
Metrobank Contact Centre:
Metro Manila: +632 8700 700
Domestic Toll Free: 1 800 1888 5775
E-mail: customerservice@metrobankcard.com
In Summary:
Here are the ways for you to retrieve your Metrobank account number:
Check your ATM card information. Your account number should be below the account holder's name.
Visit any Metrobank branch to request for this information over the counter. You will need to present your ATM card together with your two (2) valid IDs.
Call the Metrobank Customer Care hotline and request assistance for the retrieval of your account number.
Since your account number is considered as sensitive information, it would be ideal to keep [a copy] of this information with password-protected security (if on your phone) or somewhere entirely private in your house (i.e. personal briefcase or locked container).
To know more about Metrobank and the products or services they offer, you may visit their official website.