For many people, the stock market is a confusing and scary thing. For others, it's the place where dreams are made. If you're unsure of what you want from investing in stocks, let us help! This guide is designed to give first-time OFW investors the information they need to make smart decisions about their money. We'll take you through how stock markets work, why they're important in our economy and what role individual investors play.
The stock market is an important part of the economy because it helps companies raise money for their business activities. When companies issue stocks and bonds, they're selling ownership shares in their businesses to investors. This way, companies can use the money from stock sales as capital to build factories or hire more employees. If you'd like to invest in the stock market, you can buy shares in a company that you think has a promising future. But how do you know which companies are worth investing in?
There are many factors to consider when choosing stocks, including their financial health and profitability—how much money they make from selling products or services. Read on to find out more.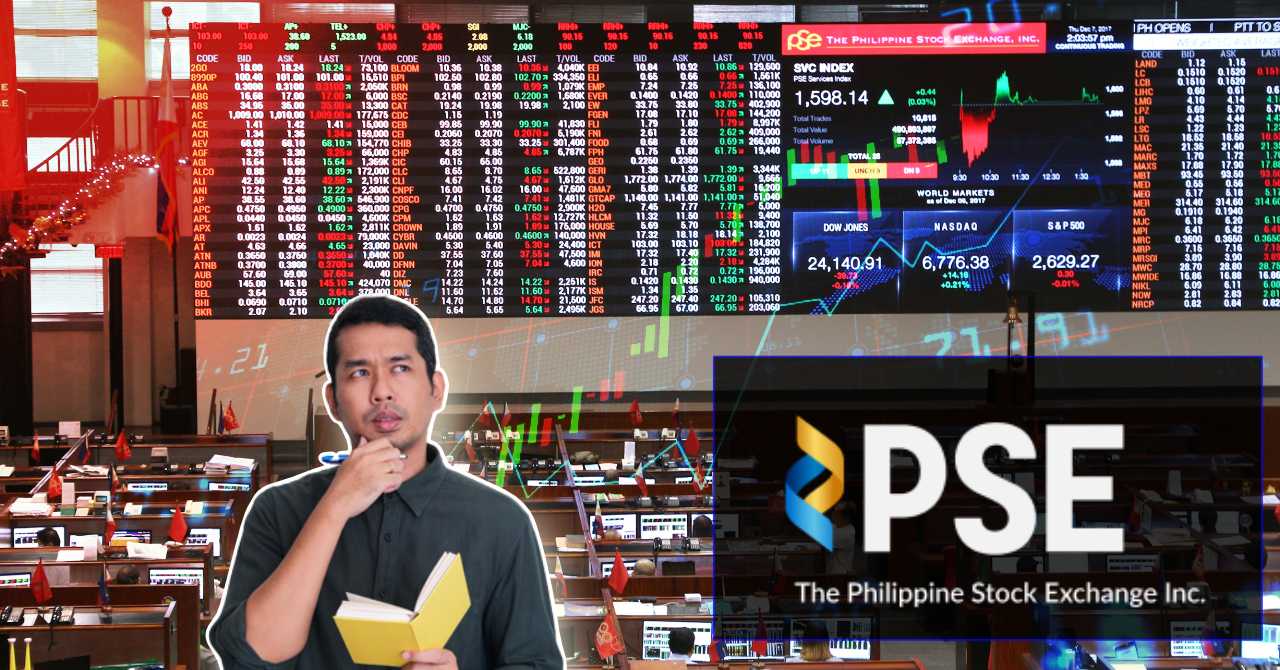 Why Should OFWs Care about the Stock Market?
Many Filipinos choose to work overseas to provide a better life for themselves and their families.
Unfortunately, even with a well-earned salary, you won't be able to fund your future needs with savings and investments. This is why it's important to look for other sources of income.
One of the best ways for overseas Filipinos to earn money is by investing in the stock market of the Philippines.
Getting into the stock market can be a daunting task, especially if you have no background in it. Since there is no guarantee of a return on your investment, it is considered a risky asset. However, investors can lower their risk with the right strategy and knowledge.
What is the Philippine Stock Exchange (PSE)?
The Philippine Stock Exchange (PSE) traces its roots back to 1992, when the country's two stock exchanges, the Manila Stock Exchange and the Makati Stock Exchange, merged. These two former stock exchanges traded the same stocks before they were combined.
The goal of the PSE is to provide its stockholders and investors with the necessary products and services. It ensures that the information it provides is accurate and unbiased. In addition, it conducts market education programs to help investors become more knowledgeable about financial matters.
Over the years, the PSE has listed over 300 companies allowing individuals and families to achieve financial goals.
Why Should OFWs Invest in the Stock Market?
Investing is an important part of sound financial planning. So, why should an OFW participate in the stock market when there are so many other options? Here are some of the top reasons you should consider.
1. Earn money
People frequently choose to invest in the stock market to improve their fortune. The same is true for OFWs who are not residing in the Philippines. Investing in such a vehicle is one method for diversifying their holdings and achieving financial stability sooner than expected.
Stock market investors can make money in capital appreciation and dividends. Capital appreciation refers to the increase in the value of stocks. Dividends, on the other hand, are payments provided to shareholders from a company's profits.
2. Liquidity of funds
You have easy access to your funds as a stock market investor. Unlike time deposits in banks, which force investors to wait a certain amount of time before they can access their funds, stock market investors can access their funds during trading hours. Furthermore, they can contribute as little as P5,000.
3. Business ownership
In addition to increasing your wealth, investing in the stock market gives you ownership of your chosen company. In liquidation, an investor is entitled to benefits such as voting rights and a percentage of the company's surviving assets.
Stock Market Investing Tips
Investing in the stock market is scary since stock prices can fluctuate substantially at any time. If you don't know how to play the game correctly, you could lose a lot of money.
Here is a list of stock market investing advice to help you get started on your financial journey.
1. Understand your investment goal.
Prior to making any form of investment, you must determine your investing goal. What are your aspirational goals? And, because this is a goal, it must have a deadline.
List all of your goals and objectives, as well as the timeline during which you hope to achieve or realise them. For example, when do you intend to retire? What amount of money do you need to save for retirement while maintaining your current standard of living? How many years do you have till you plan to retire?
These questions will assist you in determining how much money you actually require and how much time you have to achieve your financial objectives.
2. Determine your risk profile
There are two types of investors: conservative and risk-taking. The conservative investor has a low risk tolerance and aims to maximise returns by investing in low-risk financial assets such as bonds and mutual funds.
An aggressive investor, on the other hand, aims to maximise returns by investing in high-risk financial assets such as shares. This type of investor is willing to accept market volatility and risk in exchange for the possibility of a higher and longer-term return on investment.
As a result, understanding your risk profile first is critical, as it will lead you in selecting the best investment vehicle and implementing the best strategy to reach your financial goals.
3. Further your education
Before you begin investing in the stock market, you must first grasp how the market works and how to put your investment strategy into action.
There are a plethora of online stock market investing lessons for novices as well as free webinars for OFWs to learn how to start investing and growing their money in the stock market.
As previously said, it is critical to first assess your risk profile. You can choose which investing strategy to use by establishing your risk profile.
As a result, comprehensive awareness, the right technique, and the right time are the keys to reducing the risk of loss.
4. Select a reputable stockbroker
After you've done the first three steps, it's time to find a reputable stockbroker to help you on your financial journey. The PSE keeps a registry of accredited stock brokerage firms and trading participants who are licenced to trade stocks and have received training.
5. Submit the necessary papers to a licensed brokerage.
To begin trading, you must submit a completed Customer Account Information Form along with identification documents to the stockbroker. Then, your preferred brokerage will dispatch an agent or trader to assist you with stock trading.
6. Only work with licensed agents and traders.
You want to collaborate with a respectable and trustworthy service or organisation because money is involved, right? Make certain that you will only do business with legitimate stockbrokers and competent agents. You can always look into the agent's or trader's connection to the given institution. You may also contact PSE for assistance.
7. Make a payment to the brokerage firm directly.
Make certain the money is paid directly to the appropriate broker. Investors may want to look over their stockbroker's monthly statements to see if there are any irregularities.
8. Stay up to date with the financial market and news.
Because the stock market is dynamic, it is essential for investors like you to regularly analyse your portfolio and remain current on stock market news. This will allow you to assess whether the company in which you are now investing is still profitable. As a result, it will instruct you on how to change your strategy to reduce losses.
How to Get Started in the Philippine Stock Market
As an OFW, you may have the time and resources but not the knowledge to invest in the Philippine Stock Market. The good news is that there are many online stock brokers who offer tutorials and courses on how to trade in the Philippines. You can also find a wealth of information at the Securities and Exchange Commission's website or by asking your friends who invest in shares.
Here's how you can get started:
Step 1. Select the companies you want to invest in.
Investing in just one company is not advisable, as it increases your risk of losing all your money if things go wrong with that company. Instead, diversify your investments across multiple stocks and sectors.
So now, the more important topic is, "how to determine which stocks to invest in?" Here are some tips:
1. Research the company's financial statements and business plan. This will give you an idea of its performance over time and its strategy for dealing with competition and other challenges.
2. Look at how the stock has performed so far this year. If it's been performing poorly or steadily declining in value, there may be something wrong with the business model or management team that investors haven't yet noticed.
3. Look at the company's competitors. Are they underperforming or outperforming, and by how much?
4. Consider the company's business plan, growth opportunities and financial health.
5. Look at the company's history of earnings and revenue growth and its financial statements.
6. Check out what analysts are saying about the stock.
7. Look at how much debt the company has on its balance sheet.
Of course, not all of this information can be accessed through a simple Google search. You'll have to do some digging on your own, but it's worth it because the more you know about a company, the better equipped you'll be to make an informed decision about whether or not its stock is right for your portfolio. You can start your research by looking at the company's website and searching for press releases, as well as SEC filings. You can also find information on different financial websites, such as Yahoo Finance, and many others.
Step 2. After you've selected a company you want to invest in, you'll need to open an account with a brokerage firm.
These companies will allow you to buy and sell stocks and manage your portfolio. Most brokers also offer research tools to help you better understand the market and make smarter investment decisions.
In the Philippines, the top brokerage firms can be assessed by their trading platform, research tools, customer support and fees. Top brokerage firms include First Metro Securities Corp., Philstocks Investment Corp., STCI Financial Services Inc. and Security Bank.
Step 3. Once you have a brokerage account, it's time to invest.
The first step is to decide how much money you want to put into the market.
You can choose between investing in cash funds or stocks and bonds.
Cash funds are safer investments that earn interest over time; they're often used for long-term savings goals like retirement.
Stocks and bonds, on the other hand, offer higher returns and greater risk. If you're just starting out, it's best to stick with cash funds until you learn more about investing.
Whatever you choose to invest in, you'll want to keep your investment in a brokerage account separate from cash in the bank. This way, you won't be tempted to use your invested money for anything else.
Step 4. Choose a savings goal.
Once you've decided which investment to make, it's time to decide how much money you want to put into it. You can choose from different levels of risk based on your investment preference: low-risk, moderate-risk, or high-risk funds.
Step 5. Decide on your investment time frame.
The longer you plan to invest, the more risk you can take with your money. For example, if you're investing for retirement and need a steady income stream over time, it's best to stick with low-risk investments such as bond funds or certificates of deposit.
Frequently Asked Questions
1. How to invest in stocks as an OFW?
You might think investing in stocks would be like raising a child or starting a business. However, it can be hard when you're an OFW, as you have to travel. Fortunately, there are various ways to invest, such as through a broker.
2. How can OFWs invest in the Philippine Stock Market?
Even if you're not in the Philippines, it's still easy for Filipinos working overseas to invest in the Philippine stock market. Just start now and get grow your finances.
3. How You Make Money through the Stock Market?
You can make money through stocks by buying ownership of a real-world business. This process usually involves buying a company that's already in operation.
4. What is equity index fund?
An exchange-traded fund or equity index fund is a type of investment that allows you to buy and sell small pieces of different stocks. This type of fund also allows you to own small pieces of the companies that it invests in.
5. Why is it important to keep steady benchmarks?
It's important that you regularly monitor the performance of your stocks to ensure that they are in line with your expectations.
6. Why invest early?
You have the chance to save for your retirement and other future plans by investing early. This will allow you to take advantage of the lower interest rate on your savings.
7. Why is it important to be efficient in the stock market?
Stock market professionals need to be both science and art-oriented in order to be successful. This is because it requires a deep understanding of the various factors that affect the performance of the market.
8. What happens when you buy a share of stock?
When you buy a stock, you are also acquiring a piece of the company. The company's owners then approach an investment bank to arrange an initial public offering. This type of deal usually involves the issuing of stock to the public.
Video: OFW INVESTING IN THE STOCK MARKET – HOW TO START FOR BEGINNERS
In this video we have Patrick Miguel, a fellow Filipino who now lives in New Jersey. He wants to know how overseas Filipinos can invest in the stock market. This video is for Filipinos living abroad who would like to learn more about investing.
Here, you will learn about how to get started investing for overseas Filipino workers. The video will also talk about why Filipinos love Jollibee, Ayala Corp., and other companies so much and why you should consider investing in those companies yourself.
Questions from listeners who are confused about whether or not they should attend webinars or just invest their money will be answered.
Finally, the video will address questions from listeners who have been laid off and want to know where they can start investing their money.
Final Thoughts
And that's how you play the long game of investing. You've got to make sure your money is working for you and not the other way around. If it's been a while since you last opened up an investment account, come back to this guide and refresh yourself on what options are available and how to invest wisely.
Of course, actual investing is much more complicated than what we've discussed here. But if you're looking to get started, this guide should give you a good idea of how the process works and what kind of risks are involved.
We hope you've learned something new and that you'll be able to put it to good use in the future. If you have any questions or comments, please feel free to post them in the comments section below.
DISCLAIMER: We do not offer financial advice. This guide should not be construed as financial advice. Please consult a professional before making any major financial decisions.
READ NEXT: Here's Why OFWs Should Start Investing in Real Estate Today