Are you an Overseas Filipino Worker (OFW) in the UAE? If so, there's a card that you can use to get discounts in hotels, restaurants, and shops abroad and in the Philippines. You can also avail of health services and gain huge savings with the Korooti VIP Discount Card.
In Arabic, Korooti translates to "My Cards," and it is especially designed for Pinoys working overseas. For just AED 8 per month (or AED 100/year), you can use it to get discounts in the UAE. What's more, your family can use it to avail of discounts in the Philippines, too!
Become a Korooti Member!  SIGN UP HERE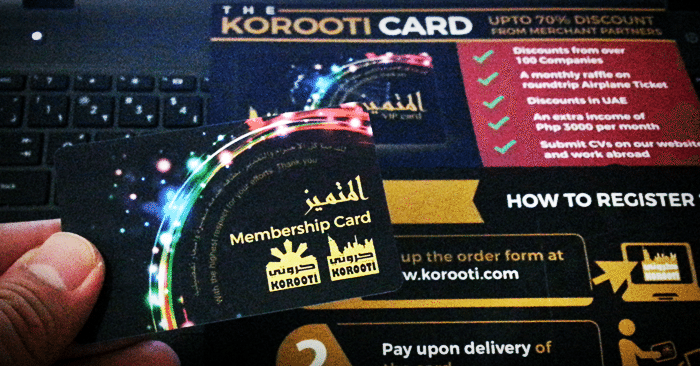 VIP Card Designed for Hardworking Pinoys
In 2015, the CEO of Korooti, Tariq Farekh, established the program in Dubai. According him, Korooti aims to support and appreciate OFWs in the UAE, as well as reward their families back home. Soon, it will also be available to other countries where there are hardworking Filipinos.
Perks of Being a Korooti VIP Card Holder
What can you gain from becoming a Korooti VIP Card holder? Here are just some of its perks:
Discounts in over 200 acompanies abroad and in the Philippines.
Submission of CVs to Korooti website for career opportunities.
Extra income for referring new members to Korooti.
Chance to win huge prices (e.g. SUVs, plane tickets) through monthly/yearly draws!
Notably, a lucky Filipina in Saudi Arabia won a brand-new car from Korooti during the first grand raffle. During the next one, an OFW in Kuwait won a brand-new SUV.
Korooti's Restaurant Partners
In Dubai, Korooti has plenty of restaurant partners where you can enjoy great discounts:
Jollibee — Free Sundae for every AED 25 purchase
Max's Restaurant, Bibingkinitan, Barrio Fiesta (Ramada Deira Branch) — 20% off from total bill
Boracay Night Club, Lamesa, Manila Grill — 30% discount on Food and Beverages every Sunday and Monday night.
… and many, many more!
NOTE: Their offers change every month, so be sure to check the Korooti website for the latest promos and partner merchants.
Become a Korooti Member!  SIGN UP HERE
How to Be a Korooti VIP Member
Would you like to become a Korooti VIP member? Just follow these steps:
Apply for membership by signing up here.
Pay AED 100 upon delivery of the card.
Call the Korooti office to register your card:
For UAE, dial +971 4 320 2555
For Philippines, dial +63 (02) 804 5155
Using Korooti in the Philippines
Your family in the Philippines can use Korooti, too! Regardless of where you are in the world, you can purchase a Korooti VIP Card for your loved ones back home. Of course, don't forget to tell them that you ordered a card, so that they can receive it upon delivery to your home!
If there is one reward card that you should always carry around, it's the Korooti VIP Discount Card. To learn more about Korooti, you may contact the following:
Korooti UAE
Contact Number: +971 4 320 2555
Website: http://www.korooti.com/
Facebook Page: https://www.facebook.com/UAEVIPCARD/
Korooti Philippines
Contact Number: +63 2 804 5155
Website: http://korooti.ph/
Facebook Page: https://www.facebook.com/KorootiPhilippines