The suspension of the overseas employment certificate (OEC) issuance has finally been lifted after fifteen days, allowing first-time Filipino workers aboard to be granted clearance overseas.
The Department of Labor and Employment Secretary Silvestre Bello III released an advisory lifting the suspension yesterday, December 4. This means that the Philippine Overseas Employment Administration (POEA) can resume the processing of Overseas Employment Certificate to workers seeking employment outside the country. An OEC is a mandatory document that needs to be secured by a worker before he can work abroad.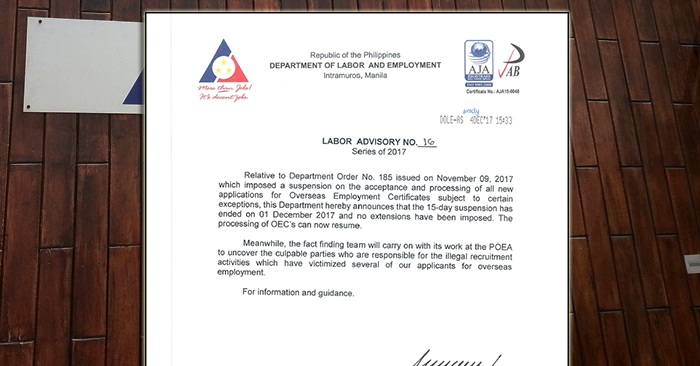 Thousands of Filipinos Expected to Head to the POEA office as OEC Issuance Resumes
This suspension was ordered last November 13 due to reported illegal recruitment happening in the POEA office. In a news released by ABS-CBN, some POEA employees are allegedly working alongside these illegal recruiters earning up to 250,000.00 pesos for OEC transactions. Labor secretary Bello III further advised that the investigation is still ongoing to verify these claims and penalize those employees who are involved. Tightened security measures are also being considered ranging from added surveillance cameras (CCTVs) within the offices premises as well as replacement of identified accomplices in the janitorial staff and security personnel who are reportedly serving as fixers assisting in these transactions. What with all these changes, it will not be a surprise if actual POEA officers will be included in the investigation.
Several employment agencies have also expressed their dismay over the OEC issuance suspension citing that this will have significant impacts to both the Filipino workers and their employers. One particular agency in Hong Kong, the Overseas Employment Centre, reportedly received numerous phone calls from worried employers asking when their household help will arrive with some expressing that they might give-up hiring from the Philippines entirely.
A staggering number of approximately 75,000 overseas foreign workers were affected during the 15 day suspension. Majority of them will most likely flock the POEA office to have their OECs issued. The agency has however, assured the public that workers affected by the ban will be prioritized and will be processed ahead of the other [new applications]. They have also committed to work overtime and do everything in their capacity to fast track the OEC issuance of those who were affected.
Below is a screenshot of the Labor Advisory posted from the Department of Labour & Employment DOLE website.