A Filipina domestic helper who was hit by a van in the busy intersection of Tai Po last November 25th has succumbed to her injuries, just hours before her husband and her 16 year old son were set to arrive in a Hong Kong hospital.
Geraldine Lupian Betasola, a 36 year old mother from Inabanga Bohol, was pronounced dead at 4:34PM on November 29 at Prince of Wales Hospital, four days after she was hit by the vehicle. Reports said that the impact was so strong that the victim was hurled several meters away. Witnesses mentioned that it was obvious that Geraldine's life was already hanging by a thread the moment her fellow OFWs took her to the hospital where she would remain unconscious until her last breath.
Related Post: 15 Photos: Pinoy Community in Hong Kong During Sundays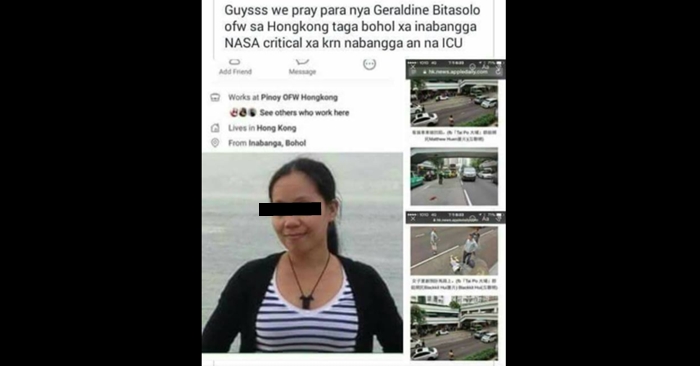 Filipina in Hong Kong Dies after Being Hit by a Van
What is more heartbreaking is the fact that her family, who tried their best to go to Hong Kong, arrived an hour too late from her passing. Both her husband, Ricardo and son Kyle were given special assistance by the local government unit of Inabanga to finance and facilitate the speedy processing of their passports to travel abroad.
The Philippine Consulate in Hong Kong is currently in contact with Geraldine's family assisting them in preparing the documents needed to file for claims. Victims of vehicular accidents in Hong Kong can seek for financial help through the Traffic Accident Victims Assistance System, a program run by the Social Welfare in their country. Through this, Geraldine's family can be given extra financial help to cover any expenses relating to this ill-fated incident. This is on top of any bodily injury claim that the family can file against the van driver. Additionally, since the accident occurred while she was at work, the family has the option to file for employees' compensation for her death; she had reportedly worked for her employer for six years.
According to reports from Sunwebhk.com, the van driver identified as "Kan" (his last name) was captured and was later released on police bail after being charged with "dangerous driving causing grievous bodily harm." These charges will be amended depending on the outcome of the police investigation.