A Filipino wife has taken to Facebook to reveal the true story about her broken family after her OFW husband who was allegedly "dead" has continued activity with his civic group and his alleged mistress.
Facebook user Ex Ortega who also signs her posts with the name "Cris" has posted that she is fighting for her children's right as she shares the story of how her husband, an OFW in Saudi Arabia, allegedly faked his death after leaving his children for his mistress. Her post reads,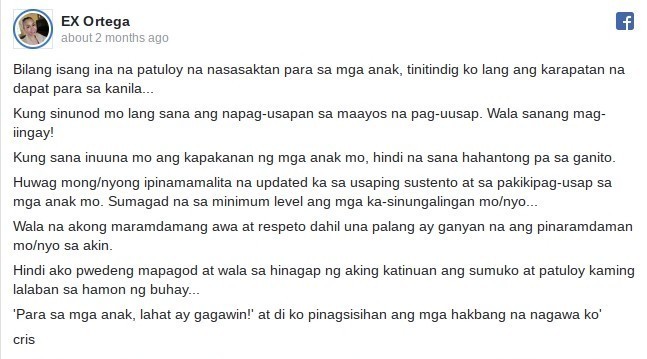 According to an earlier post made by Cris and reported by another sites, Lemoure Jeffrey Macabulos Ortega had been a loving father and devoted husband when he left to work as an OFW in 2009. She also shared that the communication remained consistent for three years until she discovered his Facebook account and one constant female commentator.She also said that it wasn't until 2018 when she finally proved that her husband has a mistress, and discovered that her husband has been forcibly rejected by his own church in 2015, along with his mistress.
Unfortunately for Cris, her husband's story did not end there. In 2019, he allegedly faked his death following a refusal to send support for his children in February.
She said:
"Hindi ko inilabas to para may mapag-usapan lang, ito ang realidad ng buhay na pinag-dadaanan naming mag-iina na patuloy na lumalaban sa buhay, lalabas din na may masasabi din sa akin…"
Her full post reads,

In more recent posts, Cris also shared snippets of her kids' communication with their dad.
The older boy, CJ, had been less than civil with his father after Jeffrey had said that they didn't know how to be thankful for his support. Read their conversation here:
The younger one, Janna, had been more civil, as she practically begged her dad for support.
As of posting, Cris shared that she realized, Ortega realized that her father isn't worth her tears. Right now, Cris is enjoying being a proud mom and living happily with her children.