The Philippine Embassy in Abu Dhabi, in coordination with the Abu Dhabi government, has demonstrated full commitment as they work non-stop in the process of repatriating distressed, undocumented Filipino workers with numbers reaching 1,081 individuals flown back home as of August 2019.
23 OFWs comprised the latest batch of Filipinos repatriated by the Embassy last August 22 (Thursday). According to Embassy officials, the majority of the individuals who sought shelter at the POLO-OWWA center were illegally brought here to the country.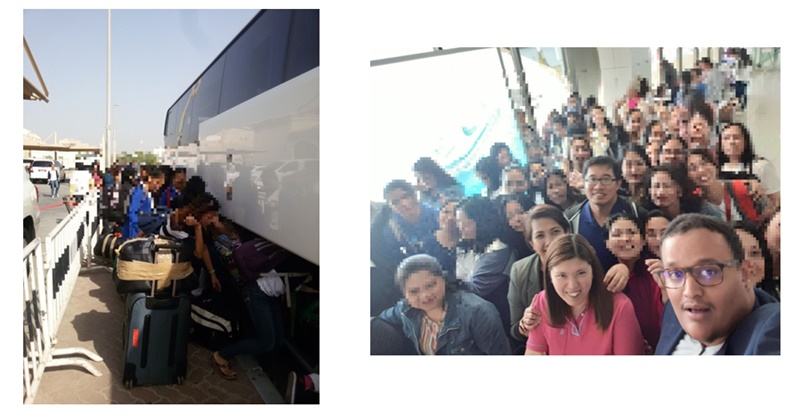 PH Embassy Abu Dhabi Repatriated Over 1,000 OFWs as of August 2019
In a statement shared by the Philippine Embassy, "Almost every one of them was irregularly recruited without undergoing POEA processing. Practically all of them were enticed into going to the UAE by social media posts (particularly Facebook) made by unscrupulous individuals."
In line with this, government agencies both locally and in the UAE have been working closely to ensure that each of the distressed workers is given assistance to head back home.
The embassy noted, "The Department of Foreign Affairs, through the Philippine Embassy in Abu Dhabi, processed and funded the repatriation of these individuals who sought the Embassy's assistance, while the sheltering of the distressed Filipinos is managed by POLO-OWWA Abu Dhabi."
Furthermore, the Embassy explained the process that it takes for each individual to be repatriated, stating that each case averages two months before being granted clearance.
In a statement, the Embassy shared: "Prior to being given clearance to leave the UAE, the repatriates had to undergo clearing with police, judicial, and immigration authorities which entails the processing of their repatriation at an average of two months."
Through the statement, Embassy officials in Abu Dhabi extended their appreciation to UAE authorities for the ongoing assistance that helps distressed Filipinos to head back home and reminds fellow Filipinos who plan to head to the UAE to go through proper channels when seeking employment: "The Philippine Embassy thanks the UAE government for its assistance in ensuring the repatriation of these distressed Filipinos at the most expeditious way possible. The Philippine Embassy emphatically reminds all Filipinos seeking employment outside the Philippines to undergo processing by the POEA."
As a reminder to all aspiring OFWs, make sure to go through the appropriate course of accepting job offers overseas, which is regulated by the POEA in order to prevent falling victim to illegal recruiters, and suffer injustice when deployed for work overseas.
ALSO READ: DFA Cautions OFWs Against Online Human Trafficking Scheme