Before the Pag-IBIG Fund Law of 2009 which requires OFWs to register as a Pag-IBIG member was established, a voluntary savings program called the Pag-IBIG Overseas Program.
Also Read: Pag-IBIG Member Program & Benefits
The program, originally meant to give OFWs an opportunity to save for their future as well as to provide them a chance to avail of housing loans, is now but an option for OFWs. But for those who are interested, this are the things that you need to know.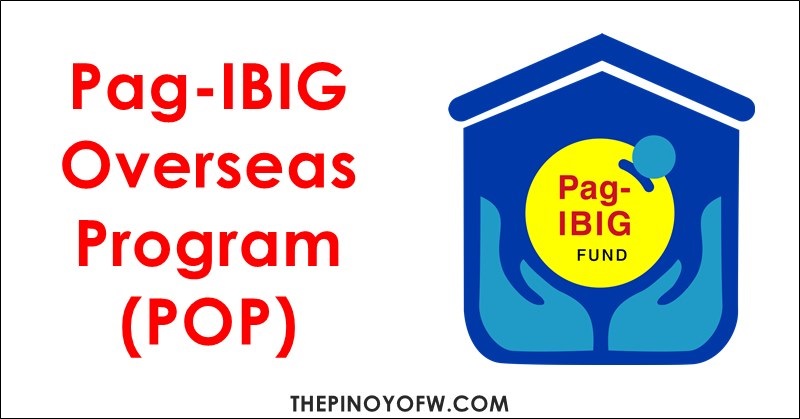 How to Apply for Pag-IBIG Overseas Program (POP)
Qualification requirements
Any Filipino or former Filipino citizen who works abroad can join. To do so, just accomplish the Member's Data Form (MDF) and pay the required monthly contributions for the members.
Gross Monthly Income of Member and the Required Monthly Savings under POP
US$ 1000 and below = US$ 20.00
Over US$ 1000 to US$ 2000 = US$ 40.00
Over US$ 2000 = US$ 50.00
The member may make the payment and/or deposit either in US$ Dollars or the Philippine Peso equivalent, subject to exchange rate prevailing at athe time of the actual payment date.
Best Features of the POP Savings Program:
Guaranteed by the Government of the Republic of the Philippines
Tax Free Interest Earnings (No Witholding Tax)
Fixed Interest Rate of 7.5%/annum for Peso Savings and 3%/ annum for US$ Savings
Portable (regardless of employer of country of employment)
Can members withdraw their Savings?
Yes, provided it meets the following conditions:
membership maturity of 5 or 10 years
separation from work due to health reasons
total Disability or Insanity
death
Where can Members Withdraw, Remit, or Pay Monthly Savings?
Because POP and Pag-IBIG are two different programs, contributions to the first will not be combined with the latter. POP members are encouraged to continue contributing to POP until it reaches the maturity period which is also the time when they can withdraw their funds.
Payments can be made by visiting the following:
Pag-IBIG Overseas Program Office
POP Overseas Offices
Accredited Overseas Marketing Representatives
Metro Manila and Provincial Offices
Accredited Collecting Banks/Remittance Cen
Accredited Collecting Banks
Remittance of Contributions may be made through the following:
Europe
PNB London (Savings Acct. No. 0725-219601-401)
ABC UK (UKD 2000097)
Asia Pacific
PNB HK (Savings Acct. No. 0730-475270-501)
United States of America
Oceanic Bank (Savings Acct. No. 3700143)
PNB New York (Savings Acct. No 1713)
ABC Guam (Savings Acct. No. 5000-00355-4)
Middle East
BPI – Atrium (Savings Acct. No. 3124-0221-09) Speed cash
ABC Head Office (Savings Acct. No. 1002-071759)
Canada Bank of Nova Scotia (Savings Acct. No. 2164-10)
Remittance may also be made to any of the following banks:
RCBC (Savings Acct. No. 8000-08787-5)
PNB Makati Ave. (Savings Acct. No. 265706641-1)
LBP (Savings Acct. No. 2204-008496)
PCIB (Savings Acct. 5463-00176-8)
Documentary Requirements to Apply for Savings Refund
Original copy of POP Passbook
Application for Provident Benefit
Special Power of Attorney ( if applicable)
Processing period: Three (3) working days
POP Housing Program
Just like the now-mandatory Pag-IBIG FUND, POP also allows for a housing program for its OFW members.
Housing Loan Eligibility Requirements
An active POP member with at least 12 monthly membership contributions may avail of a housing loan provided that the member meets the following criteria:
If you are insurable and are not more than 65 years old at loan maturity, then you have the legal capacity to acquire and encumber real property. If you do not have any outstanding Pag-IBIG housing loan either as a principal borrower or as a co-borrower, or you are updated with your Pag-IBIG multi-purpose loan payment, then you are eligible for the POP housing program.
Pag-IBIG Overseas Member Services Desks
Presently, Pag-IBIG Fund has a total of twenty-three (23) overseas posts located in various cities in Asia Pacific, Europe, Middle East, and North America with operations in Philippine Embassies, Philippine Overseas Labor Offices (POLOs), or Philippine Consulate General Offices. These offices are meant to provide and extend frontline services on membership registration, facilitate remittance of membership savings and loan amortizations, and assist in the availment of provident claims and loan benefits.
For overseas directories, members can also visit access www.pagibigfund.gov.ph/pop/.