The "Ber" months, which typically herald the holiday season in the Philippines, has just arrived but the national government has already released the list of public holidays in the country for 2019!
If you're wondering what's so special about that, then dig this: there will be 21 holidays and 7 long weekends to plan for your next solo or family escapade in 2019. If you're just as excited as we are, then continue reading below: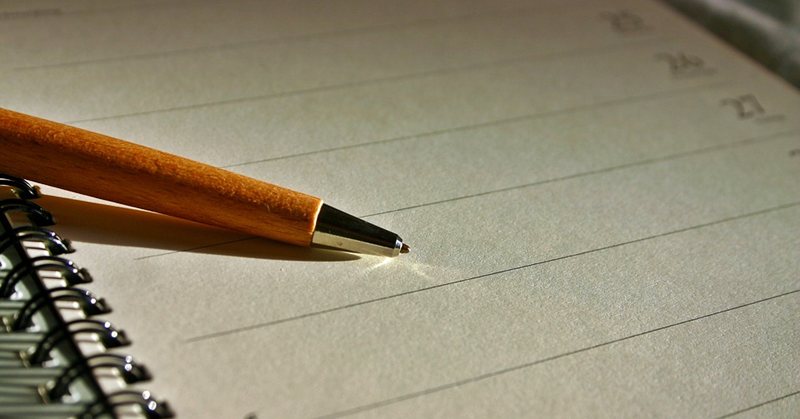 Guide to 2019 Philippine Holidays List
With the memo already released by Malacañang, you can start planning your holiday trips as early as now. Also, if you do it properly, you can maximize your breaks by strategically using your leaves to increase this year's 7 long weekends to 10! Don't worry, we'll help you map out your calendar properly, so that you don't miss out!
Here are the official public holidays released by the Malacañang Palace under Proclamation No. 55:
January 1 (Tuesday) – New Year's Day
February 5 (Tuesday) – Chinese New Year
February 25 (Monday) – EDSA People Power Revolution
April 9 (Tuesday) – Valor Day (Araw ng Kagitingan)
April 18-20 (Thurs – Sat) – Holy Week
April 18 – Maundy Thursday
April 19 – Good Friday
April 20 – Black Saturday
May 1 (Wednesday) – Labor Day
June 12 (Wednesday) – Philippine Independence Day
June or July 2019 – Eid'l Fitr 2019 (date to be announced later by Malacañang)
July or August – Eid Al-Adha 2019 (date to be announced later by Malacañang)
August 21 (Wednesday) – Ninoy Aquino Day
August 26 (last Monday of August) – National Heroes Day
November 1 (Friday) – All Saints Day
November 2 (Saturday) – All Souls Day
November 30 (Saturday) – Bonifacio Day
December 8 (Sunday) – Feast of the Immaculate Concepcion
December 24 (Tuesday) – Christmas Eve
December 25 (Wednesday) – Christmas Day
December 30 (Monday) – Rizal Day
December 31 (Tuesday) – Last Day of the Year
Note: The dates for the Eid'l Fitr and Eid Al-Adha holidays are still tentative. The official dates will be officially announced by the National Commission on Muslim Filipinos (NCMF) as the respective holiday approaches.
Take note of this sample calendar below to help you remember the dates you should apply your leave credits for: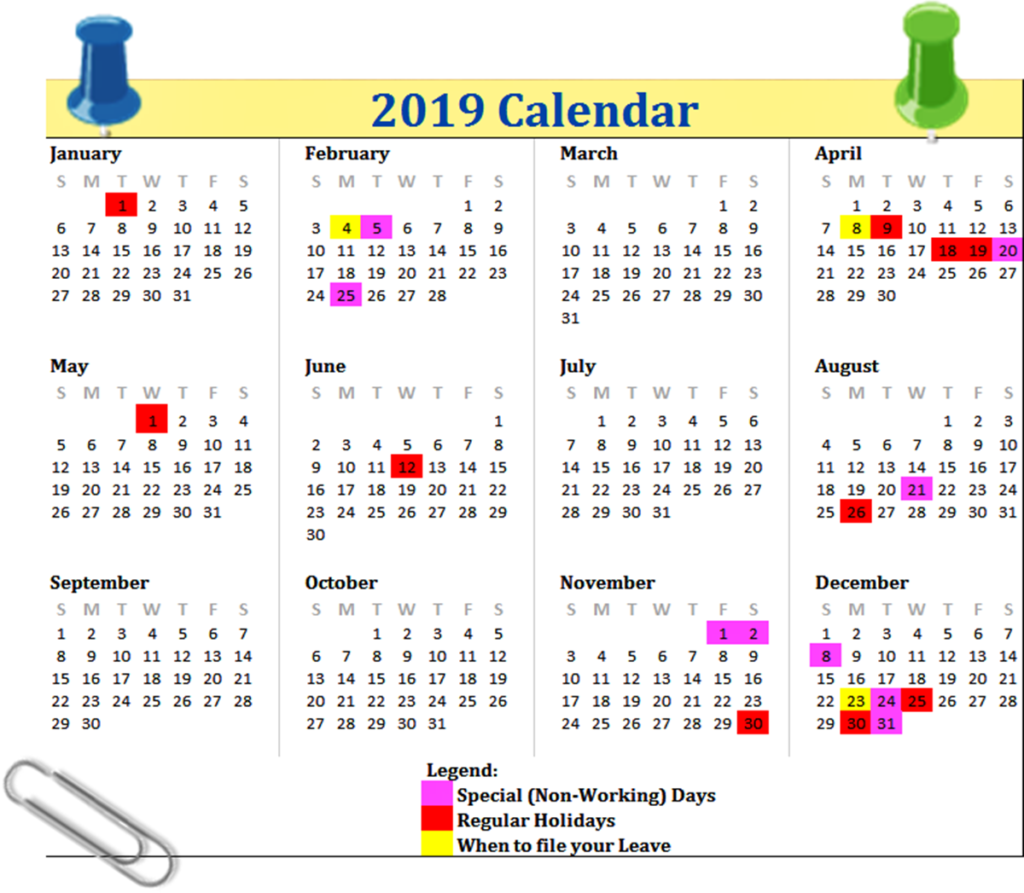 For employees with a limited number of leave credits, it's important that you take important dates (holidays) into consideration when planning your vacation or your well-deserved break from work. Remember: all work and no play makes an employee super stressed! Well… you get the point.