As a parent, you probably have already anticipated all the excitement of having a baby in your arms. You may have also listed the names that you're going to use for your child. All these can seem exciting, until  you compute the bills that will come with it.  Good thing there's the expanded maternity leave benefit from the SSS for all of its members!
Getting pregnant and childbirth are no laughing matter, and with the rising cost of both, it's no wonder that many couples are looking for quick and easy ways to pay for these expenses. However, if you're an SSS member, you can get a monetary benefit for delivering your child.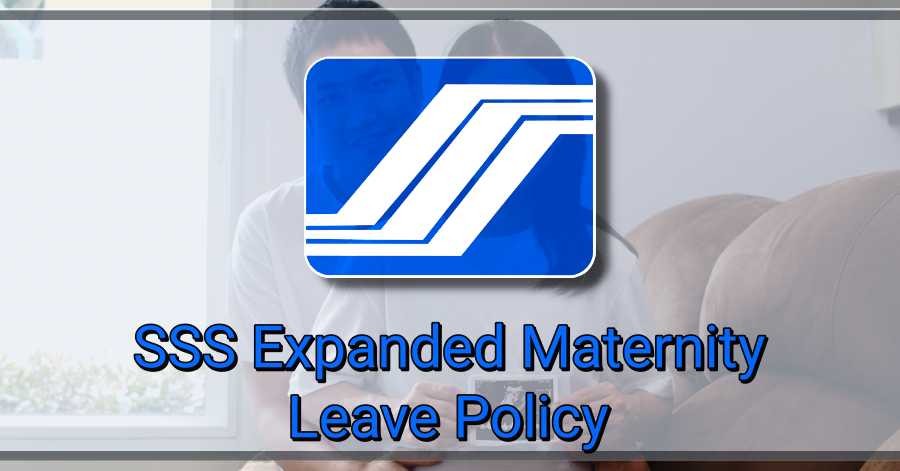 The SSS Expanded Maternity Leave Law: An Overview
According to the new law, a woman is required to make payments to the Social Security System (SSS), the Philippine Health Insurance Corporation (PhilHealth), and Pag-IBIG for the duration of her maternity leave, which will be approximately 3.5 months, 4 months, and 2 months.
Also Read: SSS Monthly Contribution Table and Schedule of Payment
What is the SSS Expanded Maternity Leave?
The SSS Maternity Benefit is the daily cash allowance of SSS female members who are unable to work due to childbirth, miscarriage, or emergency termination of pregnancy, including stillbirth.
SSS female members who are unable to work as a result of childbirth, miscarriage, or emergency termination of pregnancy, including stillbirth, are eligible to receive the SSS Maternity Benefit in the form of a daily cash allowance.
Eligibility
SSS female members who can prove their civil and employment status, child legitimacy status, and frequency of pregnancy, are eligible for the SSS' expanded maternity leave benefit.
The Social Security Maternity Benefit is a financial payment given to SSS female members who are unable to work as a result of giving birth, having a miscarriage, having an emergency termination of pregnancy, or having a stillborn child.
The following privileges and rights are established by this law:
Full compensation, which includes not only the SSS Maternity Benefits but also the salary difference that is paid by the employer, is provided to the employee during their maternity leave.
A possibility to prolong the length by a further thirty days, but without compensation for childbirth, provided that adequate notice is given to the employer.
The incentives are also open to female athletes who compete for their country.
The provision of medical care by PhilHealth in accordance with its preexisting policies and guidelines.
The health care services provided by PhilHealth in accordance with its preexisting norms and regulations.
PhilHealth's medical assistance programs in accordance with the organization's previously established policies and procedures.
Requirements of SSS Expanded Maternity Leave Law
Before you can take advantage of the benefits offered by the Social Security Administration (SSS), all female SSS members are required to satisfy the following conditions:
Those who are employed by private businesses or women who are self-employed are required to have paid at least three months' worth of Social Security contributions. It should be no more than a year before the semester in which the individual will be giving birth, experiencing a miscarriage, or having an emergency termination of pregnancy.
Take, for instance, the assumption that your due date is any time between July and September of 2021. If this is the case, then you ought to have posted contributions between April 2020 and March 2021. You will not be eligible for the benefits if the only time you made contributions was between April 2021 and September 2021.
In addition to this, you are required to present evidence and notify others of your pregnancy. If you are an independent contractor, you are required to send this to your employer. If you are employed by the government, you have the option of submitting it to the director of the agency that you work for. While this is going on, OFWs and people who are self-employed can transmit the documentation directly through the My.SSS portal or the SSS Mobile App.
** Note that claiming SSS Maternity Benefits is valid up to 10 years from the date of your delivery.
How to Calculate Your SSS Expanded Maternity Leave Benefits
Before you may begin to compute your Social Security Maternity Benefits, you are required to exclude the first semester following the delivery of your child or the occurrence of a contingency. Keep in mind that a semester consists of two quarters taken in a row. Then, beginning with the beginning date of your semester, count backwards by a full year.
To begin the process of calculating your Social Security Maternity Benefits, you must first remove the first semester following your delivery or emergency. It is important to keep in mind that a semester consists of two quarters taken in a row. After that, count backwards 12 months beginning with the first day of your semester.
Calculation of the SSS Maternity Rate for 2022
 Example of Computation:
Date of Delivery: October 2022
The semester of Delivery will be July to December 2022, since October is within this semester. Count 12 months backwards, starting from June 2022. That will be from June 2022 to July 2021.
After you have that information, find the six greatest monthly salary credits you have received throughout that time period.
Calculating the average daily salary credit requires first adding up all six amounts, and then dividing that total by 180 days.
Frequently Asked Questions:
1.      How is SSS maternity benefit 2020 calculated?
The average daily pay credit is calculated by dividing the total monthly salary credit by 180 days. Multiply the daily maternity allowance by the following factors: For Normal Deliver – 105 days. For Cesarean Delivery – 105 days.
2.      How much is the maternity benefit in SSS 2022?
Female members with an expected delivery date of January 2020 onwards, may receive a maximum maternity benefit of P70,000, given that they are paying their contributions under the new maximum monthly salary credit of P20,000.
3.      What is the expanded maternity leave?
The first daily maternity leave benefit of 60 days for normal delivery or 72 days for caesarian delivery has been increased to 105 days under the new law. This increase applies to all types of deliveries, including normal and caesarian. The employee is eligible for sixty days of paid leave for maternity leave in the event of a miscarriage or an unexpected termination of the pregnancy.
4.      How to Avail of 70k SSS Maternity Benefits?
Please take note that the highest amount of SSS Maternity Benefits that can be availed of is PHP 70,000. Therefore, in order to earn this amount, your posted contribution to SSS must also be at a maximum amount, and it must have been made for a total of 105 days. Your monthly salary credit in the SSS contribution table will be determined based on the information provided here.
The most recent version of the SSS contribution table can be seen on the SSS website's main page.
5.      How to Compute Maternity Benefits for Voluntary Members?
Calculating the maternity benefits for voluntary members is very similar to the procedure that was presented earlier. First, you will receive credit for your monthly pay based on the amount of your paid monthly contribution. Then you should get credit for your daily average wage. And once again, multiply your average daily salary credit by the number of days that have been authorized. The entire amount of your maternity benefit is the result.
Summary
Every woman in the Philippines has the legal right to be informed of the benefits that the government has legislated for them. It is essential for you, as a female member of the SSS, to have an understanding of how you can enjoy and make use of these benefits.
A citizen has a responsibility to keep themselves up to speed on the law. As a result, if you are a citizen of the Philippines, you are obligated to pay attention to any proclamation made by the government regarding revised rules and regulations. If you are familiar with the guidelines, you won't be left out of the conversation about important things, particularly with the rights that have been granted to you.
It is the same as learning how to calculate the financial support you might obtain from becoming a member of the Social Security System. If you are familiar with the calculation for your Maternity Benefits, it will be simple for you to determine whether or not there is a disagreement regarding your payment. Because of this, you are able to send it directly to the agency.
When applying for your SSS Maternity Benefit, you are required to check and make sure that all of your contributions have been posted. If you are an employee of a private company, it is your responsibility to ensure that your employer makes the necessary payments on a consistent basis.
In addition, make sure that your membership status is up to date so that you do not run into any problems when applying for and attempting to collect maternity benefits. You are able to bring your status up to date by delivering a completed Static Information Sheet to any of the SSS branches.
READ NEXT: How to Check and View Your SSS Contributions Online