As a Filipino working abroad, you might think wonder how you're going to view your SSS contributions online. Here's step by step process so you can check how much you have contributed for your SSS. This article will also advise you how you can register for an online account on top of viewing your posted SSS payments.
Related Post: How to Apply for SSS Salary Loan
NOTE: If you're an OFW, you will paying your SSS every month is voluntary. You will have to do it yourself by either having somebody in the Philippines to pay for your membership OR you can send money via accredited Money Exchange centers (check your nearest branch if they have this service available). Still we advise that you should not stop your contribution as this is for your future.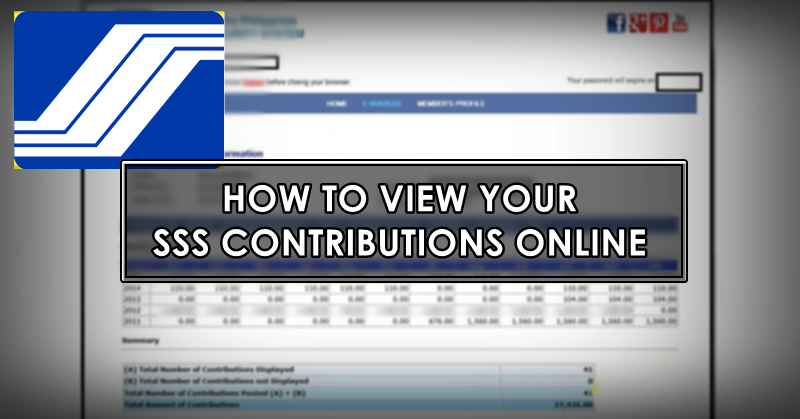 Why Should You Check your Contributions?
As a member of the Social Security System, you may want to find out if your contributions are being posted. You want to find out if your contributions are being recorded and your status updated. You are not in the Philippines and don't want to bother your family members to manually check in the SSS Offices.
You can still find out about it by checking your contributions on-line. Here we outline the steps to guide how you can set up an online account and view your SSS contributions online. Take note that in order for you to register for an SSS account online, you need to mainly have your SSS number.
A Step by Step Guide to Viewing Your SSS Contributions On-line for OFWs
Here are the steps to help you view your SSS contributions as an OFW working abroad. Please be advised that you need to have an ONLINE account from SSS before you are able to view your contributions. If you already have an SSS online account, go to Step 1, 2, 4 and 5. If you do not have an account, please follow the guidelines below.
Step 1. Open your browser. You can use either Google Chrome or Internet explorer. However, the SSS website asks you to use Internet Explorer 11 for optimal experience. Type www.sss.gov.ph on the address bar and press enter.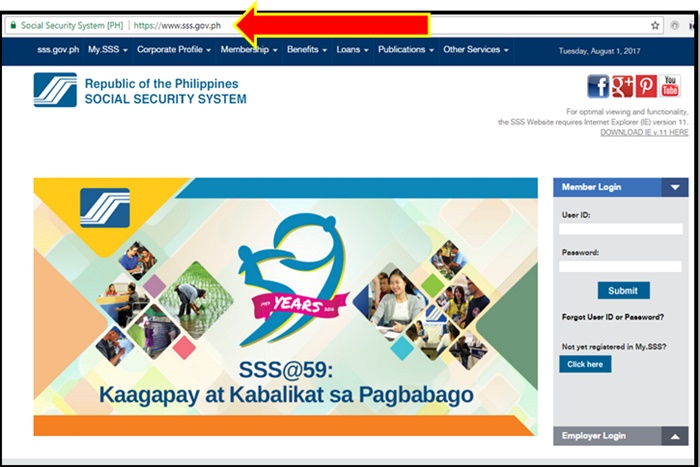 Step 2. Locate the Member Login pane in the website. It is located on your right-hand side.
Fill in the necessary information in the fields. Make sure to double check your data before pressing any button.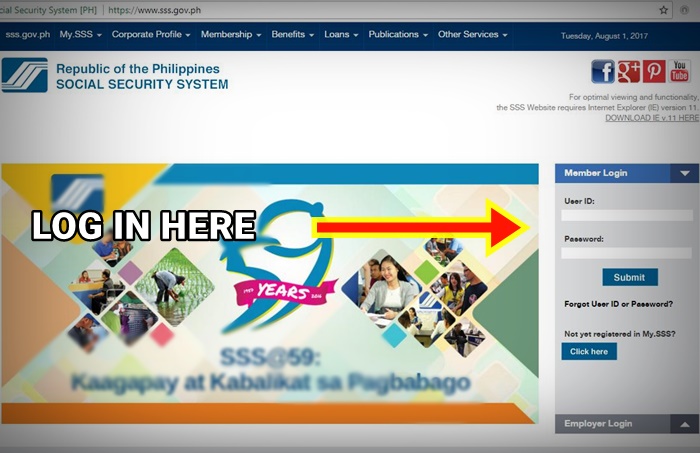 Step 3. Enter your username and password on the fields provided. If you are not yet a member of the My SSS locate the BLUE BUTTON with the words, CLICK HERE to register.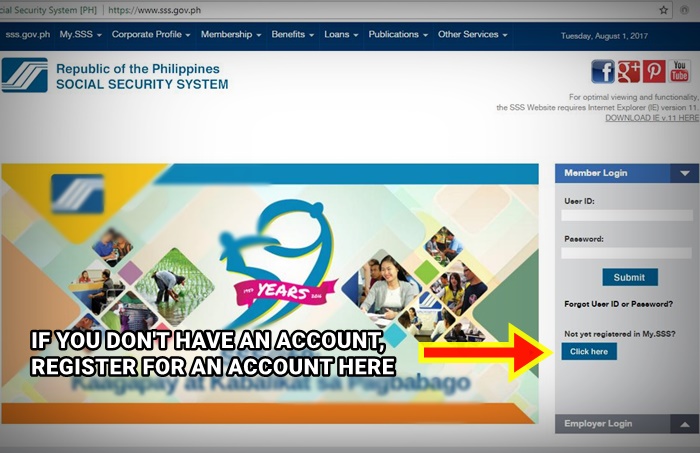 How to Register for an SSS Account Online
3.1. You will be redirected to this page (below). Follow the instructions and prompts to register for the My SSS Program. Click one of the prompted options and get ready to provide the needed data.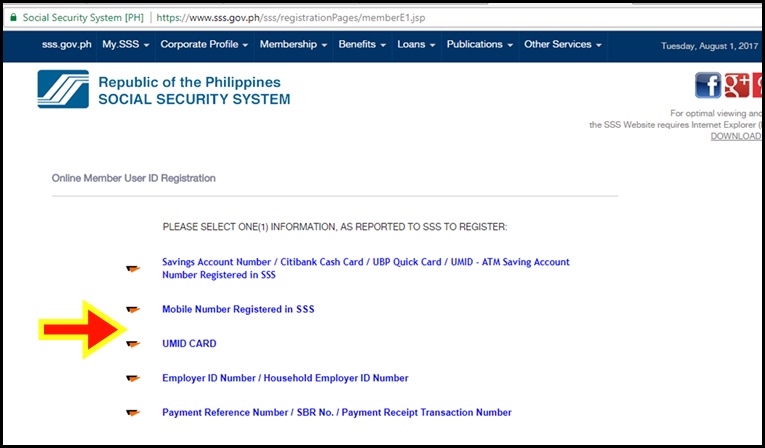 3.2. Once you've filled in the needed data, you will be redirected to another page in the SSS Website: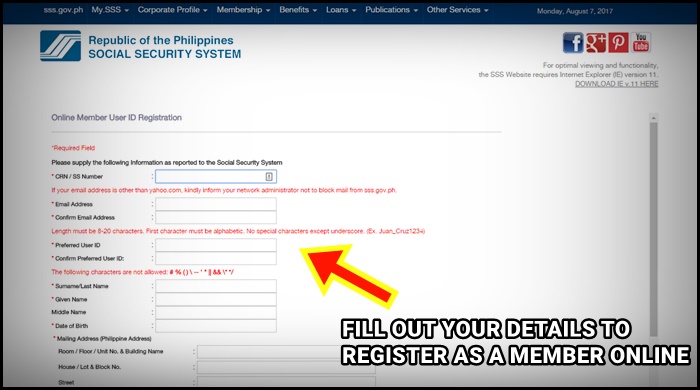 3.3. Fill in the necessary information. Double check the data before hitting the SUBMIT button.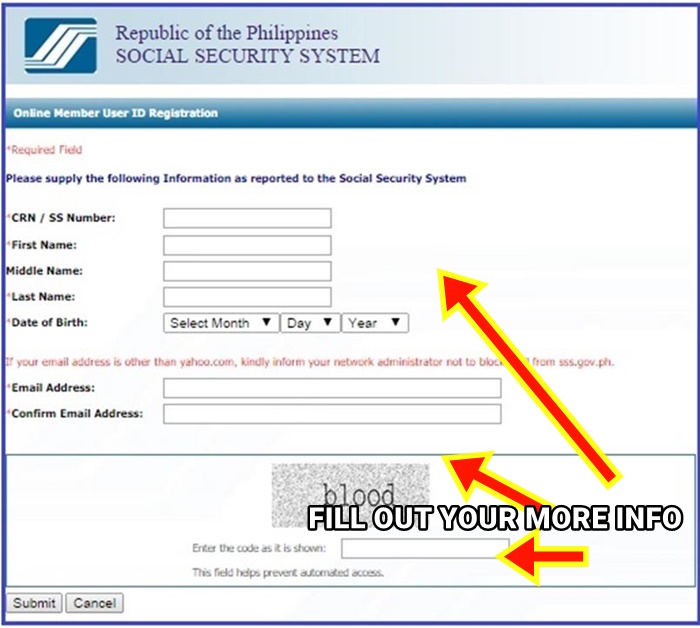 3.4. Wait for your email verification link. It will appear on your email address as a message.
3.5. Click the link and it will redirect you to another page in the SSS Website. Please check the photo below for reference on the link.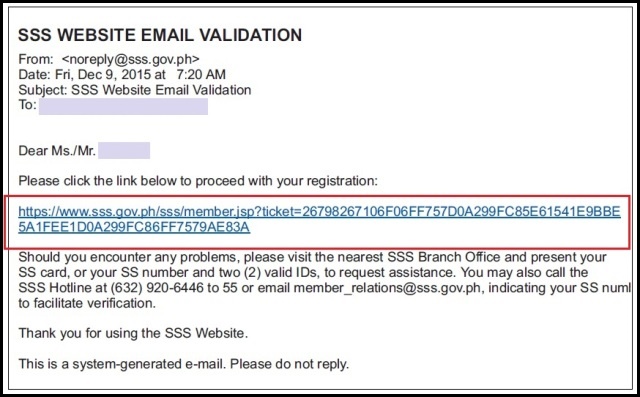 3.6. Wait for the SSS to send you a confirmation email about your registration. You can now use the log-in credentials that they will provide to access the My.SSS services.
Step 4. For SSS Members, once you log-on to your account, you must now locate the E-SERVICES tab & Click the INQUIRY Tab on the Drop Down window. You will be redirected to your employee static information page.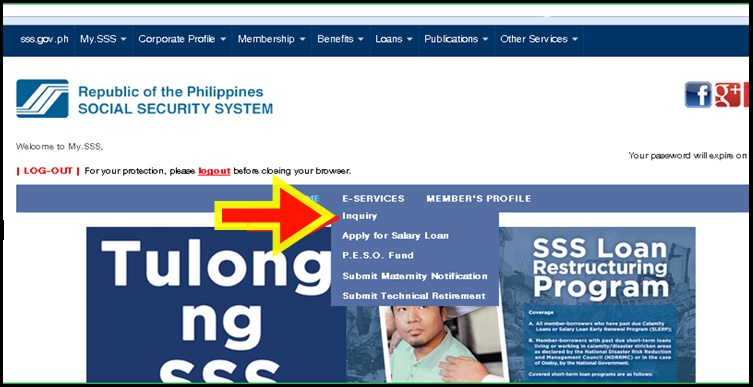 Step 5: A new page will open containing your SSS Member details as well as the number of Monthly Premiums you have contributed as an SSS Member.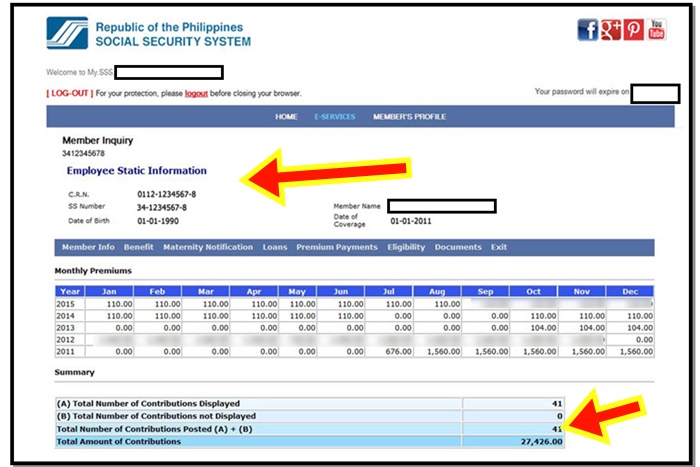 The Employee Static Information window will show your credentials near the top left of the screen. It will also show the monthly premiums that you have paid. On the lower part of your screen you will see the summary of your monthly premiums and the total amount.
---
So that's it! These are the steps in order for you to register and view your SSS contributions online as a Filipino abroad. Remember to try as much as possible to still send your monthly premium so you can still claim your benefits when you retire as an OFW. It's good to receive something when we're not as strong and able as we are now. We cannot stress this enough.
Claiming our Government Benefits
It is really important, as an overseas Pinoy worker, to understand our benefits and membership programs offered by our government as it's part of our right. Whether it be SSS, OWWA, Pag-IBIG, etc. We should learn and know about these government claims in order also take advantage of possible loans and other privileges. We're paying for them, remember?
We hope this SSS online guide will help you view your list of paid contributions so you can also be reminded in securing your future aside from your monthly remittances to the Philippines.
Reminder to always Send Your SSS Contributions
We would like to remind everyone to please always do not forget to keep contributing to your SSS every month (or before the deadline). After all, saving money should be integrated into our mindset at an early age.
We should avoid spending too much on unnecessary items and do not just think of living for the moment (#YOLO mindset) because we should also think about our future. We are not always going to be young and able, and while we are capable of earning money, let's all invest our money and put them to good use.
Having an SSS Pension plan is really helpful for us when we retire. It's good that we are getting something every month so we can also feel good that we're still able to contribute something to society and not become a fully dependent to our family, or to other people when we retire.