As OFWs, there may be times when we might encounter conflict with other people, whether they are our friends, colleagues or even strangers of other nationalities. We just have to do our best to stay calm even if at times, the situation can get heated and people are already shouting at us. Such is the case of what happened to this Filipina riding a public bus in Hong Kong while a Chinese woman seemed to keep shouting at her.
In a Facebook post by Angela Sentillas Pasco, she mentions of an incident where she sat with a woman who allegedly kept disrespecting and shouting racist comments towards her.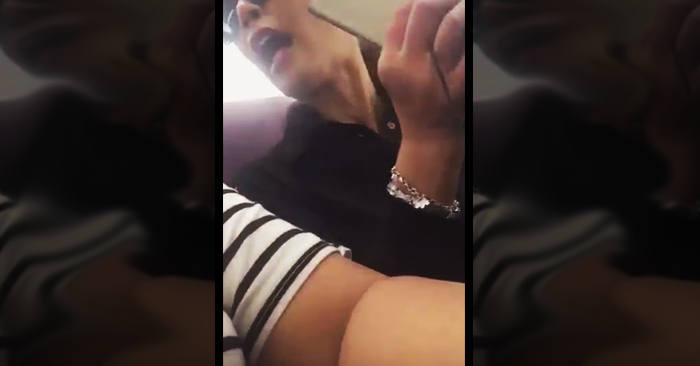 screengrab from FB video
Pinay in Hong Kong Films Woman Shouting at Her in Bus, Allegedly Calls Her a "Slave/Helper" and Tells Her to Go Back Home as Hong Kong is for Chinese People
According to Pasco's post on Facebook, the Chinese woman was already seated with her bag beside her. She sat beside the woman but the woman wouldn't take her bag away which made the space a little tight.
Then, the woman allegedly started yelling at her in Chinese language and tried to humiliate her in front of many people. Pasco took her phone and started filming the incident. The woman also tried to insult her by saying her iPhone is outdated.
Below is the statement from Pasco she published on her FB account.
"Such a Disrespectful, Racist, and Judgmental woman.
The story is when i got on the bus in kwai chung. She was seating with her bag then when I sat down, it was a bit tight as she didn't take her bag away. She started yelling saying that I'm too fat and told me to get off the bus. Then I told her so what if I'm fat, that's not your problem.
Later I started to film her as she kept yelling at me in chinese. Some of the things in translation mean that I'm a slave/helper in Hong Kong. That, I should go back to my country because Hong Kong is for Chinese people LOL. She swore at me, calling me names, disrespecting my race.
Funny part in between, she said that my iphone is outdated and that she has the best latest phone – samsung haha
Anyway, I just ignored her as there's no point to fight with her. A passenger on the bus talked to her telling her it's a public area and that she should contain herself and calm down.
That's why she finally stop in the end."
Video of Woman Shouting at Filipina in HK Bus
Below is the said video posted by Pasco. See for yourself how she handled the situation of the woman passenger who kept shouting at her and tried to upset her.
The good thing was that Pasco was very calm during the situation. She did not shout back. Can you imagine riding in a public bus with a person who is making a scene and is trying to humiliate you in front of many people.
Fortunately, there is another passenger who told the woman to calm down because she was in a public place the woman listened and stop talking/yelling.
Patience is a virtue. Despite of what happened; Pasco stayed calm and did not fight back to the angry woman. Others might have reacted differently.
Source: Facebook