Do you want to work as a Civil Engineer in the USA? Have you ever wondered how you can possibly do so even if you have a degree taken outside the country? In this article, an OFW shares how he managed to land a civil engineer job in the USA. He narrates his work experiences, starting from the bottom when he did jobs unrelated to his course, until eventually he managed to work as an engineer in the USA.
There are several advantages to working as an engineer in the USA. We all know that this career is a very lucrative one in the country, and you should definitely try to apply when you have the chance.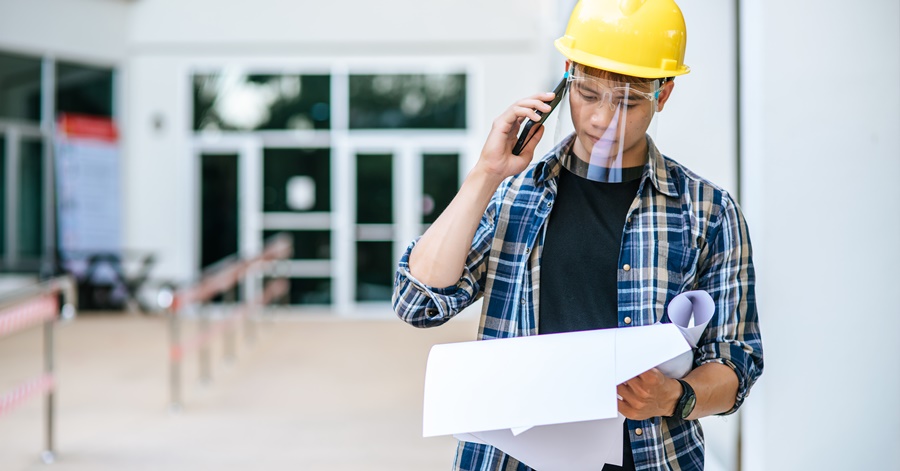 Disclaimer: The information posted here is based on the personal experiences shared by the OFW in the video below. Please let this post serve as a guide only. If you have specific questions, you may ask the OFW by commenting on their video on their accounts.
OFW Shares Experiences Leading Up to a Civil Engineer Career in the USA
As mentioned above, this article features the life and experiences of a Filipino working as a Civil Engineer in the USA. He shares these experiences through his YouTube channel named "Maru Rico," which you can access in the video link below.
In his previous videos, a lot of people asked him about working in the USA as an engineer. They want to know how he applied and managed to land a job, and other details. That's the reason why he created this video, to answer these FAQs and also to educate anyone who would like to try a career in Engineering in the US as well.
The video showcases his personal experiences in chronological order, talking about the beginning of the process first and leading up to what he is currently doing at present. As a kind of disclaimer, his experiences may be different from yours, but this should give you an idea and see if it applies to your current situation.
Migrating to America
Five years ago, he migrated to the USA. In fact, after his last day of college, he decided to skip graduation rites altogether and move to the United States right away. He took bachelor of science in civil engineering back in the Philippines, specifically at Ateneo de Davao University back in 2015.
When he arrived in the States, he didn't immediately work as a civil engineer. In fact, he tried a lot of other jobs that aren't related to the engineering profession. For one, he became a Universal Studios ride operator. He also worked as a cashier slash server at a small bakery. He also tried being a math tutor.
He also became a McDonald's crew. Then, finally, he landed a job that is related to being an Engineer.
Working as an Engineer
His first job in the States that is an Engineering job is Autocad drafter. He said that one good thing about getting this job is that all of his workmates are Filipinos; even his boss is Filipino.
That's why even if he did not have any local experience, he was given a chance by his boss to work there. He worked as an Autocad drafter for the same company for 3 years. This company is an architectural company; one that focuses on stone and builds luxury houses. It is based in California.
Some of the clients of this company include Hollywood stars in Beverly Hills, like Kim Kardashian, Kanye West, Eddy Murphy, etc.
From this chapter of our YouTuber's career as an engineer in the USA, we can learn the following lessons:
Build experience
Those three years of experience as an Autocad drafter was very important for him to gain local experience, and it would help propel him to look for new jobs and qualify at them.
In fact, while working at that company, he learned to assist project managers during their projects, and honed many other skills related to Engineering other than Autocad drafting.
Send out resumes
Moreover, while working in the company, he already started sending out resumes to private companies. He focused on companies that are willing to hire entry level engineers. One lesson that we can learn from this is that you should never give out sending resumes. With patience, eventually, you will land a job.
Take the necessary exams
While working for his first company, he also started studying for the Engineer in Training (EIT) Exam. He also took the exam and passed on his first take. If you passed this exam, you will qualify to become an apprentice. Basically, this is the first step before you become a licensed civil engineer in the USA.
The coverage of this exam includes general math subjects such as Algebra, Calculus, Geometry, Trigonometry. The great thing about this EIT Exam is that it is an open book exam, so you don't have to memorize all the formulas. You just have to know how and when to use them. In other words, you just need to identify which problems need which formulas.
After passing the EIT exam, he started sending his resume to public agencies such as the Department of Public Works. He said he probably sent around 3 to 5 resumes.
He usually passes the first round of the application process, but when it comes to the qualifying exam, he always failed. The competition is really tough, so employers try to trim down the candidates by having them take an exam before the interview. The exam questions were also highly technical.
Working as an Engineering Assistant
An opportunity arrived when he heard that there was a job opening. It was far away from Los Angeles; a 1 hour and 30-minute ride away from where he lived. He took this chance because there was no examination.
During the interview process, his approach was to sell himself. There were 2 sets of interview and as a panel interview, there were 3 interviewers. It actually felt like a thesis defense according to him. To prepare for the interviews, he had to practice speaking English, answering possible interview questions.
He passed the first round of interviews, which qualified him for the second round. He said that his advantage during that first round is that he passed the EIT exam. It turned out all the other applicants didn't pass the EIT exam yet, even if many of them already had their Masters or PhD degrees.
Long story short, he passed the interviews and got hired as an engineering assistant. After getting the call that he was hired, he immediately resigned from his work at the stone company.
As an engineering assistant, here are his roles and responsibilities:
Processing permits in the City Hall – these permits include processing permit, encroachment permit. An encroachment permit is what you need to work on the public right of way.
Small projects – as an Engineering assistant, he also started to work on small projects. His first project was a parking lot. Basically, they just re-striped the markings on the parking lot. This may be a simple job, but through this, you will learn a lot about the processes behind handling projects.
The process of handling projects involves the following:
Preparing the specifications
Drafting the drawings
Advertising the project
Opening the project for bids
The contractors will then start bidding
Awarding the project to the winning contractor
Start working with the contractors
As you can see, handling projects is definitely a long process, but by doing these, you will learn a lot of things. Plus, your management skills will improve.
By doing these and similar projects, known as "Capital improvement projects," it will then be easier for you to find a new job in other public work departments and other cities.
Working as an Assistant Engineer
He stayed in that previous job for only one year, but because of his generous superiors, he really learned a lot from that job. In fact, whenever he has a question related to the job, they would readily answer him. It's as if there is no competition at all within the company.
The fact that they are really helping each other out in that company helped him become better at the job, even if he didn't have prior experience.
After one year of working for the company, he transferred to another job, this time somewhere much closer to Los Angeles. For this new job, he now holds the rank of Assistant Engineer.
Just a side note, the great thing about working as an Engineer in the US is that you can already work as one even if you are not licensed yet. The downside is that you can't sign plans.
Right now, his current standing is as follows: he already passed the EIT exam and he has one year of engineering work experience. He was going to take the Professional Engineering exam, an 8-hour exam, but this was postponed due to the coronavirus.
If you pass that first professional engineering exam, there are two more exams to take. These exams are the following: seismic exam and surveying exam. This is just for California, though. In other states, only the Professional Engineering exam is required.
In that regard, it's easier to be a licensed engineer in other states since you don't have to take the other two exams, unlike in California.
Right now, as an assistant engineer, he still holds similar roles and responsibilities as his previous rank. He still manages projects, for one. This time, however, the projects are one level higher. As an example, he handled a sidewalk improvement project.
Basically, being a civil engineer is a learning process. It doesn't mean that after you graduate, you already know everything. You need to continue learning while you are working, and if you ever get the chance to be an engineer in the USA, then you will be fortunate enough to learn a lot of things and grow professionally as well as a person.