What where your favorite snacks as a kid? During recess in school, what did you usually spend your baon (allowance) on? Surely you remember your favorite merienda, your favorite chips, and of course… your favorite sweets or candies.
In this article, we will take a look at some of the most popular sweets and candies in the Philippines. Amazingly, many of these products have been around for many years — enjoyed by generations of Filipinos all over the world!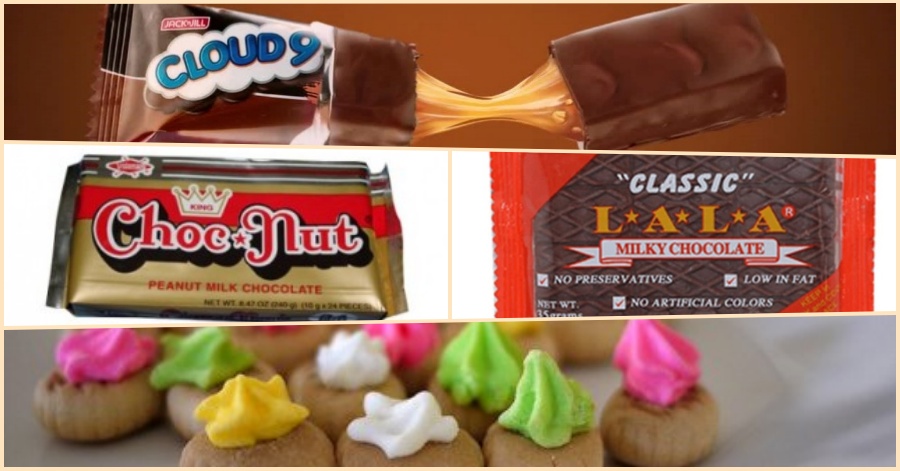 Top Filipino Candies and Sweets from Philippines
Here is a list of the most popular Filipino candies. Aside from "hard" candy, we have also included other sweets, such as bubble gum, chocolate, and jelly snacks. Read on and see if your favorites are on the list!
1. Bazooka Bubble Gum
Bazooka is a bubble gum brand that many Pinoy kids like to buy from their school canteen or from the neighborhood sari-sari store. A single piece can make pretty good bubbles, but some kids also chew two pieces together to blow bigger bubbles!
Another cool thing about Bazooka is the comic strip. Each piece of gum comes with a mini-comic strip, featuring stories about Bazooka Joe and his gang. Pretty amazing, right?!
2. Choc Nut
Imagine the taste of chocolate, milk, and peanut — all in one sweet snack! We are talking abut none other than Choc Nut, which is a childhood favorite of many Filipinos, young and old. Over the years, Choc Nut has become so popular that it has been used to enhance other sweets… Choc Nut ice cream, Choc Nut brownies, and many other goodies.
Interestingly, Choc Nut has a rival brand, Hany. Some people say that the two brands taste the same, while others say one brand is sweeter than the other. Maybe you should try them both and see for yourself!
3. Choco Mallows
Just take a single bite of this snack, and you'll be in chocolate heaven! As the name says, Choco Mallows is made of soft, chewy marshmallow covered in creamy, milky chocolate. You can put Choco Mallows in the fridge, and enjoy them for dessert after meals!
4. Cloud 9
Cloud 9 is a type of chocolate that's part of the Jack 'n Jill brand of snacks. Its made of peanuts, caramel, and nougat — all coated in delicious chocolate. It's the perfect snack to satisfy your sweet tooth… a snack that will definitely have you feeling like you're on "Cloud 9!"

5. Curly Tops and Flat Tops
Curly Tops and Flat Tops are homegrown chocolate products made by Ricoa, a Philippine company. These milk chocolates have been a favorite "pasalubong" of Filipino kids for many years! Both Curly Tops and Flat Tops are known for their creamy, chocolatey taste. High quality, yet affordable, too!
6. Goldilocks Polvoron
Another popular snack and pasalubong among Filipinos is Goldilocks Polvoron. In case you were wondering, "polvoron" is a snack made by toasting powdered milk, flour, sugar, and butter. The powder is usually molded into round or oval shapes, before being wrapped in colorful packaging.
Aside from Goldilocks' Classic Polvoron, there are other flavors like Cashew and Chocolate, along with Cookies and Cream Polvoron. Notably, many OFWs like to buy these products in the Philippines, so they can share them as gifts when they travel abroad.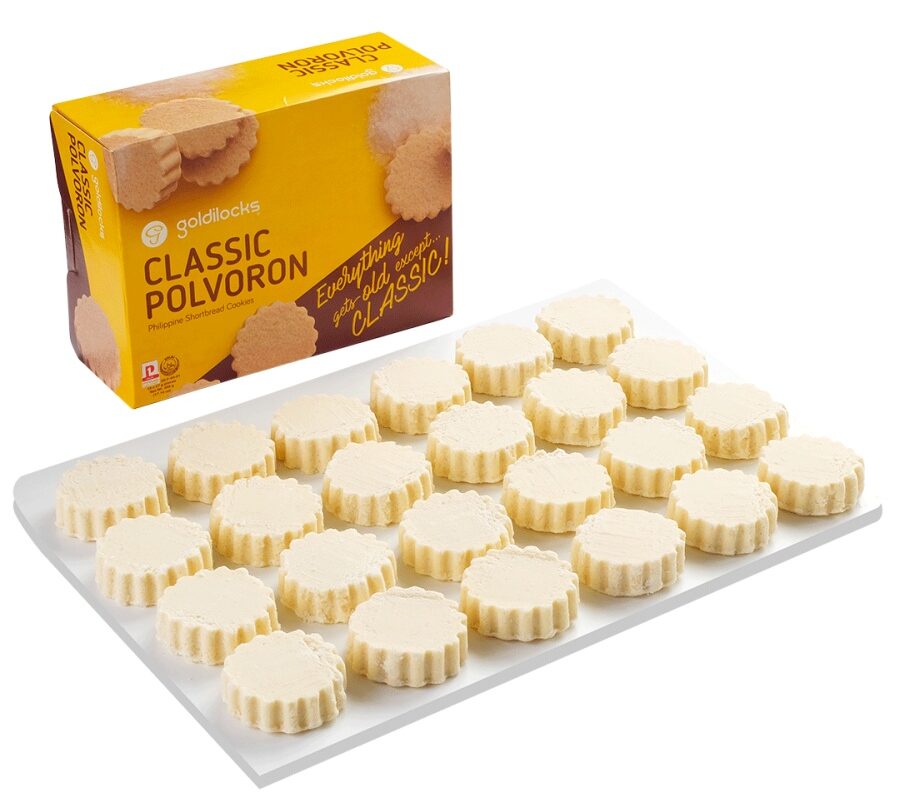 7. Haw Haw Milk Candy
In addition to polvoron, another type of "milky" snack is Haw Haw Milk Candy. This snack is not too hard, so you can actually bite into it and enjoy the milky, sweet flavor as the candy crumbles! Haw Haw Milk Candy has been around for many years, enjoyed by generations of Pinoy kids.
8. Iced Gem Biscuits
Many Filipino kids, especially young girls, would mention Iced Gem Biscuits as their favorite snack. As the name says, it is made of biscuits with different colors of hardened icing on top. Some kids like to eat the icing part first, while others like to eat the icing and biscuit together. Either way, Iced Gem Biscuits remains a popular snack to this day!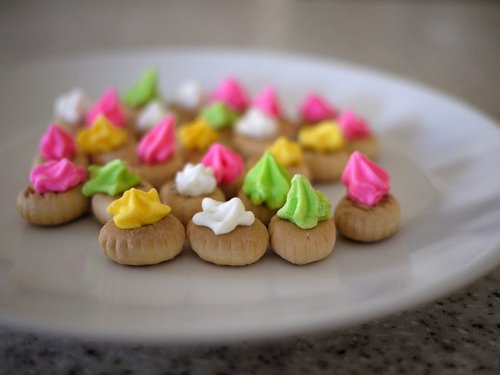 9. Jelly Ace
Technically speaking, this is jelly, and not candy. But still, we believe that Jelly Ace deserves a spot on this list. Coming in different flavors, it is packed in small, bite-sized cups that children simply love to pop into their mouths. Be sure to place Jelly Ace in the fridge, as it tastes awesome when chilled!
10. LALA
LALA is a milky chocolate snack that's enjoyed by many Pinoy kids. In case you're wondering, the letters stand for "Louie, Arlene, Leonisa, and Arlete." These are the names of the people behind this product. Interesting, right?!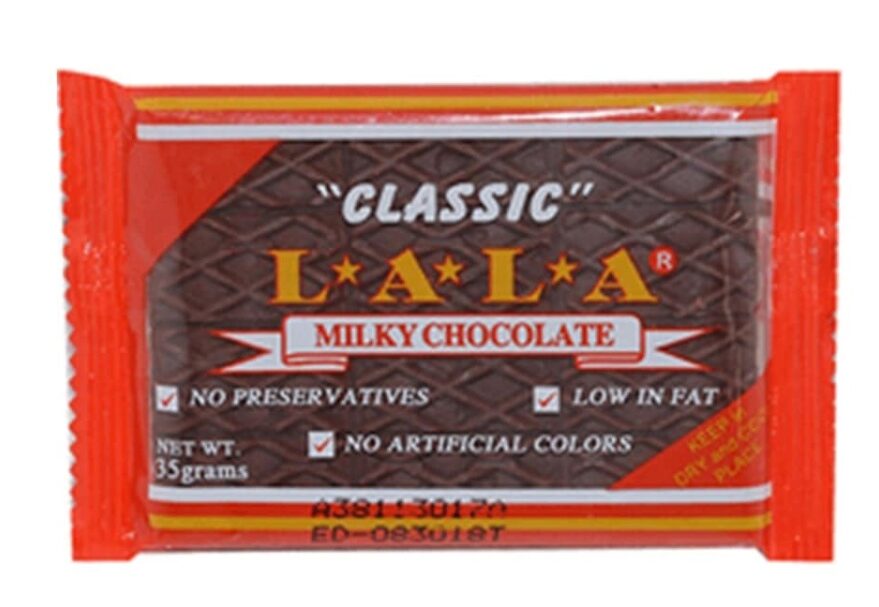 11. Orange Swits
Orange Swits has been around for quite some time. It's sweet, tangy, and covered with sugar for extra sweetness! If you have a sweet tooth, always have some Orange Swits around to satisfy your cravings!
12. Mik-Mik
Similar to Haw Haw candy, Mik-Mik is a milk-flavored sweet that is really popular among the little ones. The main difference is that it comes in powder form, and it comes with a straw used for eating Mik-Mik. Pretty unusual, huh?!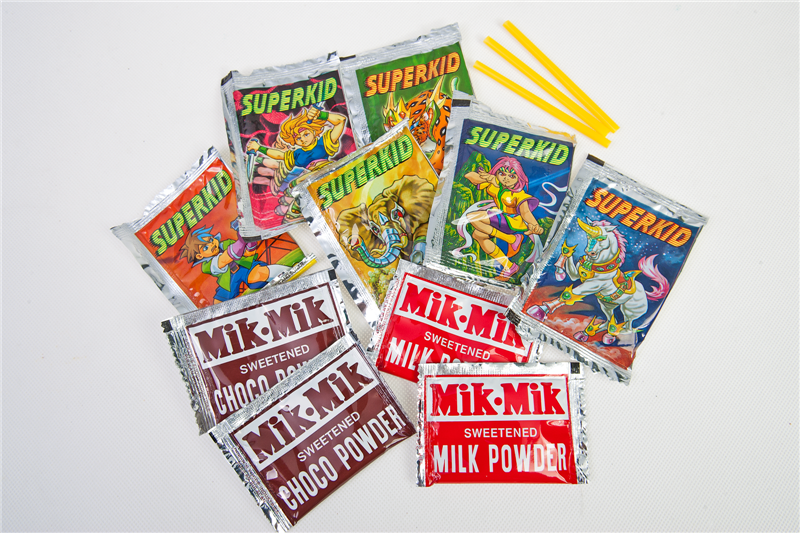 13. Ovaltine Malt Candies
You may be familiar with Ovaltine, a malt drink that many kids love, but have you ever tried Ovaltine Malt Candies? This product offers the same delicious, sweet malt chocolate taste — in candy form! It used to be called Ovaltinees… does the name ring a bell? If yes, then you are likely one of the early generation of Ovaltine lovers!
14. Potchi
It's strawberry-sweet, chewy, and oh so yummy! Aside from the cute-sounding name, Potchi remains a top contender in this list, with numerous Filipino children enjoying this candy. Other than the classic Strawberry Cream flavor — Potchi also comes in other variants, namely Potchi Gummy Bears and Potchi Gummy Worms. Yummy!

15. Stay Fresh
Need to freshen your breath, really quick? Pop a few pieces of Stay Fresh candies in your mouth and enjoy its sweet, cooling sensation. Manufactured by Super Candy Corporation, this mint-flavored candy will have you feeling fresh in no time!
16. White Rabbit
This list would not be complete without White Rabbit. This sweet, chewy candy has been around for many years, loved by Pinoys of all ages! Of course, the most unique feature of this candy is the thin, translucent wrapper inside. Since it's made of sticky rice, the wrapper itself is completely edible! Truly amazing, right?!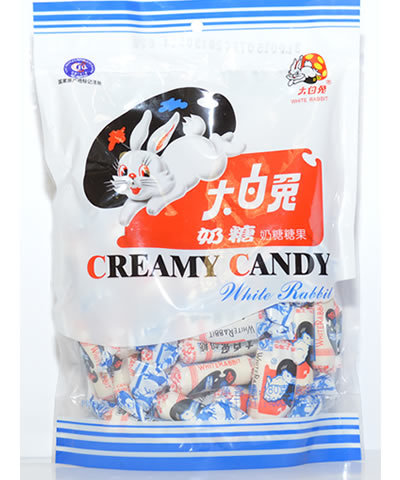 The times may have changed, and many products come and go. But still, there are certain things that stay and remind us of our childhood years. The above list of Filipino candies is the perfect example!
How about you? Do you know about any other Pinoy candies or sweets that should also be on this list? On the other hand, if it's street food that you're craving for, here is a list of the most popular Filipino street food of all time!