Leche flan, ube (purple yam), and kamote cue (sweet potato) are popular desserts and snacks in the Philippines. Imagine taking these three dishes and transforming it into… doughnuts?! This is exactly what a doughnut shop in Queens, New York just did. Today, Kora's Filipino-inspired doughnuts are a big hit… the waitlist is reported to be at 10,000!
Filipino cuisine has actually been on the rise for quite some time now. All over the world, we are seeing more and more restaurants serving our favorite Pinoy dishes — adobo, sinigang, kare-kare, menudo, halo-halo, etc. — and customers (Filipinos and other nationalities alike) are lining up! In this article, we will take a look at the success story of Kora, which serves doughnuts based on classic Pinoy recipes.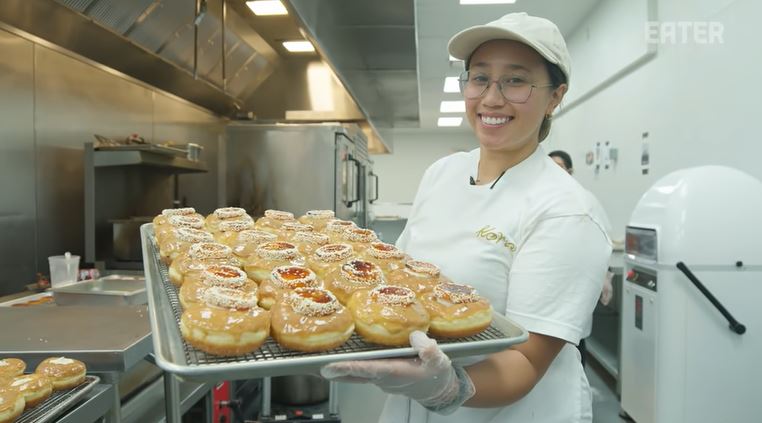 NY Foodies Line Up for Filipino-inspired Doughnuts
A video shared by Eater, a YouTube channel with almost 3 million subscribers, features Kora, a doughnut shop in Queens, New York. It is managed by Kimberly Camara and her partner, Kevin Borja. Kora's is known for its unique doughnuts, including ube doughnuts, kamote cue doughnuts, and leche flan doughnuts.
According to Kimberly, the shop is named after her grandmother, Korazon Mendoza, whose recipe book became the source of the shop's unique recipes. In the video, Kimberly and Kevin talk about how their Filipino-inspired doughnuts are made.
First, there's the leche flan doughnut. Kimberly explains that Filipino flan is different from the flans in Spain and Latin American countries. It has lots of egg yolk, along with condensed milk, evaporated milk, and caramel. The flans are cut into circles and placed into the middle of each doughnut. Doughnut plus leche flan… that's like eating two desserts at the same time!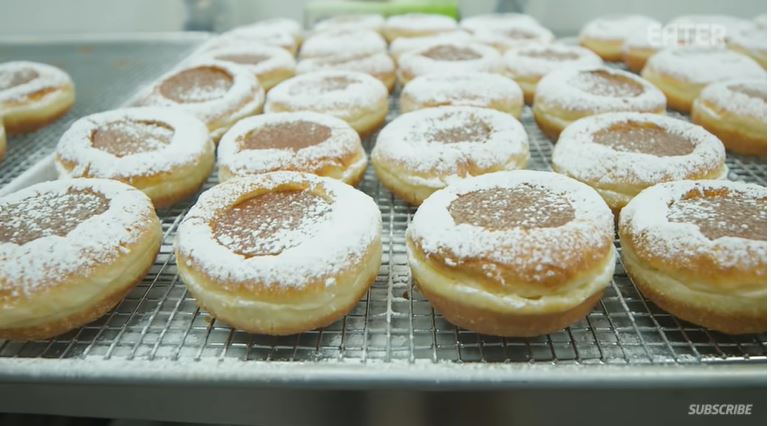 Next, there's ube doughnut. Kimberly shares that every part of this doughnut has ube — from the dough itself, to the ube filling, to the grated ube used for garnish. Since fresh ube is not easily available in the United States, the shop uses ube extract imported from the Philippines, as well as Okinawan purple yam, which Kimberly shares is the closest in flavor to actual ube. The result? A yummy, sweet, and bright purple doughnut!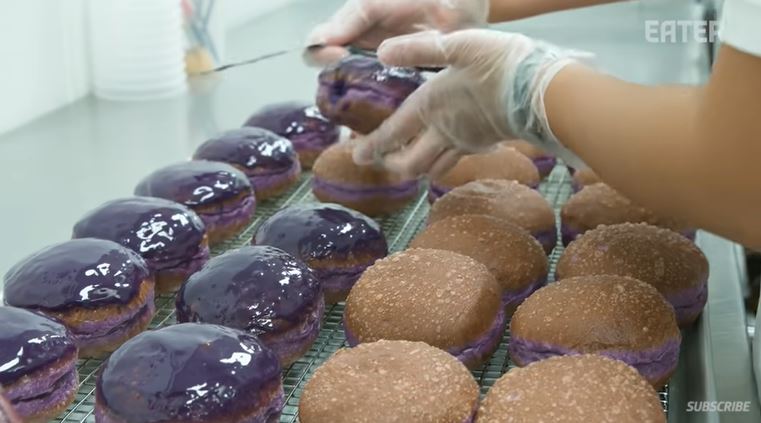 And then, there's kamote cue doughnut, which is based on a popular street food snack in the Philippines. For this recipe, the shop sources sweet potatoes from a local Asian vendor. The sweet potatoes are cut into round shapes, baked, torched, wrapped in sesame, and placed on top of the doughnut — which is also filled with sweet potato puree. It's definitely a unique dessert that foodies will love!
Notably, Kora's does not waste any of its ingredients. For example, leftover flan (after being cut into circles) is crushed and made into flan cream, which is placed into the leche flan doughnuts. Likewise, sweet potato scraps are made into puree, and then placed into the kamote cue doughnuts. Indeed, nothing goes to waste!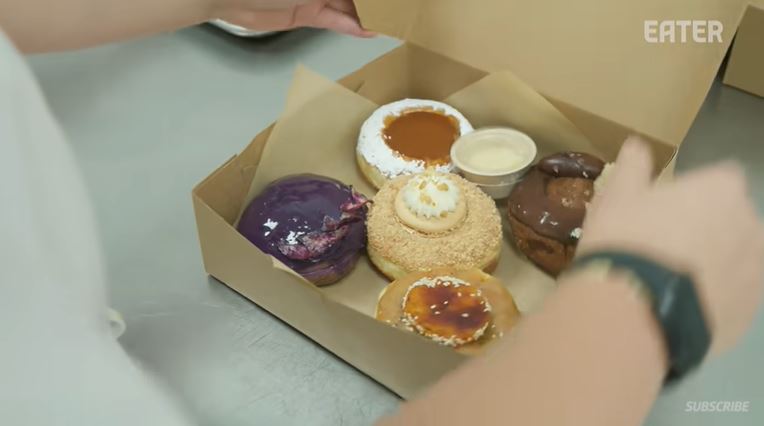 For now, the shop produces doughnuts weekly, and is available for pick up only, Kevin shares. Orders are made and paid in advance, and customers simply have to come by and pick up their boxes of doughnuts! Kora's is operated by a small team, headed by Kimberly and Kevin, and also joined by the latter's mom and aunt.
Check out the following video about Kora's doughnuts, as shared by Eater on their YouTube channel:
Without a doubt, Kora's doughnuts is making its mark by showcasing Filipino flavors in New York. Congratulations to Kora's doughnut shop… we wish you all the best! Meanwhile, here's another success story about Filipino food — a video about a car wash that serves Filipino dishes in the West Coast. Do check it out!