Philippine Airlines has been the official carrier of the country for many decades now. And what better way to represent the country than by serving classic Pinoy cuisine? Recently, the carrier teamed up with a renowned Filipino chef, who introduced some mouth-watering dishes for flight passengers!
In fact, starting this month, August 2022, Business Class passengers aboard PAL flights to North America can expect to enjoy Chef JP Anglo's food creations. Specifically, the chef's dishes will be served on the airline's non-stop flights from Manila to New York, San Francisco, Los Angeles, Toronto, and Vancouver.
Chef JP Anglo Serves Pinoy Food Favorites Aboard Philippine Airlines
Chef JP is known for creative take on classic Pinoy dishes. He has established a restaurant, Sarsa, in Makati City, Metro Manila. Recently, he also opened a new restaurant, Kooya, in Dubai, the Out of Town Blog reported.
As part of his special project with PAL, Chef JP flew from Manila to Los Angeles on flight PR112, aboard the airline's Boeing 777-300ER. During the flight, he prepared and served Bangus Ala Pobre and Chicken Inasal, his signature dishes.
Notably, Chef JP's Bangus Ala Pobre features bangus (milkfish) grilled in calamansi-soy sauce marinade, served with garlic paste, beans, carrots, and crab fat rice. Meanwhile, the Chicken Inasal is basically chicken baked in a ginger-lemongrass-vinegar marinade, served with tomatoes, papaya atchara, chili, and annatto chicken rice. Both dishes sound really delicious!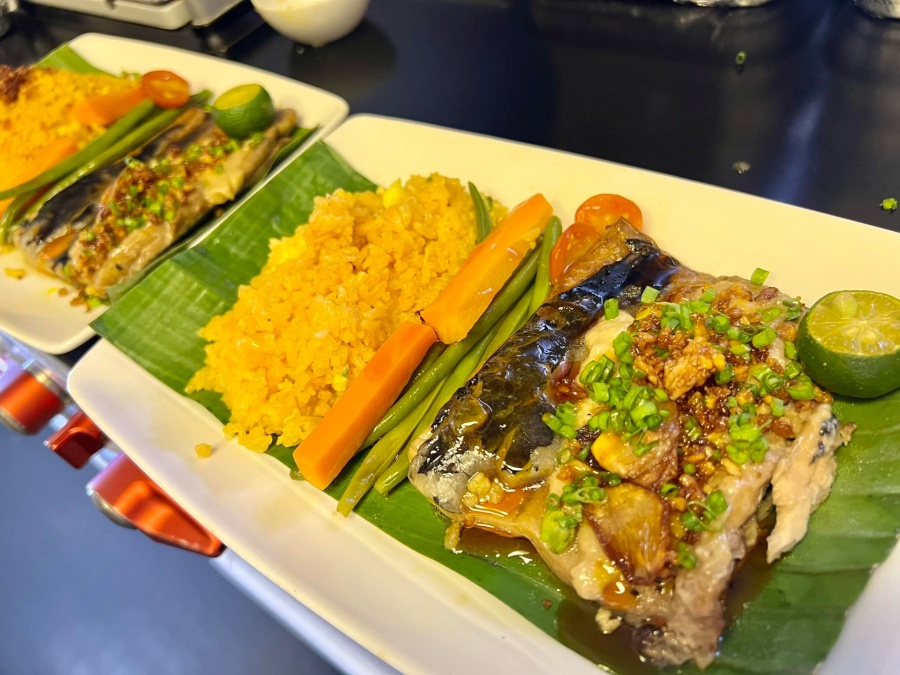 While staying in Los Angeles, Chef JP will be trying out various restaurants and exploring the food scene in California — in order to gain more inspiration for his upcoming dishes with PAL.
"We've had an enjoyable journey developing different delectable dishes for our Philippine Airlines passengers," shares Ria Domingo, PAL Vice President of Marketing. "This collaboration with a Filipino culinary expert will showcase Filipino food for the global community."
For his part, PAL President and COO Capt. Stanley K. Ng stated: "Elevating Philippine Airlines' in-flight dining experience is part of our thrust to become more customer-centric and offer more value to our passengers, especially on our popular non-stop flights to the United States and Canada."
Check out this video featuring Chef JP Anglo's latest experience aboard PAL flight PR112, as shared on his YouTube channel:
If you happen to be going on a PAL flight from Manila to the United States or Canada anytime soon, watch out for Chef JP Anglo's delicious food creations!
PAL flies from Manila to Los Angeles twice a day. The carrier's Business Class offers pre-flight concierge, full-flat beds, and world-class service, along with a wide selection of beverages and food designed by popular chefs like Chef JP.
READ NEXT: Kora's Filipino Doughnuts a Hit in New York, 10,000 People on Waitlist