Filipinos LOVE to eat, and that's a fact. Even with Filipino snacks such as chips, there's a lot of variety to choose from. Whether they are living and working in another country, it cannot be denied that Filipinos like eat chips not only when watching Filipino movies, but even getting together for any reason. If you meet Filipinos, getting together means there will be lots of food, drinks… and more food!
Indeed, Pinoys are always up for meeting one another and bringing food, "potluck" style. Whether it's a formal dinner party or a casual merienda, you can be sure that Filipinos will come! In this article, we will focus on a particular type of snack: Filipino chips, including those that have been popular among Pinoys for many years!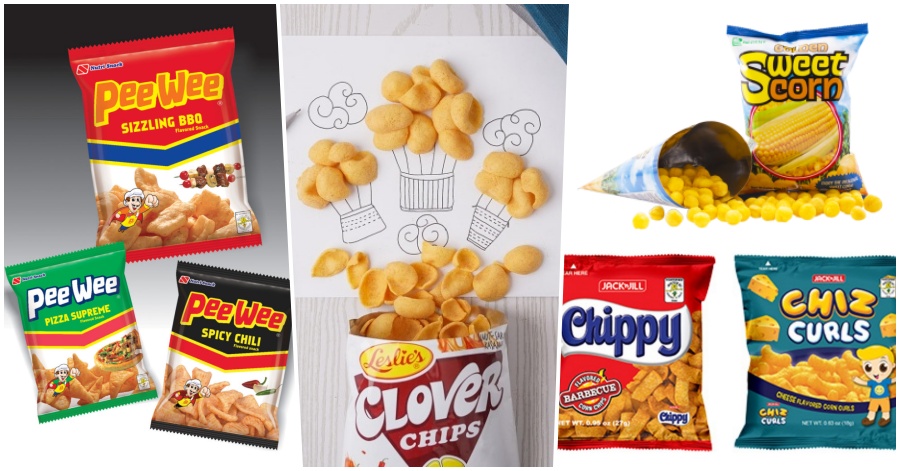 List of Top Filipino Chips and Snacks of All Time
For many Filipinos, there are certain snacks that have become classic favourites over the years. These are the food that we shared with classmates during recess, the snacks that we nibbled on while studying for school exams, and the familiar food that's usually available at the nearest grocery store or sari-sari store.
Today, we've gathered a list of local chips and snacks that Filipinos love. Aside from chips, we have also included popular brands of fried corn, peanuts, green peas, and other savory finger foods. Keep on reading and see if your favourite is on the list!
1. Boy Bawang
Boy Bawang is a popular brand of fried corn in the Philippines. As the name suggests, it's crunchy, tasty, and "garlicky!" In addition to the classic garlic flavour, there's cheese flavour, adobo flavour, barbecue flavour, and more recently… an "assorted nuts" variant. Cool!
2. Cheese Ring
Cheese Rings are exactly that — rings of crunchy cheese snacks that Filipino kids usually place on each of their fingers before eating them one by one! Manufactured by Regent, Cheese Ring is a delicious snack that's loved by many… even if it does get your fingers messy!
3. Chippy
Introduced by Jack 'n Jill, Chippy has been around since the 1960s. Imagine that! Today, generations of snack-loving Pinoys still enjoy Chippy's signature crunchy taste. Aside from the original barbecue flavour, Chippy also comes in cheese flavour, garlic vinegar flavour, and "light and tasty," which has less salt content. Interesting!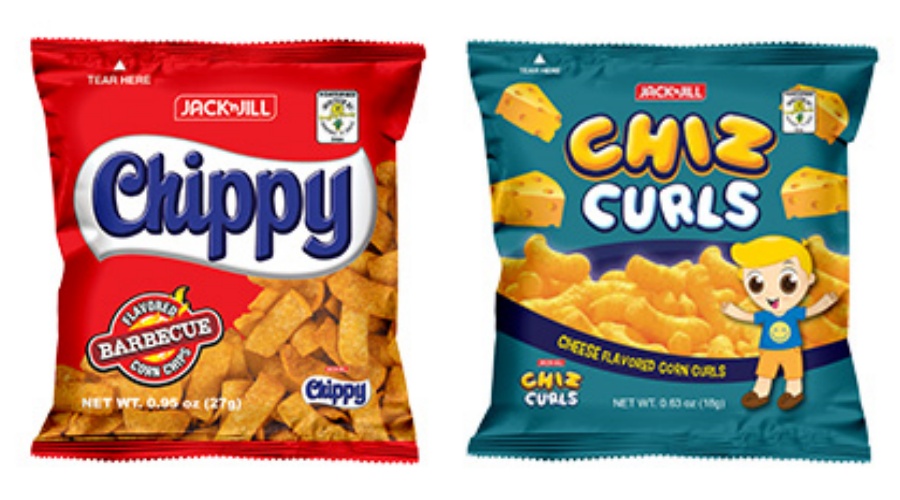 4. Chicharron ni Mang Juan
Deep fried pork belly or chicharon is a popular snack among Filipinos. However, we cannot deny that eating too much chicharon is not good for our health. Fortunately, Jack 'n Jill came up with a "vegetarian" version: Chicharron ni Mang Juan.
Made from dehydrated peas, tapioca starch, and potatoes, Chicharron ni Mang Juan is your tasty, guilt-free alternative to fried pork belly. It also comes in Spicy Vinegar and "Sukang Paombong" flavours that make it a great snack anytime, anywhere!
5. Chiz Curls
In the 1960s, the Universal Robina Corporation (URC) introduced the Jack 'n Jill brand, which offered a variety of snacks that quickly became Pinoy favourites. One of their very first snacks — aside from Chippy — was Chiz Curls.
As the name suggests, this snack consists of puffy corn curls covered with lots and lots of cheese. When you bite into a Chiz Curl, its cheesy flavour simply melts in your mouth. It's so yummy, you'll want to eat more and more!
6. Clover Chips
Clover Chips is another popular brand among Filipinos of all ages. The corn snack comes in a variety of flavours — cheese, barbecue, and chili cheese, to name a few. The manufacturer also came up with Clover Bits, which comes in smaller packets for easier snacking!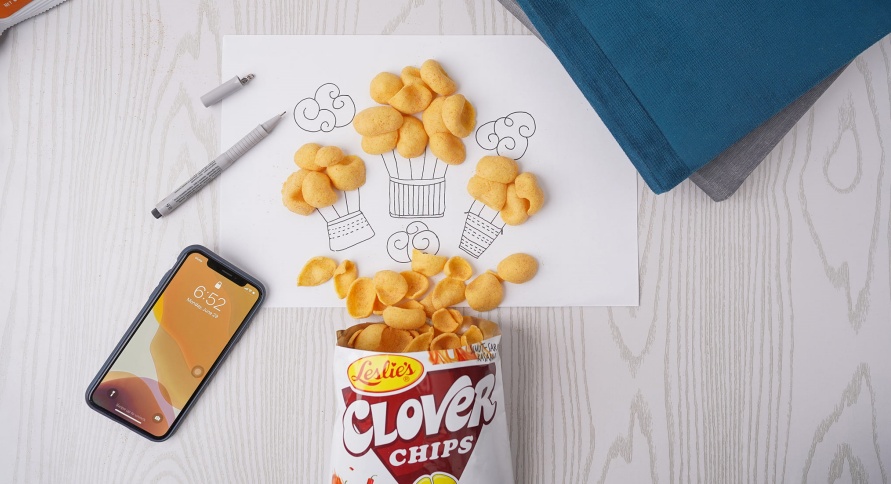 7. Ding Dong Mixed Nuts
As the name says, Ding Dong is a mix of chips, corn bits, fava beans, green peas, and peanuts. The best way to eat it? Just empty the packet onto a bowl or plate, and pass around for sharing! Many Filipinos like to eat this snack for merienda, during parties, at office meetings, and even during late-night study sessions!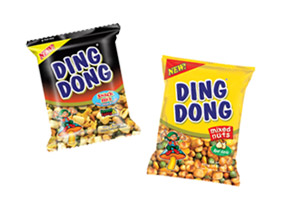 8. Oishi Prawn Crackers
Oishi is a popular brand of snacks in the Philippines, and among its earliest products was Oishi Prawn Crackers. Its crunchy and tasty, with a hint of shrimp flavour! In addition to the original flavour, there's a spicy version and more recently .. a "salted egg" variant. How cool is that?!
9. Oishi Ribbed Cracklings
Also by Oishi, Ribbed Cracklings is a top favourite. Flavoured with salt and vinegar, this snack is best enjoyed with a cold drink, such as beer, soft drinks, and other beverages. Indeed, it is often served as "pulutan" — the perfect beer match!

10. Oishi Bread Pan
If you like toasted bread, then you will love Oishi Bread Pan. This snack is basically toasted bread; it comes in different flavours — buttered toast, cheese and onion, and toasted garlic, among others. Aside from enjoying Bread Pan as a snack, you can also use it as an alternative for croutons in your salads and soups!
11. Nagaraya
Nagaraya has been around for quite some time. Despite the Japanese-sounding name, it is actually a popular Filipino snack brand. Nagaraya consists of coated cracker nuts that come in different flavours like butter, garlic, hot and spicy, and even adobo flavour. Yum!!!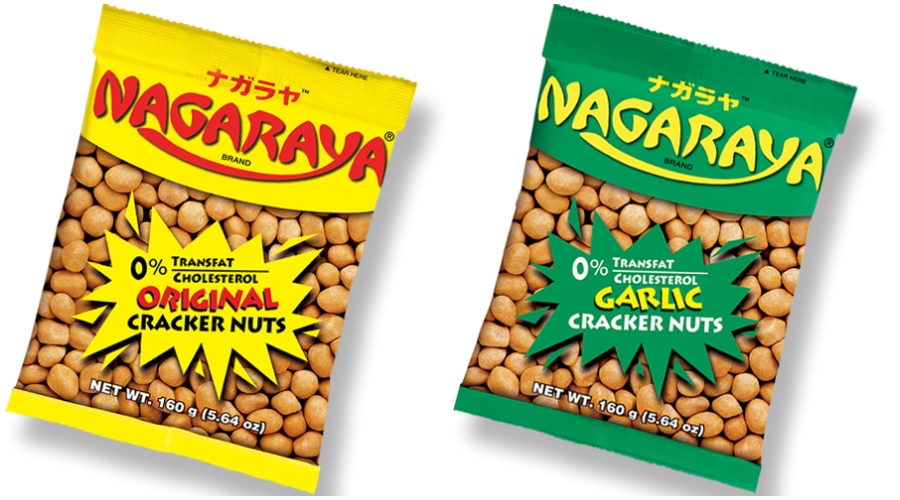 12. Nova
Nova is also part of the Jack 'n Jill brand of snacks. What makes it unique is that it has less salt, has zero trans fat, and is rich in fiber. Made from corn, oats, rice, and wheat — Nova is another "guilt-free" snack that you can munch on. Awesome!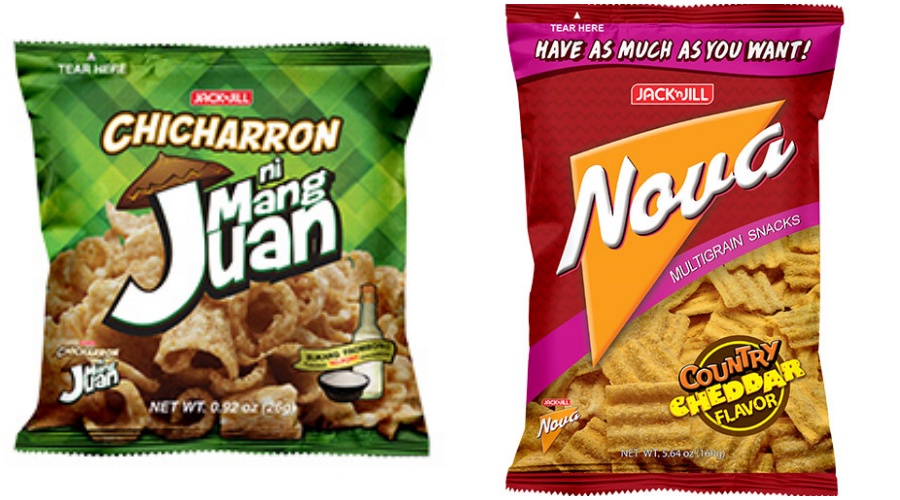 13. Peewee
Peewee is one of the earlier snacks that many Filipino kids are familiar with. Crispy and tasty, this snack comes in sizzling barbecue, spicy chili, and pizza supreme variants. It's amazing that Peewee is still around after all of these years!
14. Piattos
Famous for its hexagon (six-sided) shape, Piattos is a classic favourite among Pinoys. It's light, thin, crispy, and tasty — coming in flavours such as Roast Beef, Sour Cream, Nacho Pizza, and Roadhouse Barbecue. Piattos is also great with dips! Yum yum!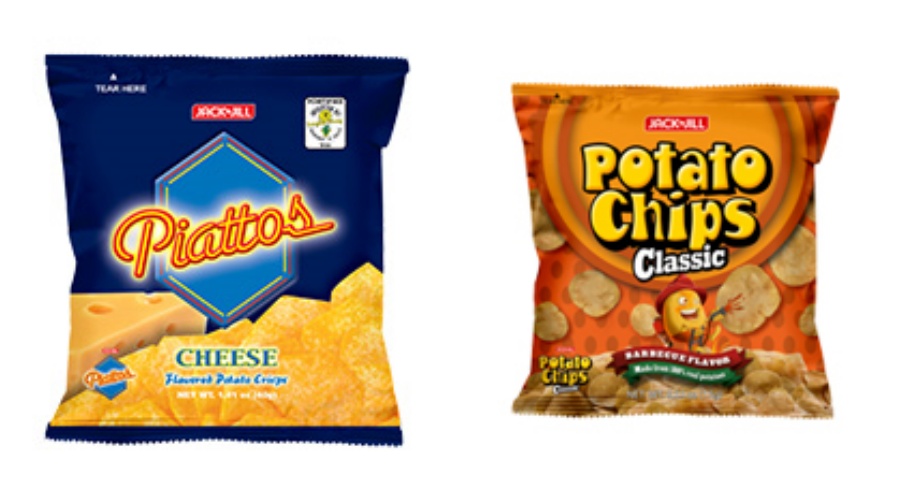 15. Potato Chips
Also by Jack 'n Jill, Potato Chips is exactly what it says: thin, crisp, potato chips that have just the right amount of salt. Aside from the classic salted flavour, Potato Chips also comes in barbecue, onion, and sour cream variants.
16. Ri-Chee Crackers
Although most of the snacks on this list are on the salty and savory side, Ri-Chee is different. It's tasty, crunchy, and… milky sweet! Fortified with calcium, Ri-Chee is a healthy snack that Filipinos — then and now — love to eat!

17. Roller Coaster Potato Rings
Just like Cheese Rings, this ring-shaped snack is usually placed by kids on their fingers before eating. Introduced by the Jack 'n Jill brand, Roller Coaster Potato Rings are crunchy, cheesy, and definitely loved by many Filipinos of all ages!
18. Snacku
Made by Regent, Snacku is a green-colored snack that's made of rice, vegetable oil, iodized salt, and other flavours. Shaped like potato fries, Snacku is yet another classic favourite among Filipinos, young and old!

19. Sweet Corn
Also made by Regent, Golden Sweet Corn is a popular snack among Pinoys. It's crunchy and tasty, and you can definitely recognize the sweet corn taste. The fact that it's shaped into golden, yellow, and marble-sized balls also makes this snack so fun to eat! Just throw these balls into your mouth… and enjoy!
20. Tomi Corn Chips
During the 90s, many Filipino kids would buy this snack from their school canteen or sari-sari store during recess. Tomi Corn Chips is tasty and crunchy, with a sweet corn flavour! Back then, Tomi Corn Chips was packed in small packets that you could buy for just PHP 1 each! Today, it comes in slightly bigger sizes for longer snacking!
21. Vcut Potato Chips
Also part of the Jack 'n Jill brand, Vcut Potato Chips is quite similar to the classic Potato Chips, but it is definitely more spicy! The ridge-shaped, barbecue-flavoured snack is perfect for those who love a bit of spiciness in their chips. Vcut Potato Chips is also best paired with various dips and sauces.
These are just some of the most popular chips and snacks that are loved by Pinoys, both young and old, wherever they may be in the world. You can find these snacks in most Filipino stores abroad, or at grocery stores that offer Asian products.
The great thing about these snacks is that no matter how old you get, you can still enjoy them every now and then. Aside from being a reminder of your childhood days, these snacks can also give you a "taste" of home, even if you are outside the Philippines.
READ NEXT: This Car Wash Serves Some of the Best Filipino Food in the West Coast