In light of the recent earthquakes that have hit and are still affecting Mindanao, thousands of families have already been displaced and are in need of immediate support from the government and from local organizations to help them get through each day until such time that they are able to get back on their feet once again. 
ALSO READ:  "Bayani Family Care" Insurance for OFWs Launched
But the truth of the matter is – recovery from calamities or any crisis does not happen overnight. It will take some time and a significant amount of support from the victims' relatives, families, as well as the government. But the good news is, the Philippine government, through the SSS and Pag-IBIG, offers financial aid to those affected by (declared) natural disasters or calamities. Continue reading to know more….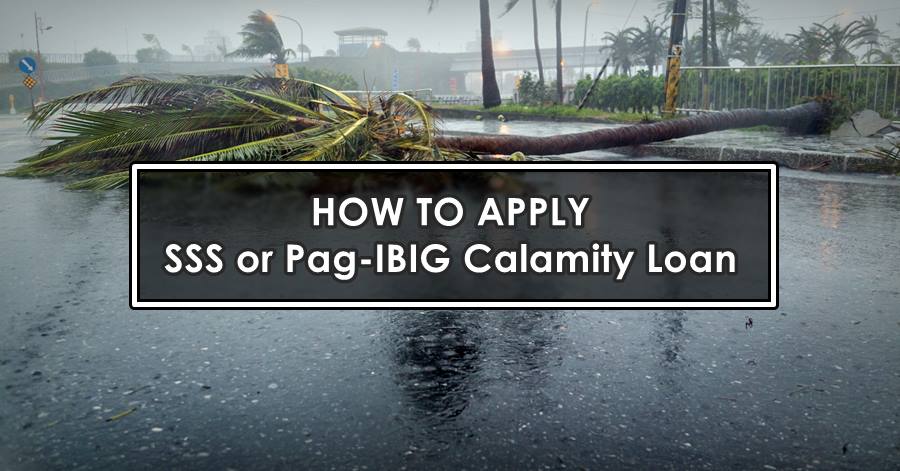 Basic Guide on How to Apply for SSS or Pag-IBIG Calamity Loan
Because calamities do not happen on a regular basis – (thank God), these loan benefits offered by SSS and Pag-IBIG are considered as circumstantial benefits and are limited only to those who meet certain requirements. Let's get to know the features of each:
1. SSS Calamity Assistance Package (CAP)
SSS members and pensioners who are residing in calamity-stricken areas declared under a state of calamity by the National Disaster Risk Reduction and Management Council (NDRRMC) are qualified under the Calamity Assistance Package (CAP) as a form of support and assistance to members in times of calamities.
Features
Loan Amount

: One-month salary credit (MSC) based on the average of the last 12 MSCs or the total amount of damage, whichever is lower.

Interest Rate

: 10% per annum

Penalty Fee

: 1% per month until fully paid

Repayment Terms

: payable within two years in 24 equal monthly installments.

1% waiver fee

Must be availed within three months since the occurrence of the calamity. 
Who are qualified to avail for SSS CAP?
Members with

at least 36 months of contribution

– six of which must have been posted within the last 12 months prior to application for CAP. To know how to check your SSS member contributions, click

HERE

.

The applicant must be a

resident of the calamity-declared area

and suffered losses or damages to properties.

The applicant

must not have any outstanding loan

with SSS (Loan Restructuring Program and Calamity Loan Assistance Program).

The applicant

must not have been granted any

final benefits

such as retirement, death, or total permanent disability at the time of application.
How to Apply for SSS Calamity Assistance Package
Submit original copies of the following documents:
Duly filled out

Calamity Loan Assistance Application Form

Barangay Certification

One (1) primary ID (UMID, driver's license, passport, PRC card, or Seaman's Book) or two secondary IDs (PhilHealth ID, company ID, senior citizen ID, voter's ID, TIN card, etc.)
Note: OFW Members may appoint an authorized representative to file an application on their behalf. In such cases, the authorized representative will be required to present the following additional documents: authorization letter and printed scanned copies of the OFW's valid IDs plus original valid IDs of the authorized representative.
To know more information about the SSS Calamity Loan, you may contact the SSS through any of the following: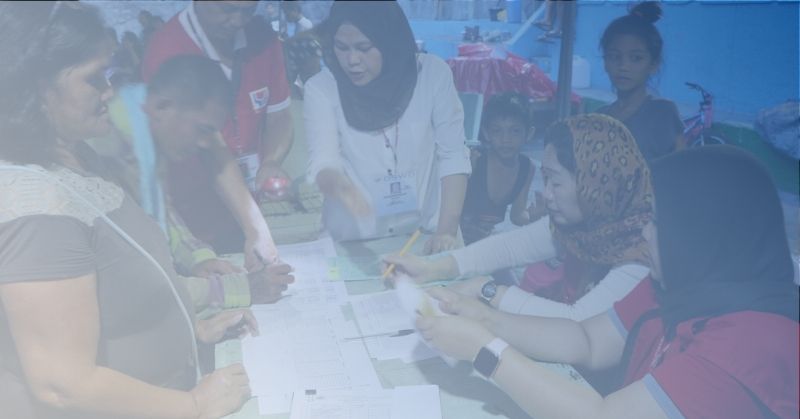 2. Pag-IBIG Calamity Loan
Pag-IBIG Fund members are entitled to apply for any of the fund's multi-purpose loans which include the Pag-IBIG Calamity Loan. Basically, this only means that those who are qualified and can avail this type of loan will be bound by the same rules and guidelines set by Pag-IBIG when availing of a Multi-Purpose Loan.
Features
Loan Amount

: up to 80% of the total accumulated value (TAV)

Interest Rate

: 5.95% per annum

Repayment Terms

: Equal monthly installments payable for 24 months with a grace period of three months. This means that if you apply in January, you may start paying the loan in April or in the fourth month. Payment must be made every 15th of the month.
Who are Qualified to Apply for Pag-IBIG Calamity Loan?
Members with at least 24 months' contribution with at least one monthly contribution in the last six months prior to the date of application. In case you haven't made at least 24 months contribution, then you must show proof that your total savings is equivalent to 24 months of contribution.

The applicant must be a resident of the declared calamity-stricken area

In case the member's record has an existing PAG-IBIG Housing Loan, MPL, or calamity loan, the existing loan balance must NOT be tagged as default.

The applicant must be able to provide sufficient proof of income.
How to Apply for Pag-IBIG Calamity Loan?
Submit a duly-accomplished

application form

at any Pag-IBIG branches near you.

Provide supporting documents such as proof of income (Business/Mayor's Permit; Commission Vouchers; or other valid proof of income, and a photocopy of two (2) valid IDs.

Get the STL Acknowledgment Receipt (HQP-SLF-121).

On the scheduled date, claim your loan proceeds.
Note: For OFW members, you may appoint a family member as your authorized representative, but they must present a special power of attorney (SPA) to transact on your behalf.    
Because calamities do not strike on a regular basis (and we hope it stays that way), these facilities are only valid within three (3) months from the date of occurrence. For those affected by calamities, these should be able to give you the much-needed boost to help you and your family get back on your feet.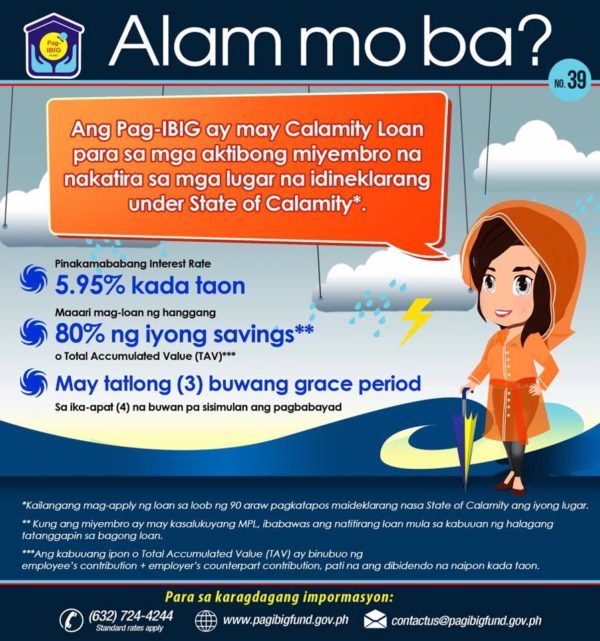 Disclaimer: This article was created for information-sharing purposes only.  If you have specific questions and concerns regarding your account or outstanding loans with SSS or Pag-IBIG, feel free to get in touch with an authorized representative from either agency or visit their respective websites.
ALSO READ: Pag-IBIG Member Program & Benefits