Do you want to renew your NBI clearance form but dread having to wait in long queues? You're in luck, as the National Bureau of Investigation, Philippines (NBI) has made available on their official page, a Quick renewal option where you can apply for renewal and have it delivered at your doorstep in just a couple of days, that'd right, you don't have to visit the office and you can do this on a computer or phone.
Also Read: How to Apply for SSS Retirement Claim Philippines 2020
The online renewal option of the NBI is a welcome news for many Filipinos as this gives us the flexibility and convenience of processing this government document without having to go to the NBI office/branch. Here we outline the steps how you can renew your NBI clearance online.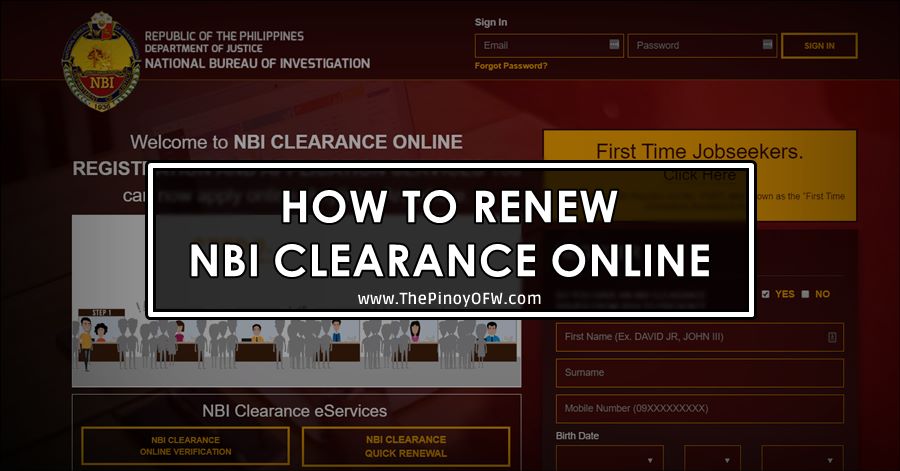 How to Apply for NBI Clearance: A Self-Help Guide
Exciting isn't it? Though the online process may come as a relief, yes there is a 'but' factor. Here are a few factors to consider before choosing this option as it isn't always available to everyone:
Expired NBI clearance form must have been issued from 2014 to the present.
Clearance can be renewed before the expiration date.
Online quick renewal has extra fees for express delivery service and online payment service.
Cannot update information on quick renewal, you will need to follow the standard process of renewal to update your information.
In some cases, NBI ID numbers are missing or cannot be found for some unknown reason. Follow the standard renewal process in that case.
You still have the option available to update your bio-data (like married status) on your NBI clearance but you have to follow the regular process of renewal which would require an appointment scheduled visit to a selected NBI Center.
How Much Does NBI Renewal Cost?
The renewal fee is just Php130 but it could cost you as high as Php400 to get your renewed clearance if you opt for additional services like shipping and e-payment. Please be advised, fee are subject to change, here are some of the fees to expect:
Renewal fee – Php130 (tax included).
Shipping –  Php200.
E-payment service fee – Php25.
There is a service fee charged by payment vendor or bank which is separate from the e-payment fee, this service fee varies on the payment method and is applied when making payment. This fee could go as high as Php100, so choose wisely.
Note: The shipping fee indicated above is not a standard delivery rate, the fee may vary per location.
NBI Clearance Quick Renewal
Here is a quick guide on how to renew your NBI clearance using the quick renewal option button.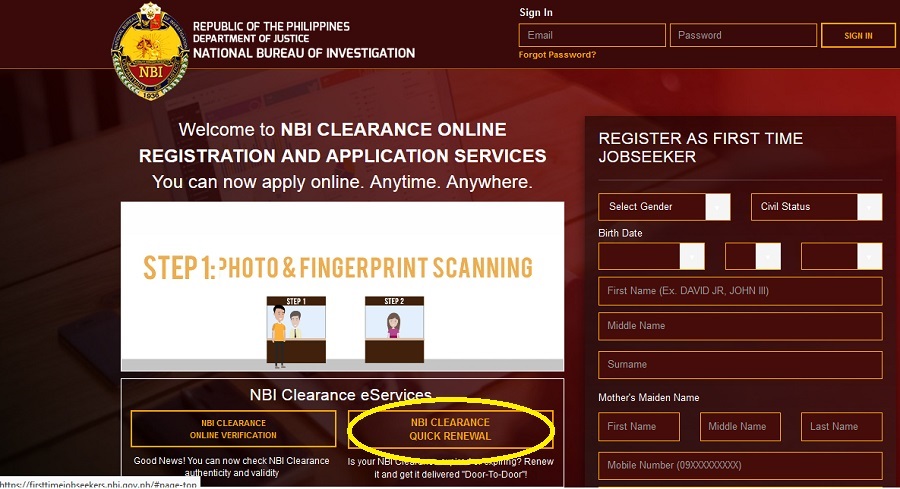 Visit the official website, no need to sign-in.
Find and click the "NBI Clearance Quick Renewal" button. 
A pop-up will emerge for "Quick Renewal Delivery", enter your NBI ID number and verify.
A window with your name and photo will be displayed.
Fill out the form with your delivery address including your Barangay Zip code and purpose of applying.   
Enter the Date of birth and choose the payment method preferred. Options available using a mobile device are Bayad Centre, Bank over the counter, Online banking, Mobile payment, Multipay, and ECPay.
Select your preferred payment method.
Once you select the desired payment method, a pop-up will appear, read carefully and click next.
A breakdown of the amount to be settled will be displayed, click the 'proceed' button to get the reference code.
A pop-up will appear with an alpha-numeric code as the reference code for payment. Make sure to take a screenshot or write down the reference number provided.
Proceed with payment using the reference number.
Note: This option does not always function, in some cases, it might not be available on PC but will work fine on mobile platforms. You can try the other if you are having issues with one.
NBI Clearance Standard Renewal
The process for the standard/regular NBI clearance application is quite similar to the process for the first time applicants, like for fresh graduates, the difference is you are only required to bring one valid ID and your expired clearance form when going for your appointment. You don't necessarily need to follow the online process but it is advised as it will grant you access to the NBI office. All you need to do is follow this easy guide and get your appointment set up.
Visit the NBI official website.
Click OK on the language and news updates.
Login to your account using your email and password used to register. If you cannot remember your password, that's fine too, just click on 'forgot password' and fill out your email address.
Go to your email address and click reset password.
You will be routed to the NBI page where you can update your new password, retype the password and submit.
Go back to the NBI clearance form application page and Sign-in.
Click on "Edit Information'' if needed. Update your personal information and save it.
Click on "apply for clearance".
Select the desired form of ID (this will be the ID you will present at the NBI office.)  
Carefully read the disclosure and click agree.
Select the NBI branch from the drop-list, preferably one closest to you.
To schedule an appointment, choose the AM or PM button with available time slots.
Select the payment method. Options available are; Bank over the counter, Online Banking, Bayad Center Outlets, ECPAY, 7-Eleven and Bayad center mobile app (you can also use your MultiPay account using the reference code generated here. 
Depending on the payment method chosen, a pop-up will appear with instruction on the next step required to complete payment, read carefully and click "proceed to payment."
An alpha-numerical code will be provided as the reference code which you can use to process the payment with vendors like LBC and 7-eleven.
If you prefer to use online banking or pay over the counter in a bank, you will be routed to a dragonpay page with your reference code and transaction details. Please take note of the service charge as bank charges could range from Php10 – Php100.
Tip: Some banks do not charge a service fee for over the counter payments.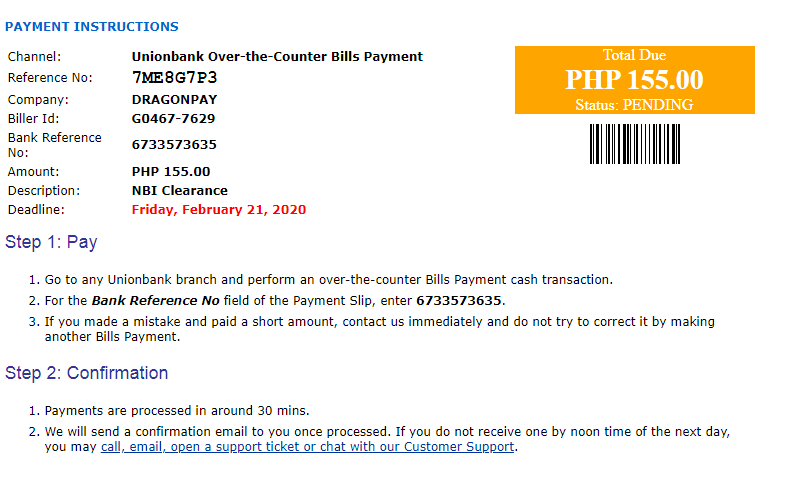 Once payment is settled, attend the appointment at the scheduled time and date.
Provide ID and expired NBI clearance.
Update Biometric data and wait to receive renewed NBI clearance or otherwise advised by the NBI staff.
Note: Using e-payment is subject to a Php25 fee and the payment center also has a service fee included upon payment receipt. However, the service fee is exempted if the payment is made over the counter in the NBI main office.