The Philippine Overseas Employment Administration (POEA) has issued a stern warning to OFWs against not fulfilling their contracts and "hopping" from one job to another.
The warning was made by POEA Administrator Bernard Olalia and reminded OFWs that they entered into a signed agreement to legally work overseas. Violating such terms can be used against them, especially in stricter countries such as those in the Middle East.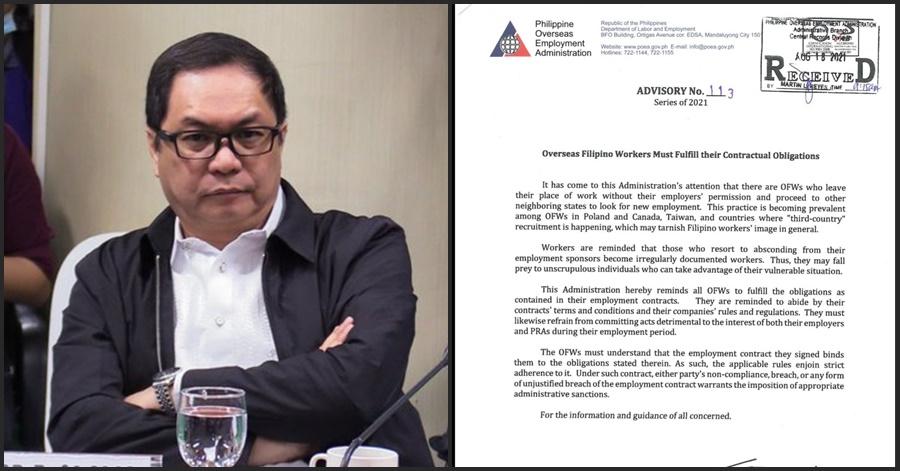 POEA Cautions OFWs Against Committing Breach of Contract, Job-Hopping
Olalia explained that in doing so, migrant workers can be classified as irregularly documented workers, the Business Mirror reported.
"It has come to this administration's attention that there are OFWs who leave their places of work without their employers' permission and proceed to other neighboring states to look for new employment," Olalia cited the POEA Advisory 113, Series of 2021.
"This administration hereby reminds all OFWs to fulfill the obligations as contained in their employment contracts. They are reminded to abide by their contracts' terms and conditions and their companies' rules and regulations," he added.
He then warns OFWs that those who become categorized as irregularly documented workers might fall prey to unscrupulous individuals who might exploit their situation overseas.
In line with this, Olalia noted that those who commit "unjustified breach of contract", whether worker or employer will face administrative sanctions.
READ NEXT: How to Apply OEC from POEA for Direct Hire Workers