Jollibee, a Filipino restaurant chain, opened its European flagship restaurant in London's West End to hundreds of customers on the first day.
Customers waited in line for seven hours until the doors opened to try the brand's Chickenjoy, Jolly Spaghetti, and Chicken Burgers, for which Jollibee is popular around the world.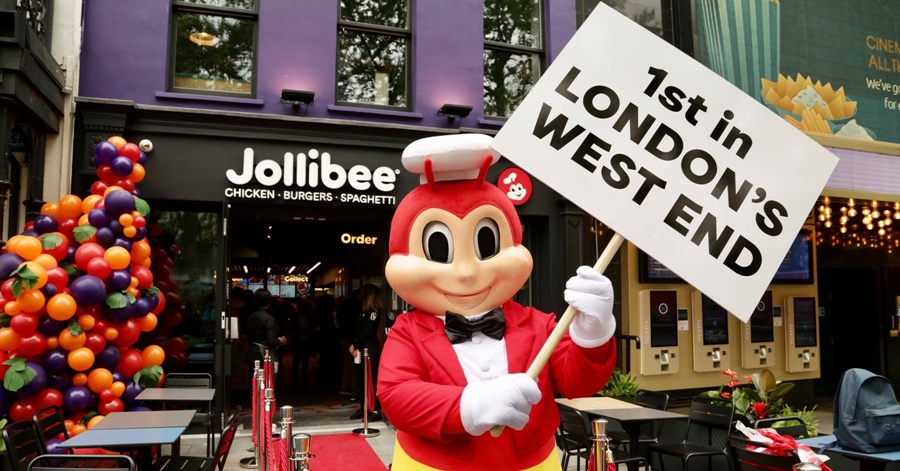 [LOOK] First-Ever Jollibee in West End London Sees Hundreds Line Up As Early As 3 AM
Jollibee London West End opened within the first week restaurants can offer customers indoor dining in groups of up to six people, or in two households of any size, the Esquire Magazine reported.
To insure the safety of staff and customers in-store, as well as to make take-out and pick-up more convenient, the Jollibee London West End restaurant features pick-up counters, self-order kiosks, and hand-wash stations at key central points.
Jollibee's debut in London West End surpassed previous opening day sales records in Leeds, Leicester City, and Liverpool, selling over 4,000 pieces of Chickenjoy on the first day alone.
Half of the customers were local Londoners who wanted to try Jollibee's best-selling menu.
About 300 people were waiting for the doors to open by 9:30 a.m. The Ambassador of the Philippines, Antonio M. Lagdameo, cut the ribbon at the opening, along with Jollibee Europe Business Head Adam Parkinson.
"It is heartwarming to see the long lines of customers at Jollibee's London West End opening," said Ernesto Tanmantiong, CEO of Jollibee Group. "We are excited to welcome our British customers along with our Filipino guests to our latest restaurant, where they can enjoy our unique and popular food offerings. We also look forward to continuously expanding our brand footprint in UK's GBP 1.2 billion fried chicken market as we open more stores in the country and the rest of Europe."
Jollibee's launch lines are well-known around the world because they begin early – even days before and during inclement weather. The company attracts hundreds of chicken-lovers to its locations and is eager to welcome many more British customers. Jollibee is currently open in four cities across the United Kingdom – London, Liverpool, Leeds, and Leicester – with six more openings planned before the end of 2021.
"Jollibee's opening in London's West End, right in the heart of London, is a very proud moment for Jollibee in the United Kingdom. Leicester Square in London's West End is the ideal venue for entertaining friends and family while shopping, going to the movies or the theatre, or going out on nights out in Soho and Covent Garden. "We are excited to serve our best-selling Chickenjoy and other Jollibee favourites to even more Londoners in the West End," said Dennis Flores, President of Jollibee Europe, the Middle East, Asia, and Australia.
"Opening the restaurant now, during the first week Londoners can dine inside, was a fantastic moment of celebration for our community of Jollibee lovers and our amazing team. This central London location represents our commitment to establishing Jollibee as a major chicken restaurant chain in the U.K. We are bringing a premium fast-casual dining experience to London all at affordable prices, providing young millennials, Gen-Z, and our loyal fans a fun and joyous restaurant to share great food and social moments," said Adam Parkinson, Business Head for Jollibee Europe.
Chicken lovers in London have been waiting for a restaurant similar to Jollibee to open in the city for a long time. Jollibee responded, making its West End location the only fried chicken joint within a ten-minute walk of Leicester Square station.
READ NEXT: Here's What You Need to Know About British Etiquette and Culture