Through the years, MITAC Overseas Manpower Corporation (formerly Emmylou`s Manpower Inc.), just like all other recruitment firms in the Philippines currently thriving in the competitive recruitment market, has developed their most important operations, allowing them to create a unique approach to getting the right people and matching them up with a company that can greatly benefit from their skills while ensuring that they remain satisfied with their jobs.
These days, workforce issues – the driving force to the success and growth of MITAC Overseas Manpower Corporation (formerly Emmylou`s Manpower Inc.) – are unprecedented. The struggle of finding the right talents and keeping them is a problem as old as companies themselves.
However, as more companies come up short when rising to meet the demand for more and better workers, more Philippine recruitment agencies continue to rise and innovate the industry of sourcing, attracting, screening, retaining, and training Filipino candidates who can fill up the gaping hole that the manpower shortage that most companies continue to struggle with.
Also Read: MIP International Manpower Services Inc. Job Agency Philippines
MITAC's dedication to their client satisfaction, along with their cornerstone philosophy of service with Commitment, Accountability, Recognition and Empowerment (CARE), has allowed them to build an exceptional reputation in the industry. This reputation is what makes them thrive in the industry, enabling them to effectively gather the best human capital there is, despite the challenges of increased competition and workforce issues in the Middle East, Hong Kong, Cyprus, Singapore, Malaysia, New Zealand, and Japan.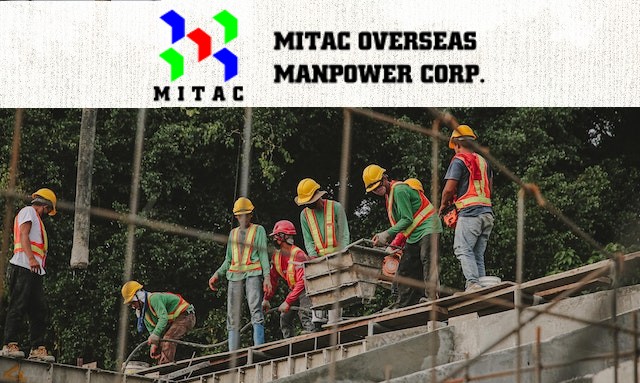 What is MITAC Overseas Manpower Corp.?
MITAC Overseas Manpower Corporation (formerly Emmylou's Manpower Inc.) is a land-based recruitment agency duly licensed by the Department of Migrant Workers (DMW), formerly known as Philippine Overseas Employment Administration (POEA) and the Department of Labor and Employment (DOLE).
Since it was founded in 2009 by a group of manpower services professionals who specialize in career placement, MITAC has been providing recruitment services and deployment of professionals, skilled and unskilled Filipino workers to overseas companies. Their network of corporate clients extends to various countries including the Middle East, Hong Kong, Cyprus, Singapore, Malaysia, New Zealand, and Japan.
As a recruitment agency, they pride themselves for the close relationship with their clients. Along with it, they offer speed, precision, and quality of service for both candidates and employers. They have also equipped their team of seasoned consultants with powerful integrated recruitment technologies, enabling them to scale their processes, streamline their hard-to-fill talent pipeline, meet global demand for manpower, and grab one of the top spots in the industry in terms of results.
Their commitment to excellence and innovation in the manpower services, along with their contribution to the country's social and economic development, is exceptional, even among its competitors in the industry.
Also Read: 12 Reasons Why Filipinos Want to Work Abroad
List of Job Vacancies in MITAC Overseas Manpower Corporation
MITAC Overseas Manpower Corporation is synonymous with commitment to empower Filipino workers with high-quality jobs and competitive compensation packages. As an agency whose main job is to attract human capital, there is nothing more attractive than to join a company that cares. With MITAC, care is at the very core of their mission and vision, though they embody care in another form: Commitment, Accountability, Responsibility, and Empowerment.
To date, MITAC and its partner companies continue to push forward and create a remarkable difference in the society with their mutual cooperation. It's easy to see how, given the abundant job vacancies in the Middle East, Hong Kong, Cyprus, Singapore, Malaysia, New Zealand, and Japan that they continue to offer to interested Filipino talents.
Some of the positions they are looking to fill include:
Precast Concrete Workers
Carpenter, with specialization in: Formworks, Finishing, Rough, Joinery, and Timber Framing
Mason, with specialization in: Concrete Rough & Finishing, Brick / Block Layers, Concrete Cutter, Road Masons
Aluminum Fabricator & Installer
Glazier & Frameless Glass Fabricator & Installer
Roofers (Long Run Iron & Tiles)
Drywall Installer / Gypsum Board Installer
Scaffolders (W/ NC II)
Excavator Operators
Upholsterer
Concrete Pump Operator
Granite / Marble Cutters, Polishers & Installers
Drainlayers (Road Plumbers & Masonry Works)
Insulator Fabricator Installer
Ducting Fabricator Installer
Steel Erector
Motor / Generator Rewinders
Alloy Boat Builders
Concrete Placer (For Road & Bridge) Korea Experience Is An Advantage
Denters / Panel Beaters & Auto Spray Painters
Building Painters
CNC Machine Operator (Wood And Metal)
Fitter And Turners
Horizontal Driller Operator
Sewing Machinists
Steel Fixers
Tower Crane Operator/Driver
Insulation Installer
Skilled Roofers And Waterproofers
A/C Ducting Installer
Auto Glazier
Concrete Kerb Installer & Placer
Metal Screen Printing Specialist
Solid Plasterer
Marine Joiners
Concrete Pump Operator
High Qualified Joiners (CNC Wood Machinery)
Stone And Granite Machine Operators
Rough Carpenter (Able To Read Plans)
Cabinet / Joiners (CNC Wood Machinery)
Concrete Cutter
Stone And Granite Cutter And Polisher
Concrete Placers
Epoxy Floor Specialist
Carpet Layer
Mason (Concrete Placer / Plasterer / Vinyl Installer)
Truck Drivers
Concrete Layers
Marble And Granite Stone Polisher
Denters And Auto Spray Painters
Fiberglass Technician
Aluminum Fabricator And Installer
Pipe Fitters / Welders
Drainage Technicians
Rebar
Roofer / Roof Membrane Applicators
Roof Tilers
Foundry Pattern Maker
Garage Door Fitters
Mechanical Engineers
Carpenter (High Rise Building)
Finishing Carpenter
Carpenter (Offshore Experience)
Excavator / Driver / Operators
Concrete Workers
Masons
Rough Carpenter
Carpenters (Jitco And Ichijo Certified)
Aluminum And Steel Fabricator
Carpenter (Gypsum Board Installer)
Marble Cutter
Finishing Carpenter
Auto Upholsterer
Carpenter (Truss & Frame – Japan-Trained)
Form Carpenter
Aluminum Welder Or Shipyard Welder
Sheet Metal Designer Programmer
Roading Staff (Asphalt Workers)
ATV Mechanic
Asbestos Removers
Glass Cutters / Edging
Kitchen Bench Manufacturers (Stone And Marble)
Structural Engineers
Mechanical Engineers (Fire Protection And Design)
Sheet Metal Designer Programmer
Ductors / Hvac Technicians
Dairy Farmers
Fiberglass Workers
Steel Erectors
Structural Steel Erectors
Granite / Marble Cutter And Polisher
Sandblasting / Spraypainters
Marine Sandblasters / Painters
Offshore High Pressure Blasting / Painting Workers
Contracts Managers
Drywall Gypsum Board Installer
Drain Layer (Plumber Who Lay Pipes Underneath The Roads)
Domestic Helpers
How to view Job Vacancies at MITAC Overseas Manpower Corp.
If you wish to check them out yourself, you simply need to follow these steps listed here:
Via MITAC official website
Visit the MITAC Overseas Manpower Corp. website at https://mitacoverseas.com/.
Click on the Job Openings tab and scroll down to see if there's anything that is worth your time applying for.
Via MITAC Jobstreet Account
Visit the MITAC Overseas Manpower Corp. company profile on Jobstreet by going to this link: https://www.jobstreet.com.ph/en/companies/496336-mitac-overseas-manpower-corporation.
Click on the Jobs tab to checkon active job posts.
Via Department of Migrant Workers (DMW)'s list of Approved Job Orders
Visit the Department of Migrant Workers (DMW) website at https://www.dmw.gov.ph/.
Scroll down the DMW homepage and click on the Approved Job Orders tab.
Upon reaching the Approved Job Orders Of Licensed Recruitment Agencies page (https://www.dmw.gov.ph/approved-job-orders), scroll down the search boxes.
Using the dropdown button, change the search filter to Agency, type MITAC in the designated search box, then click MITAC Overseas Manpower Corporation (formerly Emmylou's Manpower Inc.).
Hit the Search button and you will be redirected to a page that shows the list of approved Job Orders under the agency's name.
Note: These job vacancies posted on the DMW's approved job order list are culled from the agency's job order list for the past two years. The numbers under the job balance column reflect the number of workers they still need to hire after deducting the number of applicants whose documents were already sent in for processing. Though the job orders are still considered active by the government, you will still need to check with the agency regarding its actual status.
How to Apply for a Job via MITAC Overseas Manpower Corp. Agency
Whether you seek a rewarding job as a professional, skilled, or unskilled worker abroad doesn't matter much. With the wide network of business partners that MITAC is proud of, there is and will always be an ideal job position waiting for you at one of their partner companies. The real question is: How would you get there?
In this section, we'll tell you how you can get your outstanding skills out there for these companies to see, through the help of MITAC.
Documentary Requirements
Before applying at MITAC for your desired job abroad, it is imperative to get your documentary requirements in order. To help you prepare, here's a list of the mandatory ones you need to get your hands on first.
Mandatory Requirements
Updated and detailed resume/CV in the MITAC-preferred format available for download at this link: http://mitacoverseas.com/downloads/resume-format-10182018.docx.
Manpower Registry or the DMW e-registration
Pre-Employment Orientation Seminar (PEOS) certificate
Valid Driver's license (Pro or Non Pro) For Non-professional driver's license, note that you will need to secure an International Driving Permit from the Automobile
Association Philippines (AAP)
NC II Certificate (if applying for the scaffolders position)
Main Requirements
Original copy of your Certificate of Employment (COE)
Valid Passport and old passports
Overseas Employment Certificate (OEC) / Information Sheet from DMW
Employment Contract
Payslip or Remittance receipt/Certificate, Passbook,or ATM card
Company ID, Alien Card,NAtional ID, Iqama, etc.
Jobsite Photos
Police Clearance if you have worked for over 5 years in one country
Supporting Documents
Birth Certificate or Marriage Certificate from PSA
Valid Government IDs (UMID, SSS, PhilHealth, Postal ID, Voter's ID, etc.)
Employment History /Actual Monthly Contribution (from SSS if experience is local)
Diploma and Transcript of Records (ToR) or Form 137
Training Certificates
BIR TIN
Note that you will need to have a duplicate copy of the documents for yourself as the agency requires you to present the original copies.
Also Read: How to Request for PSA Birth Certificate
Application Procedures
Once you have the documentary requirements in order or you are sure that you can present them even at a later time, then it's time to learn how you can get on with your application.
Send in your application along with the necessary documents like your school credentials, certificate of employment, training certificates, and NBI/Police clearance via email so the MITAC recruitment staff can have them verified for authenticity.
Once your resume makes it beyond the initial evaluation, you will need to undergo an initial interview and assessment so the agency can check if you are the "right fit" for the job you are applying for.
Then you will be subjected to more interviews with clients/employers through either of the following methods:

Personal Interview with clients who opt to come to the Philippines
Online Interview with employers who choose to conduct a live video interview online through Skype.
Traditional Telephone Interview between the client and the candidate who prefer to go traditional via phone lines.

Pre-qualified applicants who are selected by the client/employer are required to undergo a thorough medical (physical and psychological) examination to check if you are physically and mentally fit for the job.
You will also be subjected to a background check to verify your educational background, criminal or derogatory records, and employment history.
Once you are selected for the job, you will be given a job offer.
The agency will then take care and provide assistance to you while you process the documents required of you prior to departure. Such documents include:

Processing of government-mandated requirements at the DMW.
Assistance in getting a visa, if required.
Conduct Pre-departure Orientation Seminars (PDOS) through our affiliate agencies to familiarize the workers about the culture and practices as well as the working conditions in the country they will work for.
Also Read: How to Attend PDOS (Pre-Departure Orientation Seminar)
Frequently Asked Questions (FAQs)
1. What are the services offered by MITAC Overseas Manpower Corporation?
MITAC Overseas Recruitment Corp. is an international recruitment firm based in the Philippines so,just like the other agencies, they primarily provide recruitment services and deployment of professionals, skilled, and unskilled Filipino workers to their partner companies in the Middle East, Hong Kong, Cyprus, Singapore, Malaysia, New Zealand, and Japan.
They also offer specific services including,
Advertising, Sourcing, and Manpower Pooling services
Selection and Screening Services
MITAC takes it upon themselves to verify the authenticity of all necessary documents submitted by applicants, including their school credentials, certificate of employment, training certificates and NBI/police clearance.
All applicants go through several rounds of interviews for assessment. MITAC handles everything about the interviews, from setting it up to arranging schedules and venues for personal interviews in cases when their clients opt to visit the Philippines.
Medical Examination Assistance
For applicants who were selected, MITAC facilitates a thorough physical and psychological examination with DOH-accredited clinics to see if he/she is physically and mentally fit for the job.
MITAC also subjects their applicants to a background check to see if his/her educational background, criminal or derogatory records, and employment history are accurate and clear.
Document Processing Services
MITAC also takes care and provides assistance to successful applicants in processing their documents prior to departure. Some of the services they provide include:
Also Read: How to Apply DMW eRegistration Online (previously POEA eRegistration)
2. I need to retrieve the original documents I submitted to MITAC Overseas Manpower Corp., but when I visited them at Room 609 & 611 Dona Felisa Syjuco Bldg. 1872 Remedios St. cor Taft Ave. Manila, Philippines, it was closed. Would you know their new address?
MITAC Overseas Manpower Corporation has since moved to a new address so you'd want to go visit their new office instead. Their new office address is 55 Aguinaldo St., Katarungan Village, Cainta, Rizal, Philippines.
3. I want to work in New Zealand, but I can't afford to pay a placement fee. Can I apply without paying a placement fee?
There are many approved job orders from New Zealand with no placement fee for Filipino workers. However, you will need to verify with the agency as there are some that do collect some fees when you go through them.
Also Read: 12 Most In-Demand Jobs in New Zealand for Filipinos
4. Is MITAC Overseas Manpower Corporation a legitimate recruitment agency?
Yes. MITAC is a licensed recruitment agency based in the Philippines. Their license can be verified at the Department of Migrant Workers (DMW) website's list of licensed recruitment agencies. The current license that MITAC holds was issued to Desiree B. Anonat and it is valid from November 16, 2021 to May 24, 2024.
5. I already sent in my CV/resume to MITAC, but I have yet to hear from them. Is there anything wrong with the CV or did I fail the initial assessment?
Note that MITAC requires applicants to send in their resume/CVs in their preferred format. If you don't know what the format is, you may head on out to the MITAC website, check the CV Format and Requirements tab and download their CV template from there or by visiting this link: http://mitacoverseas.com/downloads/resume-format-10182018.docx.
You may also reach out to them to follow up on the status of your application, if you wish to do so.
6. I'm having a hard time reaching out to MITAC Overseas Manpower Corp. through their social media pages. Is there any other better way to reach them?
MITAC advertises their complete address, email, and phone number on the website so you may have better chances at trying out either one of those options when reaching out to them. If you haven't seen those information, we listed them right here for you.
Tel. No.: (+632) 8556-7548
Mobile No.: 09260226587, 09065842598, 09167775187, 09678836876, 09558768994
Email Address: recruitment.mitac@gmail.com, mitac_8phils@yahoo.com
Website: https://mitacoverseas.com/contact-us/
Summary
Home to rewarding opportunities in the Middle East, Hong Kong, Cyprus, Singapore, Malaysia, New Zealand, and Japan, MITAC is one of the well-known agencies that promises to go over and beyond client expectations in their recruitment services. The sophisticated services and excellent human capital solutions that they have been offering to the world for the past 12 years have been shaped by intense passion and solid commitment to superior service and humane approach.
From professional to skilled and unskilled workers, MITAC's success in the global human resources industry is inspired by their continuous dedication to Commitment, Accountability, Recognition and Empowerment (CARE) which is embedded at the very core of their recruitment operations. Thanks to these passionate values, they not only maintained a great relationship with their clients, but they also established an impeccable reputation in the competitive global recruitment industry.
Contact Information
In case you have more questions or concerns and you need to reach out to MITAC Overseas Manpower Corp., then here's their complete and updated contact information:
MITAC Overseas Manpower Corporation
Office Address: 55 Aguinaldo St., Katarungan Village, Cainta, Rizal, Philippines
License Validity: November 16, 2021 to May 24, 2024
Person-in-charge: Desiree B. Anonat
Tel. No.: (+632) 8556-7548
Mobile No.: 09260226587, 09065842598, 09167775187, 09678836876, 09558768994
Email Address: recruitment.mitac@gmail.com, mitac_8phils@yahoo.com
Website: https://mitacoverseas.com/
Facebook Page: https://www.facebook.com/mitacoverseas/
Jobstreet company profile page: https://www.jobstreet.com.ph/en/companies/496336-mitac-overseas-manpower-corporation
Also Read: 20 Best Philippine Recruitment Agencies for Overseas Jobs