Filipinos who are in Nigeria can get their passports, visas, and other legal documents from the Philippine embassy. The embassy is for OFWs and Filipinos living in Nigeria. It works to give services to our fellow Filipinos so that they can maintain their legal documents and legally stay in the country. If you need to apply for a new passport, renew your passport, apply for your visas, record the birth of your child, record the death of your loved one, or get married civilly. The embassy likewise works with different government agencies to better protect our OFWs abroad.
The agencies that work with the embassy are POLO and OWWA. POLO stands for the Philippine Overseas Labor Office, an agency under DOLE that protects and works to protect the interest and wellness of overseas Filipino workers. In case you encounter legal and emergency issues, you can always contact POLO or the embassy to ask for assistance. POLO has over 30 branches around the world, specifically in Asia, Middle East, America, and Europe. Some POLOs have their own separate location or office than the embassy but there are also those that within the embassy.
It is vital that you have the information about the embassy when you are in Nigeria. This is so you would know who to call and where to go in case of emergencies. If you don't have relatives in Nigeria and you live alone, the government will serve as your backup whenever you encounter issues in your employment or residency.
To make it easier for OFWs, we compiled everything you need to know about the embassy. We included here the services offered by the embassy, frequently asked questions, tips when visiting the embassy, location, and a map guide. We hope this helps you when you go to the embassy.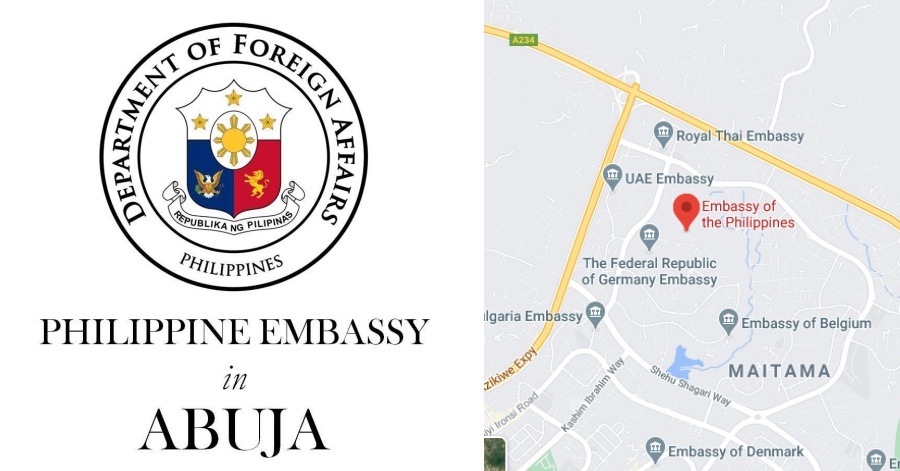 History – Philippine Embassy in Nigeria
The Philippines and Nigeria started connecting with each other in 1962. Their diplomatic relation gave life to the embassies in each other's territory. The Philippines has an embassy in Abuja while Nigeria has an embassy in Manila. In 2012, the Philippines and Nigeria took their trade relations to the next level to solve the poor relations between them. Both the leaders of the country had taken their step to participate in the plan. In 2015, a project involving drinking water and water filtration was established, which benefited both Nigerians and Filipinos.
Services Offered
If you want to know the services offered by the Embassy of Nigeria, here's the list:
Consular Outreach Program
Passport

Adult New Applicant
Adult Renewal Applicant
Minor New/Renewal Applicant

Travel Document
Authenticating Documents Made Simpler by the Apostille
Civil Registry
Solemnization of Marriage
Report of Marriage
Report of Birth
Report of Death and/or Consular Mortuary Certificate
Dual Citizenship
Visa
Waiver of Exclusion Ground
Certificate of Not the Same Person
Balikbayan Program
Schedule of Consular Services and Fees
Consular Service Fees and Turnaround Time
List of Other Services

Transport of Pets
NBI Clearance
Renewal of Philippine Driver's License
Securing a J1-Waiver
PH Requirements for Medical Missions
Departure Formalities
Philippine Overseas Labor Office
Issuance of Overseas Employment Certificate
OWWA Membership Program
Employment Contract Verification and Authentication
Implementation of POEA Rules on Direct Hiring
Frequently Asked Questions Regarding the Services
What are the documents I should bring during my passport renewal?
The Philippine embassy in Nigeria offers passport renewal services and other related services. If you are going to the embassy to renew your passport, the following are needed:
Original old or expired passport.
Complete passport application form.
Photocopy of your passport's data page
Photocopy of your permanent resident card, a record of landing, and work permit.
Passport processing fee
What are the documents needed when a minor wants to obtain a passport?
Minors can apply for their Philippine passports provided that they come with both of their parents and bring the following documents to the embassy:
Birth certificate
Report of birth form
Letter from the doctor who delivered the child attesting to the birth.
Medical record of the child from the hospital where the child was delivered, in case the doctor can't be located anymore.
Original and photocopies of the passports of the parents.
Letter of consent with the signature of both parents
What happens if I lost my Philippine passport?
In case you lost your passport, you can apply for a new one. Just get an appointment so that you can go to the Philippine Embassy in Nigeria. You also need to bring the following documents.
Police report or case certificate
Affidavit of Loss of Passport (this can be completed in the Philippine embassy but with a separate processing fee).
Birth Certificate
Marriage Certificate if applicable
A legal document showing your name, date of birth, and place of birth.
Photocopy of your lost or destroyed passport, if applicable.
Death certificate of spouse, if applicable.
Annulment/divorce, if applicable.
Is dual citizenship allowed?
You can have dual citizenship while you are abroad. The Philippine embassy permits it provided that you obtain a certificate from them allowing you to have dual citizenship.
Tips When Visiting the Embassy
When visiting the embassy in Nigeria, here's what you need to do:
Go to the official website of the embassy in Nigeria.
Visiting the official website of the embassy in Nigeria contributes a lot so that you will know the latest news, updates, and announcements. Everything you find on the official website is useful.
Since you are going to a government office, you must dress decently. Don't wear clothes like sando or shorts.
Opening Hours
8:00 AM – 5:00 PM
Contact Information
Embassy of the Philippines in Abuja, Nigeria
Contact Person: Hon. (Ms.) Shirley Ho-Vicario – Ambassador Extraordinary and Plenipotentiary
Address: No. 5 Vattern Street, Off Amazon Street, Maitama, FCT Abuja, Nigeria
Mobile No.: (+234) 81025-41252 (Consular), (+234) 90532-44916 (ATN)
Email: abuja.pe@dfa.gov.ph / pe.abuja.consular@gmail.com
Website: www.abujape.dfa.gov.ph
Facebook account: https://www.facebook.com/PHLinNigeria/
Google Map Location
In case you are wondering where the Philippine Embassy in Nigeria is located, below is a map guide for you: