The Philippines and three other countries have been added to the UK "red list" of travel, meaning travelers from these countries, with the exception of British or Irish citizens and residents, will be denied entry.
READ NEXT: Traveling Back to the Philippines? Here's What You Need to Know
In the announcement posted by the British Embassy in Manila, it listed the Philippines together with Pakistan, Kenya and Bangladesh among the countries from where travellers are banned to enter the UK to protect the country against new variants of coronavirus (COVID-19), at a critical time for the vaccine programme.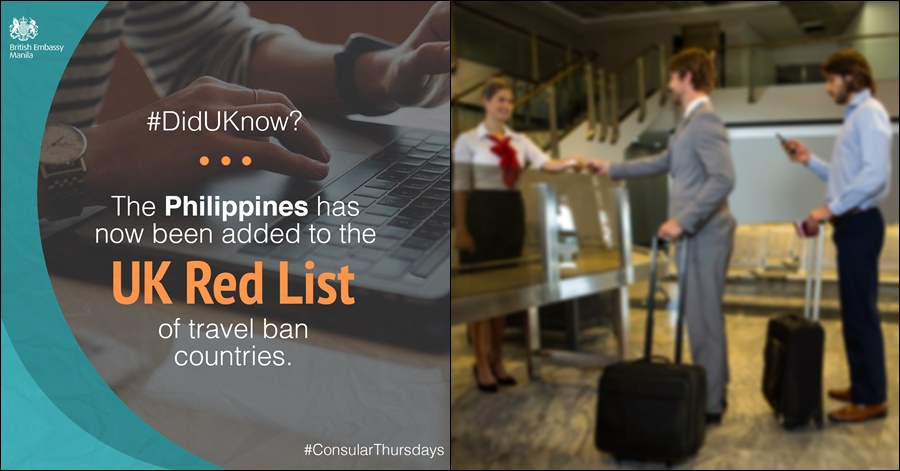 Philippines, 3 Other Countries Added to UK's 'Red List'
"With over 30 million vaccinations delivered in the UK so far, the additional restrictions will help to reduce the risk of new variants – such as those first identified in South Africa (SA) and Brazil – entering England," the advisory added.
It further explained that visitors who have departed from or transited through the said countries in the last 10 days "will be refused entry into England." The entry ban will begin at 4 a.m. (U.K. time) on April 9.
The British Embassy in Manila said in a separate Facebook post said, "You cannot enter the UK from the Philippines unless you are a British or Irish national, or if you are a third-country national (including Filipino) who has residence rights in the UK."
"If you are still eligible to enter then you will now be required, in England, to undergo hotel quarantine for 10 days after your arrival, if you have departed from or transited through the Philippines in the preceding 10 days. You will need to cover the cost of this from your own expense," it added.
Those who are allowed to travel to the UK will be required to undergo coronavirus testing on or before the second day of their quarantine and again on or after the eighth day.
With these, such travellers will not be allowed to shorten their quarantine period on receipt of a negative test result. They will also not be able to end their managed quarantine early through the Test to Release scheme.
READ NEXT: Med Cert, Travel Authority Requirements No Longer Required for Domestic Travels – DILG