One of the hallmark criteria of a progressive nation is quality healthcare for all. This only means that if the government can invest in the health and welfare of its people, then more opportunities will be made available to the whole nation because the people are healthy enough to work and fulfill their responsibilities in society.
Having said that, it seems that the Philippine leadership took note of this because there has been a monumental change in the legislative priorities in the country, with its healthcare taking a share of the spotlight – and it's just about time!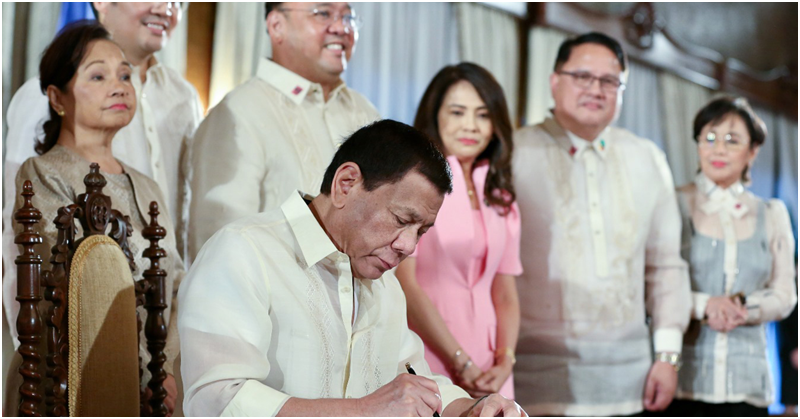 PRRD Inks Universal Health Care Act into Law
On Wednesday (February 20), Philippine President Rodrigo Duterte signed into law the Universal Health Care Act, which will automatically enroll all Filipinos under the government's health insurance program, as shared in a report by the Philippine News Agency.
President Duterte signed the landmark legislation in a ceremony held at the Rizal Hall in Malacañang Palace, explaining that the new law will greatly benefit the Filipino people.
Duterte pointed out that by automatically enrolling the citizens into the National Health Insurance Program and expanding PhilHealth coverage to include free medical consultations and laboratory tests, the newly signed law will guarantee equitable access to quality and affordable healthcare services for all Filipinos.
Under the new law, all Filipino citizens, which include overseas Filipino workers (OFWs), will be enrolled into PhilHealth, with the expanded coverage and services mentioned above.
The new law also aims to improve doctor-to-patient ratio, increase hospital bed capacities and equipment, and establish more hospitals in remote areas.
The passing of the universal healthcare act into law was tagged by the President as "urgent," which shows his desire to provide Filipinos with affordable, quality health care services.
Once it is released, relevant agencies will prepare the implementing rules and regulations (IRRs) for the new law.
This development has earned the World Health Organization's (WHO) commendation, describing it as a "critical step" towards health for all Filipinos.
ALSO READ: PRRD Signs HIV-AIDS Law