Universal Staffing Services, Incorporated (UNISTAFF) is a duly licensed international permanent staffing firm based in the Philippines. As an agency, it is well-known to have been a dedicated supporter of recruitment and placement of qualified Filipino professionals to address the acute shortage of manpower in the Gulf Region, Africa, South Asia, South-East Asia, United States, and Europe.
Also Read: E-GMP International Corporation Recruitment and Placement Agency
UNISTAFF has been known as a market leader in the recruitment and placement industry, with a wide business network and a visionary methodology in offering staffing and consulting solutions to various industries and international marketplaces around the world.
With over 30 years of experience in the industry, UNISTAFF is proud to have successfully placed over 20,000 professionals in various fields, even as it continues to innovate and leverage its professional strengths, proprietary solutions, and wide-scale business networks to continue to access untapped resources and deliver impeccable service to its clients.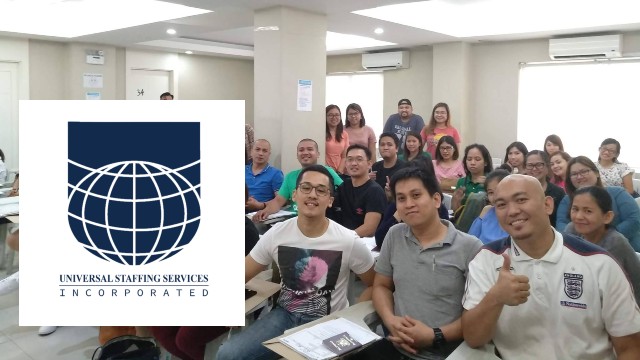 What is Universal Staffing Services, Incorporated (UNISTAFF)?
Universal Staffing Services, Incorporated (UNISTAFF) is an international recruitment and placement agency headquartered in the Philippines. It was founded in 1998, but UNISTAFF has since expanded and now has more experienced staffing specialists, proprietary technology, and even counterpart offices in various countries including Malaysia, Dubai, Indonesia, USA, and the UK. Despite their growth, UNISTAFF has remained true to their mandate: To continually establish its presence in the industry even as it innovates and improves with new practices to optimally market its services and address the staffing shortage in various parts of the world.
Their unparalleled service has been recognized in many countries including the United States, Europe, Middle East and Asia Pacific regions in terms of Academic, Engineering, Hospitality, IT and Healthcare. On top of their experience in the industry, UNISTAFF ensures that the company is well-equipped to handle and adapt to specific government procedural requirements and its clients' requirements, thanks to the highly qualified staff members, proprietary tools, proven processes, global business network, and efficient and cost-effective solutions they maintain. They also keep new practices and technological innovation coming in, enabling UNISTAFF to continuously offer their best in building a new wave of global workforce while maintaining the interest and loyalty of its present applicants to meet the demands of its international clients.
List of Job Vacancies at Universal Staffing Services, Incorporated (UNISTAFF)
For 30 years, UNISTAFF has placed over 20,000 professionals in different countries in the United States, Europe, Middle East, Africa, and Asia Pacific regions. Thanks to their branches in Malaysia, Dubai, Indonesia, Us, and the UK, they have been able to consistently source new talents, further developing their resource pool through stringent evaluation and top-class applicant tracking system. These talents are then deployed to their clients working in the following industries:
Academic
Engineering
Hospitality
IT
Healthcare
Management
Administration
Sales
Manufacturing
Tourism
Engineering
Finance
Technical and Skilled Personnel
Some of their clients include:
Abu Dhabi National Oil Company
Ahmed Al Terkait Sons General Trading & Contracting Co WLL
Al Bandr Real estate General Services
Al Madina Agencies & Services
Al Najdi Group Trading Co. for General Trading
Al Najdi Trading Group Company/ Printing Boutique
Alfa Food for Preparing Ready Made Meals/ Alfa Food Co.
Amal Al-Kuwait International
Amiri Guard Supply and Logistics Dept
Asia Logistics Company
CONEXUS MEDSTAFF LLC
Crystal media
Dhofar Fisheries Industries Company S.A.O.G.
Dubai Holding Group
Elitecare Health Home Center LLC
Grant Thronton
Hamad Medical Corporation
Harvey Nash Group PLC
Herzik Trading & Service Company
Hospitality Development Company
Internal Security Force
International Duty Free  Shops Morocco
Itrace Foundation Inc.
Kuwait Catering Co.
Kuwait Oil Company
La Photo Studio
La Rochelle Laundry
Latitude 36,Inc.
Le Dahlia Noir Medispa
Letter Hospitality & Cleaning Company
Lusail Hospitlity & Services
Mazara
Ministry of Interior Human Resources Dept.
Miyabi Sushi & Bento LLC
OASIS Investment Co. (LLC) – AL Shirawi Group
Panorama Glass Factory
Post Services Co. / Posta Plus
Pousheyeh for Sweets & Bakery
Premium Port Lounge Services (Maldives) Private Ltd
Professional Placement Services
Qatar Aluminum Limited (QATALUM)
Qatar Armed Forces Medical Services
Qatar General Electricity & Water Corporation (Kahramaa)
Quantum X, Inc.
Ramo Trading Co.
Sistem Integra SDN BHD
Sky Telecom
The Angels Health Services
The British School of Kuwait
The Classical Palace
Despite the wide variety of jobs available in the UNISTAFF website, they are especially recognized as a key player in the recruitment and placement of talents in the healthcare industry as they have more than just established their presence in the local and international markets by consistently providing top-class, well-educated, well-trained, and well-experienced nurses and allied health professionals.
Also Read: E-GMP International Corporation Recruitment and Placement Agency
How to Apply for a Job via Universal Staffing Services, Incorporated (UNISTAFF)
UNISTAFF's fame is not just for show. It was pure high quality service borne from years of experience in delivering impeccable talents and meeting recruitment and placement needs in various places. Having been in the business for so long, it can be said that UNISTAFF has already crafted a fail-safe strategy in sourcing, screening, and evaluating jobseekers who show up at their doorstep.
Whether it was a fail-safe strategy or not may not be something for us to decide, but if you are an applicant who's looking to join the international workforce via UNISTAFF, then you'd want to understand how it works. To make it clear for you, we looked into the process that the Universal Staffing Services, Incorporated (UNISTAFF) agency is using and included the details of it in this section:
The UNISTAFF Process
The UNISTAFF process is a three-step process. It starts with the Documentation process, followed by the Recruitment and the Deployment process. Through each one, applicants' and the UNISTAFF recruiters have to ensure that each step is carried out and completed before the application process advances to the next stage. As for these exact steps and procedures, we have listed them here for you:
Documentation Process:
The Documentation process is mostly for the employer and for UNISTAFF. It involves the accreditation and approval for manpower requests which usually happens after a client makes contact with UNISTAFF with a job order request for talents. It involves the following steps:
Accreditation of the employer.
This usually involves preparation of documentary requirements, duly signed by the Labor Attache in the Philippine Overseas Labor Office (POLO) who has jurisdiction over the destination/deployment target. These requirements include:

Special Power of Attorney
Recruitment Service Agreement
Jobs Order/Manpower Request
Master Employment Contract
Client/Employer's Valid Commercial registration with English Translation

Accreditation and Manpower Request Approval
Manpower requests for overseas deployment is more than just signing contracts between the agency and the client. It is, in fact, a process that agencies must undergo which requires government approval and such approval/decision usually takes between 1 to 10 working days to be released. Once the official documents are ready, then it advances to the Recruitment Process phase.
Also Read: How to Become an OFW and Work Abroad
Recruitment Process
The Recruitment Process covers everything that UNISTAFF does both for the applicant and the client or prospective employers. It involves the following:
Receipt of Manpower Request
This involves the UNISTAFF employee and starts with the evaluation of the approved Manpower request. This also includes checking of qualification/requirements from potential Filipino applicants, along with the salary scheme and job description.
Sourcing of Qualified Candidates (1 to 3 working days)
Still carried out by UNISTAFF, this step involves combing through the huge UNISTAFF database, opening field recruitments, and advertising on Social Media, Newspapers, and others in hopes of finding the best talents to match the client requirements.
Pre-qualification of Data (1 to 3 working days)
Once UNISTAFF has a sufficient list of candidates, the pre-evaluation of the candidates' qualifications based on the employer requirements and standards starts. Towards the end of this step, UNISTAFF would have a list of pre-qualified candidates who would then proceed to the next step of the process.
Preliminary Interview (1 to 3 working days)
This step involves the measurement of the applicants' personality and ability to communicate. At this stage, UNISTAFF also discusses the basic terms of the contract, from the salary to the specific terms and conditions of the employment, while screening candidates who will then move forward to the next step of the recruitment process.
Trade Test (if necessary)
Some jobs require applicants to have actual skills and proficiency and it is because of this that UNISTAFF sometimes holds a trade test. It's not available for all positions, only those where actual skills are absolutely necessary to get the job done.
Final Selection
Once the applicant makes it beyond the interview and trade test (if applicable), then UNISTAFF will reach out to them for the schedule of their final interview. The final interview is typically conducted by the client/employer and may either be held online via Skype or in-person, at the designated time and location. It is also during this step when successful applicants receive an offer letter from the client.
Job Confirmation
Signing the offer letter is not yet the final confirmation for UNISTAFF new hires. However, they are also offered a Job Confirmation form which includes all the terms and conditions of the employment contract. Note that signing the Job Confirmation is considered the applicants' final acceptance of the job offer and all the terms offered by the employer.
Medical Examination
Once both sides have agreed to finalize all the terms of employment, the jobseeker is then sent for medical evaluation at accredited Medical Clinics.
Preliminary Briefing (1 working day)
At this stage, UNISTAFF conducts briefing to approved candidates regarding:

Employment
Salary
the Terms and Conditions
Orientation and familiarization of the job site.
Documentation Procedure
Visa & Documentation Requirements
Once everything is done, both the applicants and UNISTAFF move forward to the deployment stage.
Deployment Process
The Deployment process involves everything from the submission of the documentary requirements to the documentary requirements and actual travel arrangements up until the applicant's arrival to their destination country. This involves the following processes:
Submission of Visa & Documentation Requirements (2 working days)

Passport
Medical Certificates
Visa Stamping in Embassies (3 to 4 working days)
Letter Request for Filipino professional's visa issuance
Passport
Medical Certificate Clearance
Visa Certification or copy of visa
Visa application with 2×2 photo
Authenticated School Credentials and Certificate of Employment

Issuance of Workers Overseas Employment Certificate (OEC) or Travel Exit Pass (2-3 working days)

Request for Processing (RFP)
OWWA ID Form with 2×2 Filipino professional's photo
Worker's Information Sheet
Employment Contract
Insurance, Philhealth, Pag IBIG
Employment Contract

Ticketing (requirements for the issuance of plane tickets of Filipino professional by the Airlines (PTA), if tickets are to be purchased in Manila)

Original copy of Filipino Professional's OEC and passport
If the PTA is provided by the employer, it can be sent by email.

Final Briefing & Accounting Clearance (1 working day)

Sign pertinent documents required by UNISTAFF and EMPLOYER
Pregnancy Test (female Filipino professional)
Pre-Departure Orientation Seminar (PDOS)
In house pre-departure briefing regarding flight details, review of Terms and Conditions of the employment contract and Filipino professional's obligation to their beneficiaries, EMPLOYER and host country

Advise EMPLOYER of the confirmed flight details of Filipino Professionals (done by UNISTAFF)

Deployment
Endorsement Letter
Worker's Departure File (File 201)
Travel Documents

Client Acknowledgement and advising to UNISTAFF of the Filipino professional's safe arrival
The Jobseekers' Application Process
With the advent of the Internet, online application portals have become more popular. Through the years, it has also advanced to include many different features which can help both applicants and agencies with their recruitment and placement process. The UNISTAFF portal is no different in that it comes with different pages and functions that you can access once you get started with your application.
For applicants looking to seek an overseas job via UNISTAFF, the process goes like this:
Visit the UNISTAFF website (https://www.unistaff.us/).
Check on the latest jobs by hovering your mouse over the Applicants' tab and clicking Job Openings or by visiting https://www.unistaff.us/job-list.php.
Select up to three job posts that you desire and take note of the employer/company name and qualifications. Make sure you do your homework and check the companies properly to see if this will be a good place for you to fit in.
Start your application process by hovering your mouse over to the Applicants' tab and selecting Apply Online. You may also visit: https://www.unistaff.us/apply-choose.php.
Click Apply Now and you will be redirected to an online application form.
Fill out the form with the following information:

Desired Position (up to three (3))
Preferred employer (Choose by company name)
Personal Information
Addresses
Educational Background
Employment History

Hit Submit.
Once you submit your CV via the online application form, then it's time to wait for the UNISTAFF evaluators to do their job. If you make the cut, they will send you an email within 1 to 3 working days about your interview schedule. How the application will progress from there will depend on whether you make it beyond the specific evaluation round or not.
Video: The UNISTAFF Heritage
As mentioned above, UNISTAFF's presence for 30 years in the industry is not for naught. If you want to check the UNISTAFF legacy for the past three decades, then watching this video is a must
Also Read: 15 Questions to Ask Yourself Before Working Abroad
Frequently Asked Questions (FAQs)
Sure, not all questions can be answered here, but for the most common questions that applicants and clients may have about Universal Staffing Services, Incorporated (UNISTAFF), we hope we were able to address them in this section:
1. What services does Universal Staffing Services, Incorporated (UNISTAFF) offer?
UNISTAFF is more than just a for-profit manpower agency. It claims to be a "world-class" manpower agency who cares about addressing world issues, including the scarcity of manpower and high unemployment rates in certain parts of the world. Their claim is backed by their eagerness to tap into the inaccessible regions and keep track of every applicant's employment and well-being through their state-of-the-art Online Applicant Tracking System. They also live and breathe the true meaning of innovation in the recruitment and placement industry, with the constant upgrading and modernization of not only their communication systems but also their administrative and management systems.
For the jobseekers, UNISTAFF offers not only a rewarding employment overseas but also all the benefits that being in an agency entails which includes:
Full employment assistance, including making sure they understand exactly what they are signing up for
Medical examination and making sure they are healthy and stays so until they are deployed to their new workplace
Travel and documentary processing assistance
Safe Deployment
Cultural Training and Adaptation by making them fully aware of cultural systems of the host country and the cultural expectations on them both inside and outside the jobsite.
2. I am not receiving emails with the link to access my UNISTAFF Account. What should I do?
If you are not receiving the email with a link to access your UNISTAFF Account, make sure to clear the cache, cookies, and browsing history from your browser. Then, refresh your email inbox. You can also try checking the "junk" or "spam" folders in your email for good measure. If it actually ends up in there, make sure to mark it "safe" and move it to your inbox so you won't have the same issues receiving emails from UNISTAFF in the future.
3. What should I do if the link has already expired?
The UNISTAFF website link only provides a 10-minute window for you to log into your UNISTAFF Account. In addition, the said link can only be clicked once. So, if the link has expired or you have already accidentally clicked on the link once, you will need to visit the UNISTAFF website and head on out to the Applicants' Login and get a new link by following these steps:
Visit www.unistaff.us.
Click on Applicants
Click on Applicant's Login
Enter your email address once more. You will receive another email with a new link.
4. Is there a need to create a new profile for every application?
No. You only need to create your profile once. Once you have a registered account, you may log in with the same email address you used when you created your account and then apply under the new position you desire.
5. I forgot my login information. What should I do?
If you forgot the email address you used when you previously applied, then you will have no other choice but to register for a new account with a new email address and re-enter your personal information. However, if you lost access to your email account and would simply like to change it, you may also do so by reaching out to contact inquiries@unistaff.us for assistance.
6. Can I receive email updates when there are new job openings?
No, not exactly. You can only receive updates for positions you have applied for. But don't lose hope. If you want to receive general updates on all new job opportunities, you may simply visit the website and check on the latest job openings posted there. Alternatively, you may follow the UNISTAFF social media pages and watch out for the latest postings from there.
7. I can't save my edited information. What should I do?
If you are having trouble updating your saved information, you may ask for assistance by sending an email to inquiries@unistaff.us. You may also send in your most updated CV and UNISTAFF can update your account for you.
8. Is there anyone I contact if I have questions, concerns, or technical problems about my account?
Yes. You may contact UNISTAFF directly, preferably by sending an email at inquiries@unistaff.us during regular business hours, from Mondays to Saturdays, between 9:00 am and 6:00 pm in the Philippines (GMT+8). However, you also have the option to call, send your inquiries via the UNISTAFF social media pages, or visit the UNISTAFF office near you.
Also Read: Manpower Agency: 10 Things OFWs Should Consider
Summary
True enough, UNISTAFF has, indeed, developed well over their years in the industry. They have promised and continuously delivered world-class services, not only to their clients, but also to the talents who entrusted them with their future. They innovated and developed, too, and in doing so they were able to maintain the integrity of the UNISTAFF brand – one that adapts to the market and globalization changes while maintaining the same high quality standard of personalized services they've always offered.
Contact Information
Did we miss anything else? If so feel free to reach out to us through any of the following contact information:
Universal Staffing Services, Inc.
5477 Boyle Street, Palanan, Makati City, Philippines
Tel # . (632) 88336869/ 79149953
Fax #. (632) 88336880
E-mail address: inquiries@unistaff.us
Facebook page: https://web.facebook.com/unistaff/
Twitter: https://twitter.com/UnistaffPh
Instagram: https://www.instagram.com/unistaffph/
Youtube: https://www.youtube.com/channel/UCXQhhVWzggnCQcRMty1gQqQ/featured