Everyone should get an education, but students enrolled in tertiary institutions have some unique considerations to take into account. Everyone has their own unique reasons for deciding to attend a particular university or college, but not everyone has the same support. Tertiary level students are eligible for financial support thanks to the passage of the Unified Financial Assistance System for Tertiary Education Act (UniFAST), which was recently enacted by the federal government.
Also Read: DepEd: What You Need to Know About Department of Education
The UniFAST Act is a piece of legislation that was enacted in the year 2012. According to the government of the Philippines, it is intended to help boost the number of students who enroll in college. Additionally, it functions as a sort of indirect student loan scheme. We hope you will have a comprehensive understanding of the Unified Financial Assistance System for Tertiary Education Act, more generally known as UniFAST.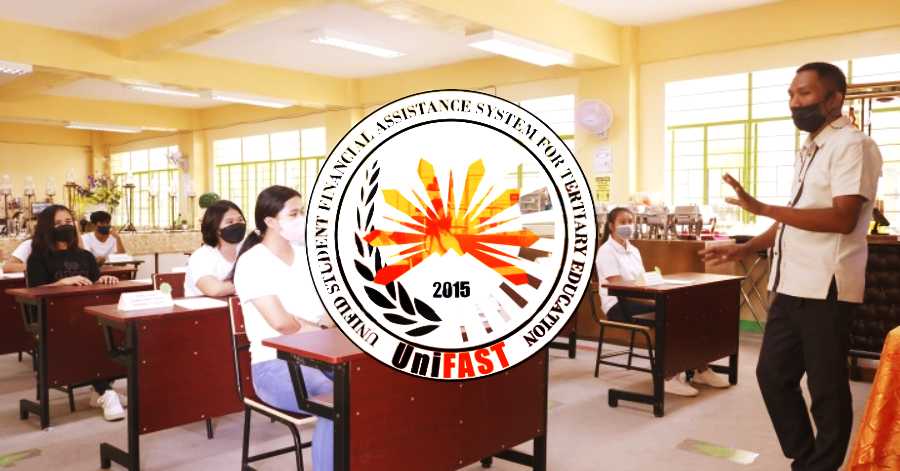 What is the Meaning of UniFAST?
UniFAST stands for Unified Financial Assistance System for Tertiary Education Act in the Philippines.
What is the Purpose of UniFAST?
The Unified Financial Assistance System for Tertiary Education Act is most commonly referred to as UniFAST. It is an associated agency of the Commission on Higher Education, which is a program that receives money from the federal government and consolidates all other government-funded student financial help programs into a single location. The UniFAST Board was responsible for the creation of a variety of student financial assistance programs, including loans, grants, and scholarships (StuFAPs).
Students will be able to gain access to all of the financial aid programs that are supported by the government through the use of a single portal that will be provided by UniFAST. Students will have an easier time locating and applying to the program that best suits their needs as a result of this. Additionally, it assists in lightening the weight of labor that is required of the financial assistance offices found in educational institutions.
Functions and Responsibilities of UniFAST
This act is also known by its acronym, "Unified Financial Assistance System for Tertiary Education Act," which is more commonly shortened to "UniFAST." The Unified Financial Assistance System, also known as UniFAST, is intended to harmonise, enhance, consolidate, and broaden the scope of all government-funded forms of student financial assistance programmes while also bringing them together under a single roof. Its name comes from the acronym for the phrase "unified financial assistance system." Examples of these types of financial help include things like scholarships, grants-in-aid, student loans, and numerous other particular forms of StuFAPs established by the UniFAST Board.
On October 15, 2015, Republic Act No. 10687, commonly known as the "Unified Financial Assistance System for Tertiary Education Act," was authorised by the President and subsequently signed into law. It is also known as the "Unified Financial Assistance System for Higher Education Act."
In order to make the implementation of StuFAP at the tertiary level more successful, more efficient, and politically neutral or free of political labelling, the statute known as UniFAST and its accompanying rules and regulations known as its Implementing Rules and Regulations (IRR) have been created. These objectives are attainable with the cooperation of a number of different elements.
Students who are in need of financial assistance to pay for their education will find that making use of the UniFAST resource is quite beneficial to their situation. When students have access to all of the available student financial assistance programs through a single online portal, it is much simpler for them to choose the program that is best suited to meet their requirements and to submit an application for that program.
UniFAST has everything that you could possibly need to assist you in achieving your educational goals, including financial aid in the form of scholarships, grants, student loans, and other specific types of assistance. UniFAST also has everything else that you could possibly need to assist you in achieving your educational goals.
UniFAST is an umbrella program that brings together all of the various types of Student Financial Assistance Programs (StuFAPs) that are funded by the government for tertiary education as well as special purpose education assistance. UniFAST is an acronym that stands for "Universal Financial Aid for Students Studying at Tertiary Institutions." This includes programs that are provided by institutions that are both publicly and privately funded.
List of Programs and Services of UniFAST
All Filipinos, whether they are currently residing in the Philippines or elsewhere in the world, are welcome to participate in the events and take advantage of the services offered by UniFAST. UniFAST is an organization that focuses in granting merit-based scholarships to students who are either dependents or children of OFWs.
For further information, please refer to the comprehensive list of programs and services that is made available to all Filipinos.
Free Higher Education
Who is eligible to participate in the Free Higher Education Program?
Free tuition, incidental fees, and other school costs shall be provided to all first-year undergraduate students from the Philippines who enroll in SUCs and CHED-recognized LUCs beginning with the start of the academic year, subject to the following conditions:
Pass/meet the institution's admission and retention rules (no age or financial limitations);
No previous college education; and
Not staying too long in college (e.g., maximum residency rule plus one-year grace period as provided by law).
Which universities offer free higher education?
Free higher education will be provided at all SUC locations, including satellite and extension campuses, for students who meet the necessary requirements. During the current school year, 78 LUCs that have been recognized by CHED will make higher education completely free for those who meet certain requirements. Once further LUCs have been reviewed and accepted by CHED, this list will be updated to include them.
What are the conditions for continuing to benefit from the Free Higher Education Program?
Students are required to maintain a high academic standing as well as fulfil the return service obligations of accredited SUCs and LUCs by CHED. After finishing the degree program, you will need to fulfil the conditions for return service within the allotted amount of time.
Those students who leave school on their own will not be required to perform the return service that is stipulated in the IRR. Even students who donate money to the school on their own will be expected to fulfil their return service requirement.
What are the benefits of Free Higher Education?
At SUCs and LUCs accredited by CHED, tuition and other school expenses are not charged to students.
Free Technical and Vocational Education and Training
Who is qualified to enroll in the Free Tech-Voc Education and Training Program?
All Filipino students who are enrolled in their first National Certificate (NC) I or II in any public Technical-Vocational Institution (TVI) registered with the Technical Education and Skills Development Authority (TESDA) will be eligible for Free TVET and will be provided with living allowances that correspond to their level of study. This eligibility is subject to certain TESDA conditions.
When TESDA finally gets around to implementing bundled programs, diploma programs, or programs that last longer than three years, NC III, IV, and V courses will no longer cost money.
What are the benefits of Free TVET?
In addition to having to pay for tuition and other school-related costs, students will also receive allowances to help them pay for their education. These allowances may include a living allowance, an allowance for instructional materials, a fee to cover the cost of a national competency assessment, and startup tool kits.
Student Loan Program
The Student Loan Program is an integral part of the UniFAST Act. It encourages students to pursue higher education by providing them with financial assistance through the government. This program is available for both Filipino citizens and foreign students who are currently enrolled in a tertiary institution within the country.
The Student Loan Program provides grants, scholarships, and other forms of financial assistance to help pay for tuition fees, books, living expenses and other educational expenses.
Under this program, students may also be given a loan if they need additional funds for their studies.
Short-Term Student Loan Program What are the various forms of student loans that students can apply for?
Both short-term and long-term repayment options are available for student loans. The short-term Student Loan Program (SLP) can be utilized by Filipino students in order to cover the costs of their undergraduate education, review expenses for licensure exams, and graduate degrees such as medicine and law.
Who is eligible for a short-term SLP?
Eligible applicants for the short-term student loan program include all undergraduate and graduate students from the Philippines (including those studying medicine and law) who are enrolled in programs that are listed on the Registry of quality-assured programs and are offered by SUCs, LUCs, State-run TVIs, private HEIs, and private TVIs.
What are the benefits of the SLP?
Loan profits are designed to support student beneficiaries who are experiencing liquidity challenges for a period of no more than one (1) year, as stated in Rule V Section 34 of the IRR on RA 10931.
This support is provided for a maximum of one (1) year. Services rendered by HEIs and TVIs are required to have direct payment made to the respective institutions. In monthly instalments, the student-borrower will get the remaining monies from the loan that they took out.
What are the TES grant's requirements?
TES grantees have access to only the following educational opportunities:
For Higher Education:
Board-approved undergraduate course/program on any SUC campus;
Undergraduate courses at CHED-approved LUCs with Certificates of Program Compliance (COPCs); and
Undergraduate courses in private colleges that have received government recognition are listed in the UniFAST Registry of Quality-Assured Institutions and Programs.
For TVET:
A TVET program that has both a Certificate of Program Registration (CoPR) and an official listing in the TESDA Compendium of Registered Programs can be offered by any type of technical-vocational institution (TVI), whether it be public or private.
Beneficiaries who take part in higher education programs will be eligible to receive the grant amount for the entirety of the academic year, with the opportunity for yearly renewal based on how well they are doing in their studies.
Participants in the TVET program will be eligible to receive either a grant for the full year or a sum equivalent to the program's prescribed completion term, whichever is shorter (RA 10931 Section 24-c).
What are the TES's benefits?
SUCs, LUCs, TVIs run by local governments, and TESDA TTIs:
a fair allowance for the documented rental or purchase of a personal computer or laptop, in addition to other education-related expenses; an allowance for the cost of books, supplies, transportation, and other personal expenses;
Allowance for the student's housing and board expenses.
Private HEIs and TVIs:
Students attending private HEIs and TVIs are eligible for the following benefits:
Tuition and other school costs are supposed to be comparable to those paid by the closest state-operated TVI and SUC in their respective regions. This requirement applies to both public and private educational institutions.
A stipend that will cover the price of textbooks, supplies, public transportation, and any other personal outlays; in addition, a reasonable figure that will pay the rental or purchase of a personal computer or laptop, as well as other costs linked with educational pursuits;
Housing and food expenditures are covered by this allowance for the student.
Special Programs and Projects
The special programs and projects are meant to improve the academic and productivity of the students in tertiary education by giving them incentives. Students eligible for the program includes those that have talented skills, handicapped, indigenous cultural communities and international students. This will certainly give them a chance to benefit from the various scholarships and grants.
TES Landbank Mastercard Prepaid Card
This act seeks to provide help to students pursuing higher education by exempting them from having to pay tuition fees, as the name of the act suggests. A voucher or a PAYE may be issued in the event that the recipient is eligible for this kind of assistance.
On the other hand, the nicest aspect of this legislation is that it allows you to use your TES card for a variety of purposes, such as paying for food and public transportation, among other things.
TABANG OFW
The goal of the Overseas Filipino Worker (OFW) Dependents Education Assistance Program (TABANG OFW), also known as a Tertiary Degree Subsidy (TES) program, is to provide financial assistance to OFW dependents so that they can pursue higher education.
If the recipient is qualified for the benefit, there will be a cash payment of P30,000 given to them.
Who are the beneficiaries?
During the COVID-19 epidemic, one (1) college-educated dependent of an OFW who was eventually deported either lost his job or passed away.
The OFW's dependents are as follows:
OFWs who are married – Unmarried child whose 30 years old and below
OFWs who are single – 30 years old or younger child/sibling/niece who is not married
What are the TABANG OFW Program Qualifications?
Filipino national;
SUCs, CHED-recognized LUCs, and private HEIs have met the admission and retention requirements, and have not exceeded the Maximum Residency Requirements;
Has never been expelled from a higher education institution;
Enrolled in a post-secondary undergraduate program at an SUC, a CHED-recognized LUC, or a private HEI on the CHED Registry;
A dependent of a DOLE-OWWA-certified OFW who was repatriated, lost his job, or died as a result of the COVID-19 pandemic; at least one of his parents or grandparents.
Not a beneficiary of a scholarship or grant from any government agency.
Tertiary Education Subsidy (TES) Who is eligible for TES?
The following are the priority beneficiaries of the Tertiary Education Subsidy (TES):
Students from households that are part of the Listahanan 2.0, ranked by projected per person household income; and
Students who are not part of the Listahanan 2.0 are rated based on their estimated per person household income, which is calculated by the UniFAST Board, based on supplied documentation of proof of income.
Furthermore, such prioritization shall not apply to Filipino students in cities and municipalities where no SUC or LUC campus exists.
Video: Need Money for College? – Here's HOW to APPLY for UniFAST TES (Tertiary Education Subsidy)
Are you a Filipino working abroad, or do you have a relative or a cousin who is in need of financial aid so that they can attend school? This video is exactly what you need because it covers how to apply for the UniFAST TES scholarship as well as the requirements, qualifications, and other aspects that are examined. You can see this video here.
The UniFAST TES is a one-of-a-kind program that assists individuals in the Philippines in making the adjustment to university life. Aside from the instruction in the English language, this program offers academic and career guidance to its participants.
In addition, it provides a diverse selection of classes that get students ready for employment at the university level. Submitting an application for the UniFAST TES program is a fantastic opportunity to get a jump on your academic career.
Frequently Asked Questions
Check out the following list of frequently asked questions and the solutions to those questions if you have any more inquiries concerning the UniFAST.
1. What is Republic Act 10931?
Signed by President Rodrigo Roa Duterte on 03 August 2017, Republic Act (RA) No. 10931, otherwise known as the Universal Access to Quality Tertiary Education Act is "an act promoting universal access to quality tertiary education by providing free tuition and other school fees in State Universities and Colleges, Local Universities and Colleges, and State-Run Technical-Vocational Institutions, establishing the Tertiary Education Subsidy and Student Loan Program, strengthening the Unified Student Financial Assistance System for Tertiary Education, and appropriating fund therefore," as stated in the title of the Law.
2. What is the difference between Free Tuition 2017 and RA 10931?
Free Tuition 2017 is a special program of the government that was inserted in the budget of the Commission on Higher Education (CHED) that made tuition fees free in State Universities and Colleges (SUCs) for Academic Year (AY) 2017-2018. Miscellaneous and other school fees are not covered in Free Tuition 2017.
Republic Act 10931 or the "Universal Access to Quality Tertiary Education Act," is a law that expanded and enhanced the coverage of Free Tuition 2017. It is composed of four (4) equally important programs:
Free Higher Education (tuition and miscellaneous fees) in SUCs and CHED-recognized Local Universities and Colleges;
Free Technical-Vocational Education and Training (TVET) in public and private institutions registered with TESDA;
Tertiary Education Subsidy (TES) or grants-in-aid for poor students in public and private institutions; and
Student Loan Program (SLP) for tertiary education students
3. When did RA 10931 and its Implementing Rules and Regulations become effective?
The law was signed by President Rodrigo Roa Duterte on 03 August 2017 and became effective 15 days after publication in the Official Gazette. Most of the provisions of the law have been implemented starting AY 2018-2019. The UniFAST Governing Board approved the Implementing Rules and Regulations (IRR) of RA 10931 on February 22, 2018, launched the IRR on March 26, 2018. The IRR was published in the August 3, 2018 issue of Manila Bulletin.
4. How many SUC students enjoyed Free Tuition 2017?
CHED OIC J. Prospero E. De Vera III reported to President Rodrigo R. Duterte during the Malacañang Signing Ceremony of the 112 SUCs and 78 CHED-recognized LUCs on June 13, 2018 as well as to the Congressional Committee on Higher and Technical Education on July 30, 2018, that close to 900,000 SUC students did not pay tuition anymore for AY 2017-2018.
5. Are there funds to implement the law?
Congress allocated PhP40 billion for the first year of implementation of the law in the 2018 General Appropriations Act (GAA) to be implemented in AY 2018-2019. UniFAST and CHED will continue to advocate in both Houses of Congress to ensure that sufficient funds and budget will continue to be appropriated for RA 10931 programs in succeeding years.
In fact, aside from the regular PhP 40 Billion allocation for RA 10931 in the 2019 GAA, a Tier 2 budget of PhP 11 Billion has been added by the Department of Budget and Management (DBM) for the Tertiary Education Subsidy in AY 2019-2020.
6. Who is implementing RA 10931?
The Unified Student Financial Assistance System for Tertiary Education or UniFAST is the government agency in charge of implementing the Universal Access to Quality Tertiary Education Act (RA 10931)
The UniFAST was created in 2015 by virtue of RA 10687 as a system to unify existing government student financial assistance programs for Tertiary Education in the Philippines.
The UniFAST will ensure that deserving Filipinos are given equitable access to educational opportunities.
7. How to apply for TABANG OFW program?
To apply, fill out the online application form that can be found at http://tabangofw-ease.owwa.gov.ph/. OWWA and Regional Welfare Officers will be the ones to accept and review applications before endorsing them to DOLE Regional Offices.
The authorized list of beneficiaries will be sent to DOLE headquarters by the regional office of the Department of Labor and Employment.
The certified master list of qualifying Tabang OFW beneficiaries will be compiled by the DOLE Central Office and then provided to CHED Unifast for distribution.
The Cash Advance of DOLE RO transfer of cash will have all the necessary documents prepared by the DOLE Financial and Management Service.
Two weeks after the application is granted, the qualified beneficiary will be given the option of receiving a bank transfer or an electronic payment facility in the amount of 30,000 Philippine pesos.
8. What are StuFAPs?
The acronym StuFAP stands for Student Financial Assistance Programs, and it refers to more than just scholarships. Scholarships, grants-in-aid, student loans, subsidies, and other forms of financial assistance are all included in StuFAPs. Students must meet certain requirements to be eligible.
In order to enhance the number of Filipino researchers, artists, inventors, thinkers, and leaders of world calibre, UniFAST was established in order to cultivate the growth of talented students who would serve the public good and to raise the number of students who are already gifted.
9. What are the different kinds of StuFAPs?
Scholarships are a type of financial aid that is given to qualified students on the basis of their merit or talent. Some examples of merit include exceptional academic performance, exceptional technical abilities, and expertise in the field of research and development (R&D), innovation, and other creative activities.
In order for students who are eligible for Grant-in-Aid but who are struggling financially to complete their postsecondary education, they need to demonstrate a certain minimum level of capacity.
Student loans can be either short-term or long-term loans, and they are given to students who are tight for cash, regardless of what their financial condition was at the time that they enrolled in school. After the student has obtained gainful employment, it is their responsibility (or the responsibility of his parents, guardians, or co-makers) to return the debt.
10. Who may avail of the StuFAPs? What are the minimum qualifications?
StuFAPs can be awarded to students attending a public, private, regional, or national educational institution for the first time to pursue a Technical Vocational Education and Training (TVET), associate, undergraduate (college), master's, or doctoral degree.
Those who wish to enroll in an undergraduate course (college) are required to hold a diploma from an institution or school that is authorized to administer the K-12 program or an equivalent document from a senior high school in order to be eligible.
Applicants who are interested in studying TVET are required to have finished at least ten (10) years of basic schooling or its equivalent, and they are also required to pass the initial screening/ profiling or assessment method, trade test, or skills competency evaluation administered by TESDA.
Candidates are required to have high moral standards and have no history of criminal behavior (based on conviction by final judgment). Learners who have been in legal problems in the past, as well as those who are now through or have just finished rehabilitation, will not require this.
All applicants have to prove that they are legal residents of the Philippines. Despite this, the UniFAST Board is mandated by the legislation to provide StuFAPs to students from other countries based on the reciprocal programs of other countries that offer benefits that are equivalent to those offered to Filipino students (such as student exchange programs, international reciprocal scholarships, and other mutually-beneficial programs).
Applicants are required to reveal their involvement in any other StuFAP programs offered by the federal government. If, at the time of application, the amount of the previously existing grant is not sufficient to pay the complete cost of higher education at a Higher Education Institution (HEI) or a Technological Vocational Institution (TVI), then they are still eligible to apply for another StuFAP.
11. What are Priority Courses?
Both CHED and UniFAST encourage first-year students to enroll in priority courses, particularly those students who are candidates for CHED's Student Financial Assistance Programs (StuFAPs), which offer financial assistance in the form of scholarships, grants-in-aid, and loans.
Agriculture and Related Fields, 15%
Architecture, 5%
Arts and Humanities, 5%
Business Administration and related courses, 5%
Communication, 2%
Engineering, 15%
Health Sciences, 10%
Information Technology, 10%
Maritime, 2%
Science and Math, 13%
Social and Behavioral Sciences, 5%
Teacher Education major in, 10%
Others (to be determined by the Region), 3%
Summary
The Unified Financial Assistance System, also known as UniFAST, is a program that is supported by the federal government and is responsible for centralizing all government-funded student financial assistance programs. The UniFAST Board was responsible for the establishment of a variety of StuFAPs, including but not limited to scholarships, grants-in-aid, student loans, and other sorts.
In addition, UniFAST offers TABANG OFW to all college-aged dependents of repatriated overseas Filipino workers (OFW) while the COVID-19 Pandemic is ongoing. The winner, assuming they are eligible, would be awarded P30,000 in cash.
READ NEXT: Things to Know: OWWA Project EASE Scholarship Program
Contact Information
Address: Bldg E UP Ayala Land Technohub, Diliman, Quezon City, Metro Manila
Telephone Number: (+63) 928-551-1317 / (+63) 998-985-2955
Website: https://unifast.gov.ph/
Facebook Page: https://www.facebook.com/unifastofficial
Google Map Location: