To all OFWs who are planning to renew their passports in the Philippines, you can head to the DFA NCR Central Office (Robinsons Galleria) and apply for a new passport through walk-in process, no more processing an online appointment.
After the brewing disappointment most expatriate workers experienced towards the stricter regulations to get a job in the United Arab Emirates, some form of consolation thankfully has been awarded to our group, the Overseas Filipino Workers. Assistant Secretary of the Department of Foreign Affairs,  Frank Cimafranca, was able to announce to everybody that people looking to travel abroad will no longer need to set an appointment just to have their passports processed. This has been the biggest frustration among would be and current international travelers whose passports are about to expire.
Related Post: Countries Where Pinoys are Banned from Working
What has been the recent practice among Filipino international travelers is to log in to the DFA website first and then reserve a slot for an appointment which, typically leaves one having to wait several months due to availability concerns.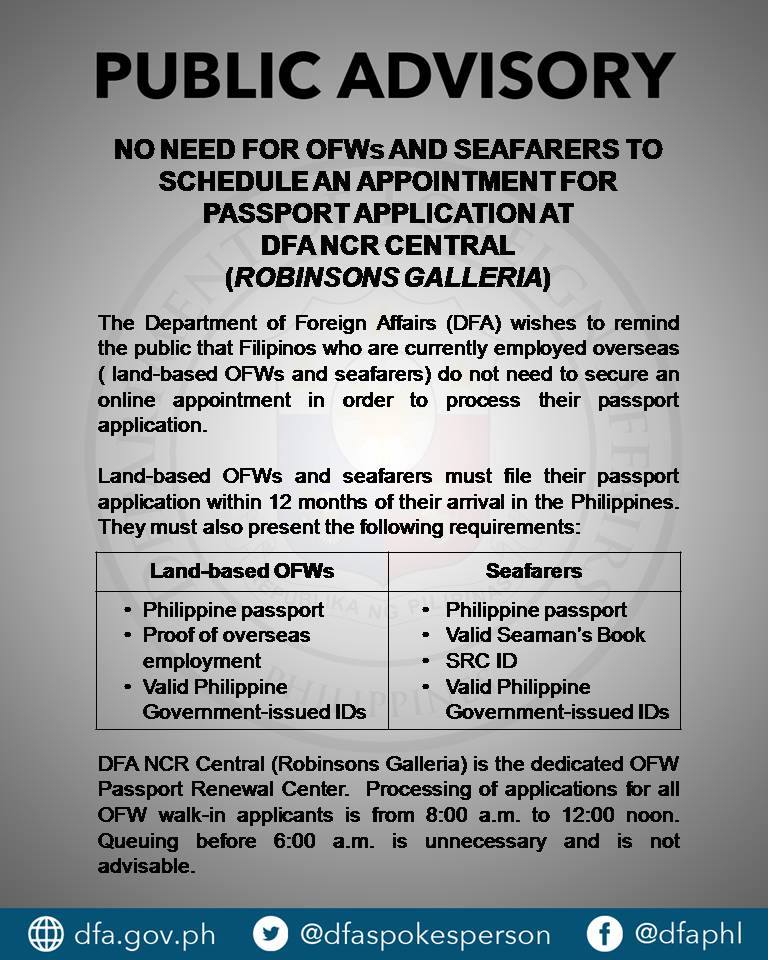 No More Online Appointments To Get a Philippine Passport, OFWs can Directly go to Robinsons Galleria/ DFA NCR Central
Apparently, this will no longer be the case after Cimafranca's statement: "Ang mga OFWs wala nang kailangang appointment. They can just come to any of our office, walk-in and apply." He also mentioned that their website has already been updated to give this direction as well.
To add even more value to the service they can provide to the Filipino people, they will be launching a portal dedicated to first time overseas workers which links to the recruitment agencies they applied in. This should significantly help with the turn around time for these future OFWs' papers to get processed. This innovation, as reported, will be launched this week.
The following people can also apply for a passport through the Department of Foreign Affairs without any appointment; special lanes will most likely be accommodated for some of the them:
• Senior Citizens with accompanying IDs (Senior Citizen)
• People with disability with accompanying IDs (PWD)
• Solo Parents with accompanying IDs (Solo Parent)
• Pregnant women with Medical Certificates
• Children seven years old and below
How OFWs can Renew Passport Directly at OFW Passport Renewal Center
DFA NCR Central or Robinsons Galleria is the specific office for an OFW PASSPORT Renewal.
Processing applications for all OFW walk-in applicants is from 8am to 12noon. No need to queue as Overseas Filipino Workers get to apply directly. Just make sure you go through the OFW Lane.