Farm workers are in demand in Canada. The country needs a reinforcement of manpower overseas to take care of their farms as this industry continues to rise and expand. A similar job, fruit picking, is also growing in popularity. A simple google search will reveal that lots of companies are looking for fruit pickers, even inexperienced ones. As such, this is an opportunity you should not miss if you wish to work in the great country of Canada.
As a fruit picker, your job is pretty easy. It can be taxing sometimes, but just like in many other first world countries around the world, you can earn a lot picking fruit in Canada. In fact, you will probably earn more than double your salary in the Philippines if you choose to work as a fruit picker in Canada. There are lots of resources online regarding this field or profession, but one such informative source is YouTube. A lot of OFW fruit pickers have turned to the video streaming website to share what they know about the job to Filipinos.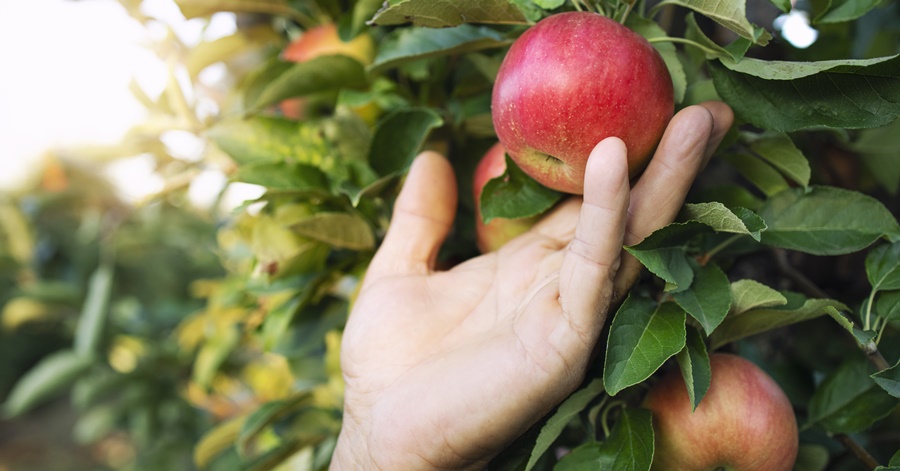 Disclaimer: The information posted here is based on the personal experiences shared by the OFW in the video below. Please let this post serve as a guide only. If you have specific questions, you may ask the OFW by commenting on their video on their accounts.
4 Steps to Applying as a Fruit Picker in Canada
The information shared in this video comes from Pinay OFW vlogger Ruthybells. She first mentioned that GMA featured an OFW working as a fruit picker in Canada, and earning 100,000 pesos per month. Because of this recent news, she decided to search for fruit picker jobs in various Canada Job websites. It is an interesting topic that could help many Filipinos wanting to have a lucrative job overseas. She then shared her research on YouTube. If you want to watch the full video, you can click on the link below:
Is the salary really high for fruit pickers in Canada? The video above is specifically made for Filipinos looking for work and applying to go to Canada. She shares the following step by step process of a direct hire to fruit picking jobs in the country. This means that no agency is involved during the application process.
The process of applying to become a fruit picker in Canada can be summarized into four steps. These are:
Prepare your cellphone /desktop computer
Canadian format resume – this is so important, in fact, that your resume will not be credited if you are using the same format you use in the Philippines.
Cover letter – for sure there are many applicants, maybe even amounting to the hundreds, but how can the employer notice your application better? One way is to create a great cover letter.
Be ready physically, mentally and emotionally – this is important because it's not that easy to apply. You need to be patient and hardworking.
Applying Online Through Cellphone, Laptop, or Desktop
To apply as a fruit picker via direct hire, the first thing you need to do is go to Google and search for "fruit picker jobs in Canada."
You can also add the keyword "LMIA." LMIA stands for Labour Market Impact Assessment. LMIA is a document that indicates that there are no Canadian or permanent resident applicants available or suitable to fill a vacant job in Canada and therefore allows a Canadian employer to hire a foreign worker. Employers really need to have an LMIA document if they want to hire people from outside Canada.
If you are not currently in the Philippines, that is, if you are working abroad already, like the Middle East or Taiwan, you can still apply for fruit picker job in Canada. That's because all you need to do is look up the job vacancies online. Surely you will see a lot of different job search websites, but in this video, the vlogger focused on one particular website called Jobbank.gc.ca.
Applying via Job Bank
When it comes to Jobbank.gc.ca, many people have asked if all job openings posted here are legitimate. Well, the answer to that question, at least according to the vlogger, is no. Even if Job Bank is the official job search website of Canada, there are still scams that make it into the website. That's the reason why you have to be very careful when choosing jobs. In fact, you have to go through a process of making sure the job openings are not scams. These steps will be discussed below.
The first thing you need to do in that website is select a province where you want to work in. The provinces listed include the following:
Alberta
British Columbia
Canada
Manitoba
Ontario
Quebec
Saskatchewan
If you have any relatives, friends or acquaintances in Canada, it's probably best to choose a province where they are living, so that you immediately have a support system once you enter the country. Having said that, you don't have to limit yourself to choosing just one province to apply in; you can apply to all of them.
In the video, the vlogger demoed what might happen during your online job search. She selected Alberta, then clicked the very first job entry called Packer vegetables farm.
For this particular job, you earn 15.65 CAD per hour, or around 5000 pesos per month, for a total of around 100,160 pesos per month. This is just for working 20 days in that month.
Moreover, this salary is just your gross monthly income, and there are taxes and other deductions that will be accounted for and will be discussed later.
Some of the important details you can find in the website for this particular job hiring is as follows:
Address of the farm
Hourly rate (15.65 CAD hourly for 40 to 50 hours per week)
Kind of employment (Seasonal employment)
Part time or full time (in this case, part time leading to full time)
More information about working days (Day, Weekend, Flexible hours, Early morning, morning)
When to start (in this example, as soon as possible)
Number of vacancies (20)
Here are some of the job requirements for this particular opening:
Languages – English
Education – no degree, certificate or diploma
Experience – no experience
Specific skills – listed below
Type of crops – cucumbers and tomatoes
Work site environment – hot, non-smoking
Here are the specific skills you need to have for this job:
Sort and pack fruits and vegetables
Pick row and orchard crops
Load, unload and transfer crates, supplies and farm produce, livestock and poultry
If you have experience in other fields, for example you worked in sales or are in the medical field, or if you are a fresh graduate, you are still qualified to apply.
At the bottom, there is information on who can apply for this job. It says there that the employer accepts applications from:
Canadian citizens and permanent residents of Canada
Other candidates with or without a valid Canadian work permit
The second entry implies that Filipinos can apply. To do so, just submit your cover letter to the email posted in the job ad. There is a set deadline as well which you must comply.
Checking the Legitimacy of Jobs
There are several steps that you must take in order to ensure that the job you have chosen is legitimate. As a summary, here are the steps:
Google the name of the farm or company and check out reviews from the web
See if the company has a Facebook page, and check out the number of likes
Check if the number indicated in their page can be called
Google name of the company plus the word "scam." See if there are any reports or complaints
Google name of the company plus the word "legit."
Check the location of the company in Google Maps, and see if their address matches.
To check if the company or farm advertising the job is legit, all you have to do is Google it. For example, in the video, the vlogger Googled "Big Marble Farms."
What you need to do is check out "Reviews from the web." In the example shown in the video, Big Marble Farms has 22 positive reviews from 22 customers.
Another indication that the company is legit is that it has a Facebook page that has positive reviews and that many people are liking the page.
Then, the next thing you can do is to check if you can call the number indicated in the company website. The vlogger actually called Big Marble Farms in the video, and indeed, an automatic operator answered, prompting the listener to enter certain digits for different questions and responses. That is a very good indication that the company is legit.
The next thing you can do is to google "Big Marble Farms scam." Check if somebody online mentioned that the company is a scam. In the video, the vlogger mentioned that no one posted this.
Next, Google "Big Marble Farms legit." This time, try to find out if somebody posted that the farm is legitimate and so are the jobs they offer. As the vlogger inspected the Google search entries, she came to the conclusion that Big Marble Farms is legit because she saw some reviews and videos that lead to this conclusion.
The next thing you can do is to check their location using Google maps. This lets you know that they are not lying about their location. This means that the information they provide is real and acknowledged by Google. When the vlogger looked up Big Marble Farms in Google Maps, the app definitely showed that it is in Medicine Hat, which is the correct address placed on their website.
If you do all of these tests, and the company passes them all, then there's a pretty good chance the company you wish to apply in is legitimate. However, the work doesn't end here. Once you know the company is legit, the next thing you need to do is look for a step-by-step guide on how to get a work permit in Canada after you get the job offer.
You need to know the real process so that you will not be scammed during this phase of your application as well.
Another Job Example
As another example, the vlogger chose another job posting, this time from Harvesting Labourer. At the bottom of the web page, you see the following job requirements:
Languages – English
Education – No degree, certificate or diploma
Experience- Will train
Equipment and Machinery Experience – Tractor
Additional skills – Clean work area
Security and safety – Criminal record check
Work site environment – Outdoors; rusty
However, the most important information is written much lower in this ad, and here is where you can determine whether the company is hiring or accepting foreign workers. In the video, the following information is shwon.
Who can apply for this job? Only apply for this job if:
You are a Canadian citizen or a permanent resident in Canada
You have a valid Canadian work permit.
If you are not authorized to work in Canada, do not apply. The employer will not respond to your application. Through this example, the vlogger illustrated a kind of job offering that you probably shouldn't apply in. This one's definitely much harder to get in than the previous example.
Having said that, the vlogger said that there are still others who apply to these types of jobs because it is worth the shot. In fact, she said that she knew somebody who, despite the job application restrictions, still applied and got the job. It's probably because the employer didn't find anyone from Canada who is willing to take the job, so they decided to hire foreigners instead.
Harvesting Labourer Job
The vlogger shared another example of a fruit picker job, this time it's called "harvesting labourer." For this particular job, here are the details:
Salary is 15.20 CAd per hour, or a total of 97,280 Philippine pesos per month, minus taxes and deductions
No degree, certificate or diploma
No experience
Effective interpersonal skills
In addition, the hiring says that other candidates with or without a valid Canadian work permit can apply.
Typically, Canada is a destination for OFW nurses. However, as we have learned in this video, if you are a fruit picker, or are willing to learn how to perform this trade, then you can move to and work in this wonderful country as well.