How's your ipon, dear readers? Where you able to save during the past year? How much are you planning to save this year? In this article, we will talk about the different ways that you can save your hard-earned money, whether you're a Filipino living in the Philippines or an OFW working another country.
The Tagalog word "ipon" translates to "save" in English. In recent years, several ipon or money saving challenges have become popular among Filipinos. You may have heard of the 52-week challenge, Peso Sense challenge, envelope challenge, and other savings techniques. Let us take a look at each ipon challenge, so that you can decide which method (or methods) will work best with your schedule… and budget!

Money Saving Challenges to Try This Year
People save money for different reasons: to buy a new gadget, a new car, to start a business, to travel, or simply to have extra money during "rainy days" or emergencies. Whatever your reason, saving money is always a good habit to have!
Also Read:17 Best Savings Accounts for OFWs and Seafarers
In order to meet your financial goals, you'll need to decide on a money saving method. There is quite a number of techniques out there, so in this article, we gathered a list of the most popular ipon challenges that have worked for many of our kababayans around the world. No matter your age, gender, job, position, or salary — you can always develop the self-discipline to save, save, save… and to achieve your financial goals!
And now, let us take a look at these popular "ipon" or money saving challenges:
1. Weekly Ipon Challenge
Also known as the 52-week money saving challenge, this method involves saving money every week, usually from the first week of January up to the last week of December. Of course, it doesn't always have to start in January, you can always start anytime of the year and just keep track of your savings.
The main method for this ipon challenge is to increase your savings gradually, each passing week. For example, if you start with PHP 1 on the first week, PHP 2 on the second week, and so on… you will end up with PHP 1,378 by the end of the year. The amount and increment is entirely up to you! If you start with PHP 50 on the first week, then PHP 100, then PHP 150, etc. — the final amount would be PHP 68,900!
On the other hand, you can also decide to save a fixed amount weekly. If you save PHP 100 per week, that would amount to PHP 5,200 at the end of the year. If you save PHP 1,000 per week, that would become PHP 52,000! All it takes is dedication and a lot of self-discipline!
2. Bi-Monthly Ipon Challenge
Most Filipinos receive their salaries twice a month, usually every 15th or 30th, to be exact. Hence, for many people, it is easier to follow a bi-monthly challenge instead. Just like in the weekly challenge, you can save a fixed amount or increasing amounts; the only difference would be the frequency (twice a month, instead of weekly).
For example, if you decide to save PHP 2,000 every payday… that's PHP 4,000 a month, and PHP 48,000 by the end of the year. Not bad at all, right? Again, you can either save a fixed amount, or increase the amount every time you save.
3. Daily Ipon Challenge
If you're the type who likes to see savings accumulate everyday, then this ipon challenge is for you! You can set aside a fixed amount to save daily and watch your savings grow. A daily ipon of PHP 20 would amount to PHP 7,300 in one year, and a PHP 100 per day savings would result in PHP 36,500 at the end of the year. Cool!
The amount you save everyday doesn't have to be fixed, either. You can set aside any amount — be it PHP 10, PHP 20, PHP 50, PHP 100, or more — and call it a day. Over time, your savings will only get higher and higher!
4. Peso Sense Ipon Challenge
You may have heard of the Peso Sense Ipon Challenge, which was popularized by the Peso Sense Facebook page. The objective is to save a certain number of coins and bills throughout the year. Think of it as a "save and shade" kind of challenge. After saving a particular amount, simply shade the corresponding circle on a sheet.
For this ipon challenge, you can save daily, weekly, or anytime during the year. It is NOT time-based like the previous methods. As for the final amount, there are actually different sheets available, depending on how much you plan to save. For example, the template below shows a final amount of PHP 76,750 that could be completed within a year.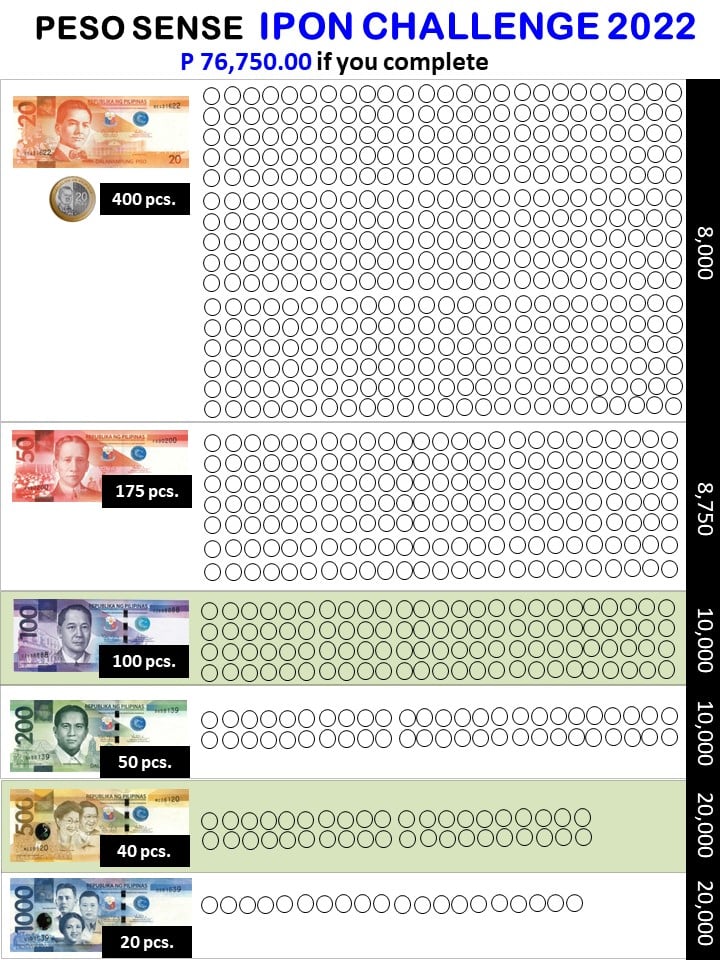 5. Envelope Ipon Challenge
You may have heard of the envelope method as a budgeting technique, but did you know that it can be used as an ipon technique, too? It involves gathering envelopes and labeling each one with a different amount. For example, you can write PHP 200 in one envelope, PHP 500 in another, PHP 1000 in a third envelope, and so on.
The main goal is to fill each envelope with the amount written on it. As soon as all envelopes are filled, gather the money and deposit into a bank savings account. In this method, there is no specific time frame. Just save at your own pace, anytime!
6. Invisible 50 Ipon Challenge
As the name suggests, this technique involves treating PHP 50 bills as "invisible." As soon as you have a PHP 50 bill on hand — as change, for example — stash it away in a piggy bank or envelope at home. Don't spend it… just save it! You'd be surprised to see how many PHP 50 bills you are able to accumulate by the end of the year!
Other than PHP 50 bills, you can also do an "invisible PHP 20" or "invisible PHP 200" challenge. Setting these bills aside will definitely lead to a hefty sum come year end!
7. Barya-Barya Ipon Challenge
And last, but certainly not the least, there's the barya-barya ipon challenge. The Tagalog word "barya" means "coins" or "loose change" in English. At the end of the day, simply put all your loose change — or certain denominations like PHP 5, PHP 10, and PHP 20 coins, for example — into a piggy bank. Before you know it, your piggy bank would be full, and you have extra money saved, just by collecting barya!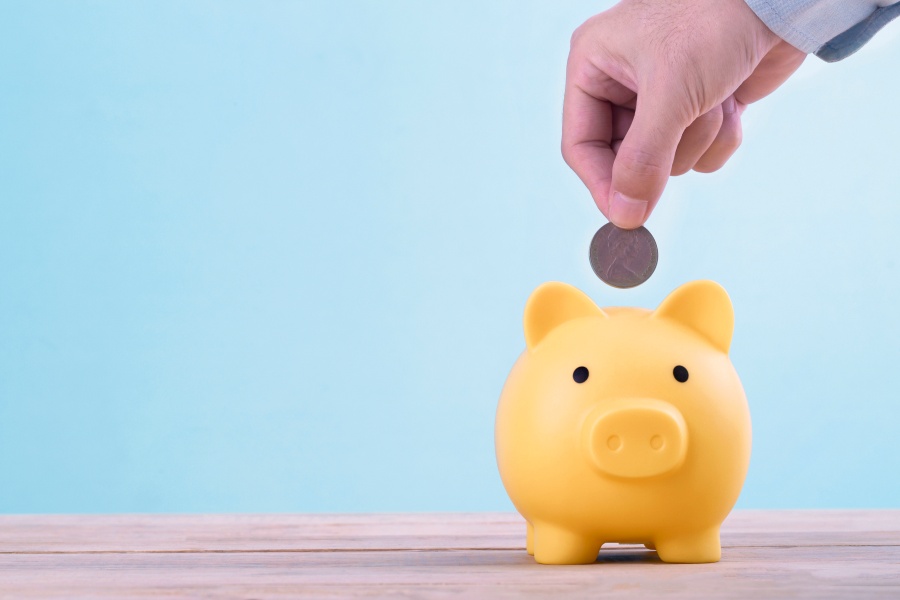 Which of these challenges would you like to try? Do you prefer the time-focused challenges, like the weekly or bi-monthly challenges, or do you prefer less structured methods like the Peso Sense challenge or barya-barya challenge? Whichever you prefer, the important thing is to save money and to reach your financial goals.
In addition, make sure that your savings are kept safe at all times, be it in a piggy bank, envelope, or in a bank account. Likewise, you can also consider putting your savings into an investment such as a small business, real estate, or other ways that could help you earn additional income in the long run. Good luck!