A social media celebrity in Dubai has surprised her Filipina employee with a lifetime savings of cash, enough to send the latter's son through college or even build a house in the Philippines. Wow!
ALSO READ: Heart-stirring Video Touches on Plight of OFWs & their Families
Alex Hirschi, a.k.a Supercar Blondie, is a social media celebrity, presenter, and vlogger who is known for making cool videos about cars and automotives. Just recently, she posted a video featuring her Pinay employee, who has been working for her for two and a half years.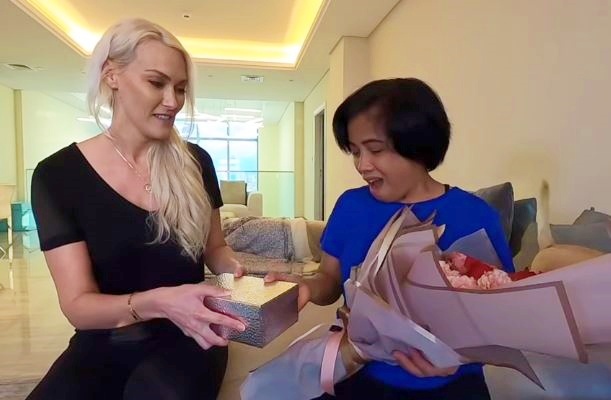 Pinay Employee Receives Generous Gift from Supercar Blondie
Originally from Australia, Alex Hirschi is currently based in Dubai. She is famous for creating car-related videos, with over 30 million followers on Facebook, YouTube, and Instagram. In her latest video, however, the spotlight is not focused on a car, but on Avelina, her employee from the Philippines.
Like most overseas Filipino workers (OFWs), 50-year-old Avelina came to Dubai in order to support her family back home. She has two sons, one of which she hopes to send to college soon.
"A very special employee of mine has been saving up to send her son to college," Alex shared on her Facebook page. "I want to take this weight off her shoulders with this surprise. Thank you so much for all your hard work, Avelina."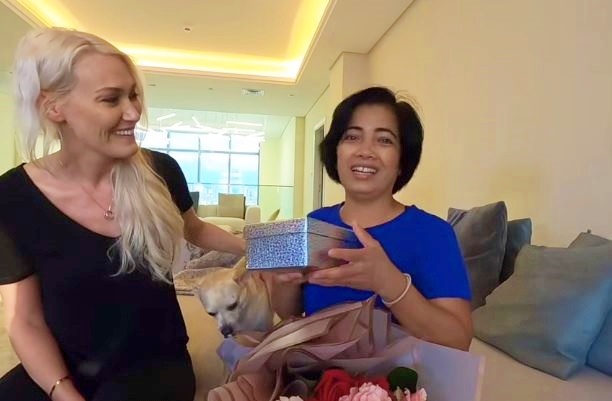 The "surprise" is a bouquet of beautiful flowers and a box filled with cash, which Avelina can use for her son's college education, or even to build a retirement home once she retires.
In the video, Avelina thought that they were simply making a documentary about Alex. Unbeknownst to the Filipina, the video was actually about how she has been such a great help to Alex and her team — a diligent worker who is dedicated and always happy to help.
In recognition of Avelina's hard work and dedication, as well as her sacrifice since she hasn't seen her family for quite a while, Alex decided to give her the generous gift.
Check out the full video of the surprise below, as shared by Supercar Blondie on Facebook:
Indeed, it is always heartwarming to see fellow
kababayans
like Avelina being recognized and rewarded for her hard work. And to Alex
a.k.a.
Supercar Blondie, thank you for your kindness and generosity! Yours and Avelina's inspiring story definitely brings hope and happiness to audiences all over the world, especially during these worrying times.
READ NEXT: OFW Asks for Help in FB Video, Gets Rescued by OWWA