With just a few weeks away from the actual Christmas celebrations, everyone, including OFWs, are busy preparing their gifts and attending to reunions and get-togethers as expected in true-blue Filipino fashion.
However, with this, we all know that there's going to be a lot of expenses to be covered by families, particularly by the OFW returning home for a vacation during the holidays.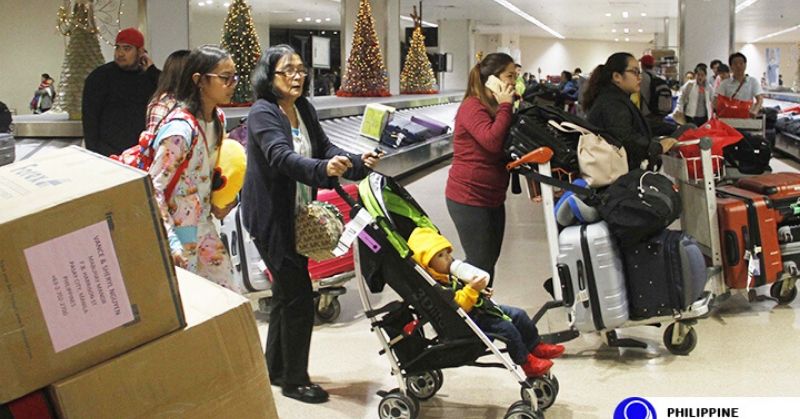 How to Manage Your Finances as an OFW During the Holidays
And because we understand that the purpose of every OFW returning home for the holidays is to celebrate the season with their loved ones and dear friends, we have come up with a list of tips on how you can better manage your expenses during the holidays.
1. Identify your NEEDS vs WANTS.
To enjoy the simple joys of life, we have to discriminate the needs from our wants. This means that our decision to spend over the holidays must be driven only by what we need at the moment or in the long run.
With that, you should also not feel obliged to gift other people like neighbors, former officemates, barkadas, and even relatives who are outside your immediate family circle as they are not your financial responsibilities anymore.   
2. Have a FUTURE-LOOKING mindset. 
Having a future-looking mindset means going above bragging rights and leaving a good impression to people "who will not care about you if you lose your job abroad." Hits hard, doesn't it? Because that's the sad truth. 
Therefore, it's important to find a balance between your present and future self. Enjoy life's experiences today, but prepare for your future, as well. And that emphasizes a great need to manage your earnings properly because after all, we all can't work forever, much more abroad. And so, while we have the means, we must save and invest as much as we can to increase our net worth at a faster rate.
3. Give away presents that APPRECIATE in value.
Ask yourself, does the money that you will spend on buying a certain item such as an iPad benefit your loved one in say, a year or even up to five years' time? If not, then perhaps you need to look for better options. 
And there are a lot of better options out there – for example, opening stock or mutual fund investment accounts even as you are working abroad. There are also other options such as getting health and life insurance for your spouse or college educational plans for your children online.
Think about it, sure your money won't be in your possession for long, but you have the choice on how to use it to benefit yourself and loved ones the most.
4. Set a HOLIDAY BUDGET even before you decide to fly back home.
Just as we are setting budgets for our daily and monthly expenses, so should be our mindset when traveling back home for a certain period of time, especially when you are just visiting for the holidays. 
Doing this will help you restrict or control the amount of money you let go for your personal and other expenses while leaving a little buffer to accommodate last-minute and emergency expenses. Having a budget will allow you to limit your expenses and avoid careless spending.
5. Focus only on ONE CHRISTMAS CELEBRATION. 
This means organizing one event for everyone you wish to get together with, and not making special visits for every extended family or going out with longtime friends in a bar or restaurant.
More than the practical side of it, you can also grow your circles as your friends and family members will get to know one another, and they'll have more friends come the New Year. In doing so, you've expanded everyone's circle of friends and saved money at the same time. 
6. Take advantage of every opportunity to EDUCATE and LEAD BY EXAMPLE.
Let's face it: when you have money people look up to you. Use this influence to educate the people around you about what it's really like to live as an OFW, or share your experiences in saving up or lessons about investment as these are the things that will really make a difference in the lives of the people you want to help (if not only through financial support).
Share your insights on how to better accrue wealth and the experience and mindset of people living overseas if this could be of any help to your family and loved ones. Start a culture in your family of sharing wisdom and not just monetary rewards or gifts, especially to the young ones.
7. Only give gifts to IMMEDIATE family members.
If you're truly being serious or wise about how you handle your money, then you would understand the merits of only giving gifts to your immediate family members (going back to point #2).
You can even take this tip a step further by setting a budget for presents you'll gift your immediate family members. After all, it's really the thought that counts, right?
8. Muster the guts to say "NO."
As with everything you have a say to (most especially when it comes to your money), you will always have a decision.  
Do not get intimidated by your friends and family members who are quick to brush elbows with you when it's only convenient for them. A good way to turn them down without putting them off is to say that you cannot afford to borrow money anymore to pay for additional expenses because your salary is on an auto-saving or investing program with the bank. And because it's something that is very real overseas, you can go ahead and explain it to them for posterity's sake (going back to point #6).
9. Manage your local accounts and DON'T carry your credit cards with you whenever you go out. 
Again, if you're being serious about budgeting, then it's best to sort your local accounts while visiting home because you don't want to be bringing your credit cards around with you, especially when meeting friends and other relatives. The idea here is to only work with a certain budgeted amount of cash, and not to exceed your limit for impulsive buys and splurge on other people – because let's face it, if you're an OFW, some people will find a way to meet you no matter how unlikely the situation is. 
10. Build on a holiday EXPERIENCE worth remembering.
Since you realistically won't be staying any longer than a week or maybe two over the holidays, it's important to make the most of your stay. Get the rest that you need and patch up any relationship that needs repair by spending time with the people you care for by taking the time to talk and just connect with them meaningfully. As you've noticed, "gifts" and "dinner-outs" weren't emphasized in this paragraph, because you know just as much as we do that those aren't the important things that you should be doing – so do the right thing and start the New Year right! Build relationships that will become great memories that you'll take back with you when you fly away from home once again.
These are just some of the things that we hope every OFW will bear in mind coming into the holiday season. Merry Christmas and may the New Year bring us greater joy, more blessings, and excellent health. Enjoy the holidays, kabayan!
ALSO READ: List of Philippine Public Holidays in 2020