Being Filipino ties us to deep family relationships, and on the most celebrated holiday of the year, a lot of us dream to come back home from all parts of the world to be with our loved ones on this special time.
ALSO READ: 9 Tips to Avoid Homesickness While Working Abroad
However, due to several circumstances, not everyone can afford to come back home to spend the holidays with family and loved ones. This is just one of the many challenges overseas Filipinos have to bravely face in their commitment to supporting and providing a good life for their families in the Philippines.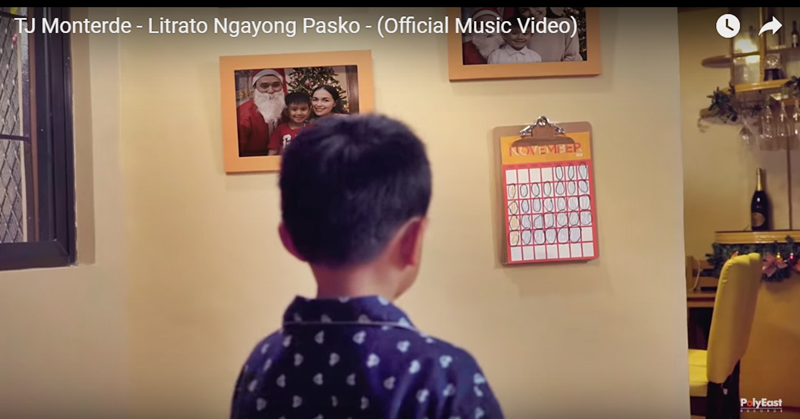 Christmas Song Tribute for OFWs Now Released
With this in mind, singer TJ Monterde came up with a special song to pay tribute to OFWs this coming Christmas season. The song titled "Litrato Ngayong Pasko" (Our Christmas Photo) expresses one's longing and desire to be with a family member who's long been gone and away on Christmas day, as in the case of many OFWs and their families.
Recording company PolyEast Records shared the song's music video on YouTube, which had gained thousands of views after it has been posted.
As if the song's message wasn't enough to strike a chord, the accompanying video will surely tug a couple of heartstrings as it follows a young boy who is patiently counting the days before Christmas just to be with his father.
The music video wraps up with the father, dressed as Santa, finally coming home to be with his son on Christmas day.
Catch the heart-wrenching video below:
We oftentimes take our loved ones for granted, especially when life seems to be going just fine and everything is provided for. However, our hardworking
kababayans
abroad have to endure living everyday apart from their families and loved ones. This coming holiday season, let us be reminded that more than the wrapped presents and other material blessings, our time and care for our families are the most important gifts we could share with our loved ones.
ALSO READ: Senate Approves Bill for Permanent Deployment of Social Welfare Attachés