As part of the initiative to support returning OFWs as well as the small farmers and fisher producers in the country, the government launched the Agri-Negosyo Para sa OFWs and one of its special windows for financing OFWs who wish to engage in agribusiness, the Agri-Negosyo (ANYO) Loan Program.
Also Read: How to Apply Landbank Loan for OFWs
Please follow the guide below on how you can sign up for a loan for Agri-Negsyo as an Overseas Filipino Worker.
Agri-Negosyo Para sa OFWs
The Agri-Negosyo Para sa OFWs program was created on February 8, 2021 under the Executive Order 124. It is primarily a project of the Department of Agriculture (DA), implemented through the Agricultural Credit Policy Council (DA-ACPC). They partnered with the DA Regional Field Offices (DA-RFOs) for implementation.
It was originally promulgated as a joint initiative between the Department of Agriculture (DA), Department of Trade and Industry (DTI), Department of Science and Technology, Technical Education and Skills Development Authority (Tesda), and National Economic Development Authority (NEDA) in a Joint Memorandum Circular (JMC) signed in November 2020.
The program offers "a brand new start" via new livelihood opportunities for repatriated OFWs through various integrated programs and services in agribusiness.
It is like a one-stop-shop of targeted full-service information programs. It was designed to lure OFWs to agribusiness, by setting up convenient access to resources needed in starting an agribusiness, investment opportunities, crafting business plans and studies and financing programs, training and available technology.
In addition to OFWs, the program is also aimed at helping micro and small enterprises (MSEs), marginal small farmers and fishers, and young agripreneurs by offering special windows by which the programs can be launched from.
The DA, through its Agribusiness and Marketing Assistance Service (AMAS) also offers capacity building trainings to help agripreneurs build networks and linkages in all stages of the agriculture value chain and improve their businesses.
With the assistance from the DA RFO and AMAS, the eligible FCAs shall also receive assistance in the transportation of pre-ordered goods to designated Bagsakan Areas. These Bagsakan Areas are prepared by participating market operators.
Individual market vendors, on the other hand, shall receive the products and sell them at prices lower than or equal to the market's suggested retail price (SRP).
Also as part of the Agri-Negosyo Para sa OFWs Program, the relevant agencies are also implementing three special windows:
Regular ANYO Loan Program;
ANYO Loan Program for OFWs, facilitated by OWWA; and
AgriPinay, a special program for women farmers, in coordination with the DA Gender and Development (GAD) team of the DA RFOs.
Agri-Negosyo (ANYO) Loan Program
The Agri-Negosyo (ANYO) Loan Program is a non-collateralized, zero-interest loan program. It is a financing initiative aimed to offer working capital loans to OFWs who are into agribusiness and agri-fishery. This includes those eligible farmers and fishers' cooperatives associations (FCAs) in the countryside. The program will help fund their capital requirements, operations, and fixed asset acquisitions (facilities construction, equipment, machinery, agribusiness and agri-fishery commodities). It will also help develop the country's food supply chain.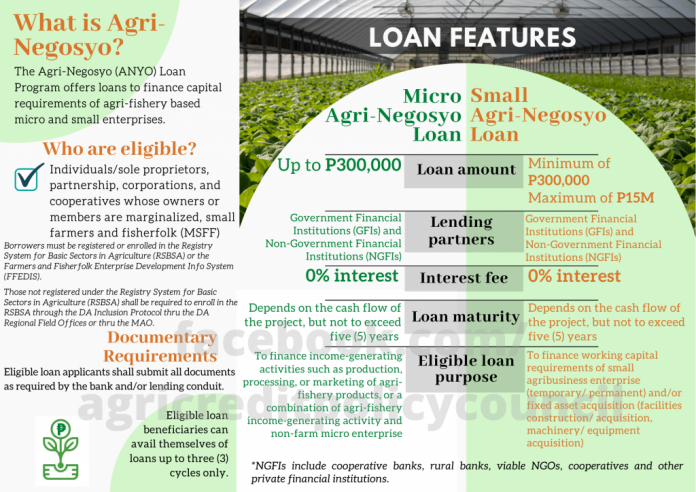 According to DA Secretary William Dar, the program will "institutionalize mutual partnership between the FCAs and market vendors" and is bound to create a 'win-win' situation for all the stakeholders. He also shared that the initiative will help "revive and reboot the countryside, and at the same time support the Balik Probinsya, Bagong Pag-asa (BP2) program."
"As we adopt the 'whole-of-nation approach' in creating more livelihood and employment opportunities in the countryside, we will also ensure that more small farmers and fishers, and BP2 program beneficiaries will benefit from agri ventures spawned by our returning OFWs."

— DA Secretary William Dar
The ANYO Loan program is divided into 2 categories:
Micro Agri-Negosyo Loan facility: Borrowers may avail of up to Php300,000 loan, payable within five years with no interest.
Small Agri-Negosyo Loan facility: FCA-borrowers may avail a loan ranging from Php300,000 to Php15.0 million, which they can pay for in five years with no interest.
Loanable Amount and Eligibility Requirements
Under the financing program, working capital loans from Php300,000 to up to Php15.0 million, with a minimal service fee of 3.5% of the total loan amount per transaction, which will be charged by the partner lending conduits (PLC) to borrowers who meet the following conditions:
Individuals/sole proprietors, partnership, corporations, and cooperatives whose owners or members are marginalized, small farmers and fisherfolk (MSFF);
Borrowers who are registered or enrolled in the Registry System for Basic Sectors in Agriculture (RSBSA) or the Farmers and Fisher folk Enterprise Development Info System (FFEDIS).
Individuals who are not registered under the Registry System for Basic Sectors in Agriculture (RSBSA) shall be required to enroll in the RSBSA through the DA Inclusion Protocol either thru the DA Regional Field Offices or thru the MAO.
Note that eligible borrowers or loan beneficiaries can only avail of the ANYO loans program benefits for a maximum of three (3) cycles only.
Documentary Requirements
Eligible loan applicants will have to submit all documents, depending on the requirements set forth by either the bank and/or the other PLCs.
Agri-Negosyo (ANYO) Loan Program Partners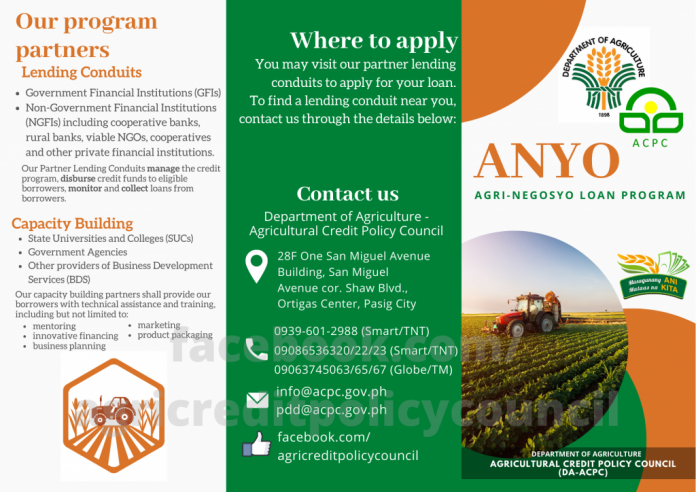 Partner Lending Conduits (PLCs)
Some of the PLCs where eligible borrowers can apply for the ANYO loan program include Government Financial Institutions (GFIs) and Non-Government Financial Institutions (NGFIs). These NGFIs include cooperative banks, rural banks, viable NGOs, cooperatives and other private financial institutions.
The above-mentioned PLCs are mandated to manage the ANYO credit program, disburse credit funds to eligible borrowers, monitor and collect loans from borrowers.
Capacity building partners
For the capacity building initiatives, the DA has partnered with state universities and colleges (SUCs), government agencies, and other providers of business development services (BDS).
These capacity building partners are charged to provide technical assistance and training to qualified borrowers. Their services include:
marketing
product packaging
mentoring
innovative financing
business planning
How to Apply for the ANYO Loan Program
To avail of the ANYO loan, eligible borrowers may visit any of the various PLCs designated by the relevant government agencies and submit their documents there.
In case you need assistance in finding a PLC near you, or you have other questions that we failed to answer, you may reach out to:
Department of Agriculture -Agricultural Credit Policy Council
28F One San Miguel Avenue Building, San Miguel Avenue cor. Shaw Blvd.,
Ortigas Center, Pasig City
You may also contact:
0939-601-2988 (Smart/TNT)
09086536320/22/23 (Smart/TNT)
09063745063/65/67 (Globe/TM)
info@acpc.gov.ph
pdd@acpc.gov.ph