True love connects people, even from across the distance. Even if you are a far away from your special someone, there are many ways to express your love. You can send flowers, cake, balloons, plush toys, and other gifts. Better yet, you can arrange for a "car trunk surprise."
Making the rounds on social media these days are videos of people opening car trunks – in the pretext of getting a "delivery." As soon as they open the trunk, they are surprised to see sparkling lights, colorful balloons, pictures, and other gifts sent by their spouse or boyfriend/girlfriend.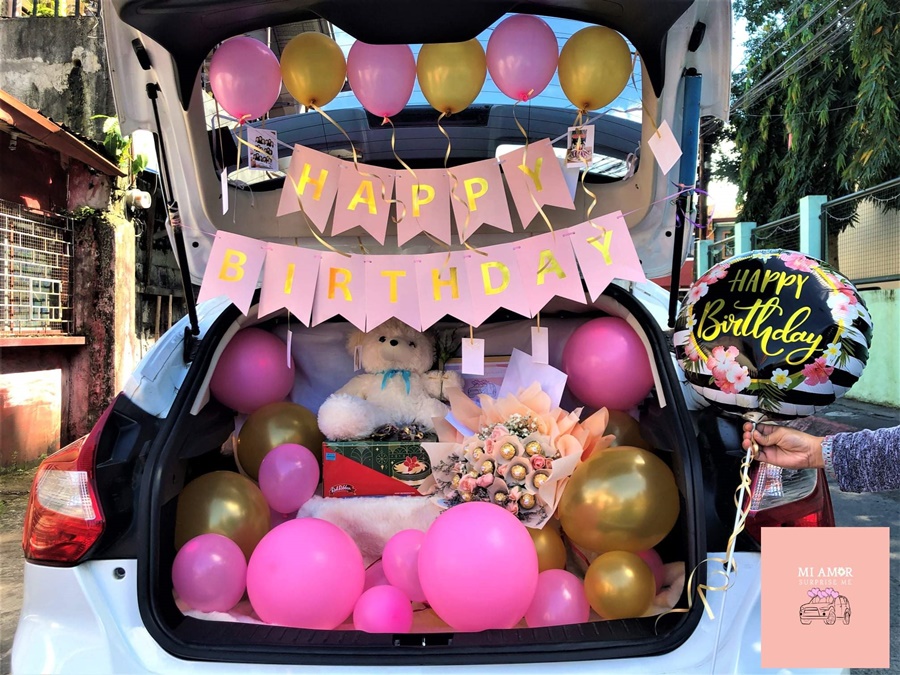 Trio of Sisters Prepare Elaborate Car Trunk Surprises
The "car trunk surprise" is all the rage these days, especially during February, a.k.a. the "love month." Among the most popular enterprises offering this service is the "Mi Amor Car Trunk Surprise," which was established by sisters Babe Ruth Tolentino, Aira Aranas, and Ella Aranas.
Tolentino is a cruise-line worker whose job had been affected by the COVID-19 pandemic since major cruise operators suspended their operations, the Philippine News Agency reported. Together with her sisters, she decided to start a new business to earn extra money
"Nag-decide ako na mag-start ng business na puwede sa'kin (I decided to start a business that I could handle)," she said. "Ngayong pandemic, mahirap magwork ngayon kung saan-saan. Meron naman kaming car, so 'yun na lang yung naisip ko (During the pandemic, it's difficult to go around to work. We have a car, so I came up with this idea) instead of just delivering food or other items."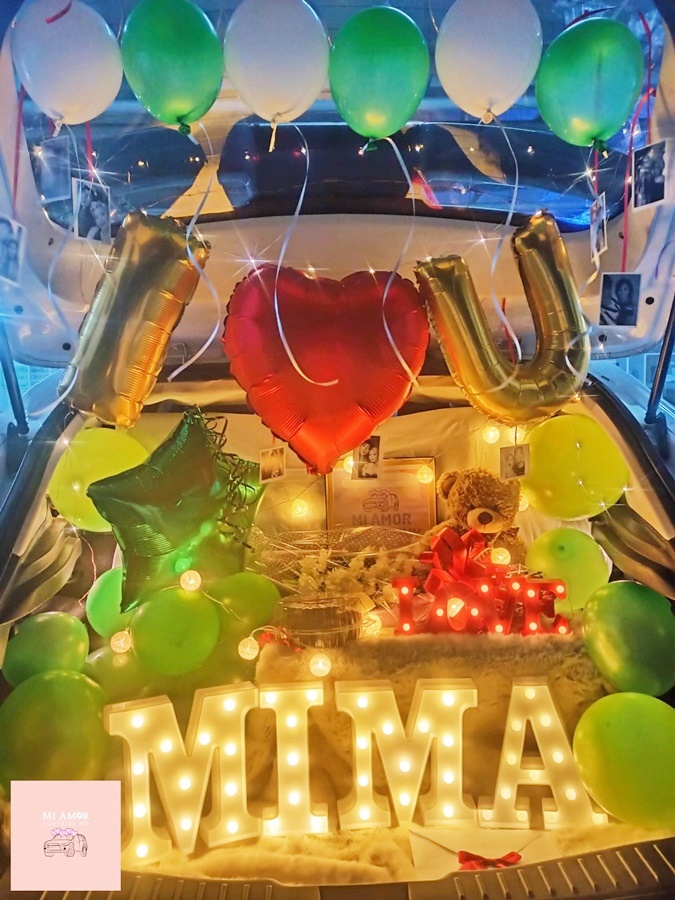 The sisters combined their skills and talents for the business. Tolentino would approve the bookings, while her crafty sisters took charge of the decorations. They thought of "Mi Amor," which is Spanish for "My Love," as a catchy name for their car trunk surprise business. Usually, their clients are overseas Filipino workers (OFWs) who want to surprise their loved ones in the Philippines.
Affordable Packages for All Occasions
According to Tolentino, preparing the car trunk surprise usually takes 2-3 days, depending on the client's instructions. They offer different packages: Package A (PHP 1,499) includes a theme chosen by the client, music to be played when the trunk is opened, balloons, 5-10 photos to be hung on a "clothesline," coated marshmallows, and a special message card.
Package B (PHP 1,999) includes the same contents as Package A, but with an additional box of banana cupcakes and a plush toy. Likewise, Package C (PHP 2,499) offers the same contents, plus 2 boxes of banana cupcakes or brownies, a small expensive toy, and a flower bouquet.
In addition to these packages is the delivery fee, which is computed based on distance. Notably, delivery is free for clients residing in Biñan, Laguna, where Tolentino and her sisters live.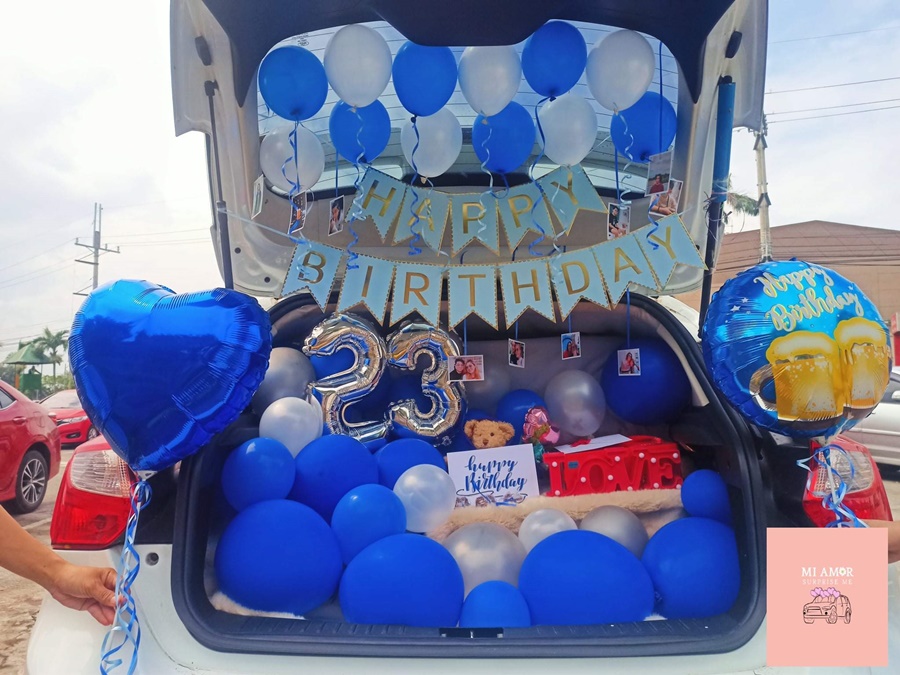 So far, the business has "surprised" people all over CALABARZON (Cavite, Laguna, Batangas, Rizal, and Quezon). Aside from "romantic" surprises for Valentine's Day and anniversaries, the sisters also customize their services for birthdays, bridal showers, and other special occasions.
Amazingly, three months after Tolentino and her sisters launched their business, they started a new one – a party supplies kiosk. The "Mi Amor Surpise Me" party supplies kiosk caters to those who want to plan surprises or hold mini parties in their own homes.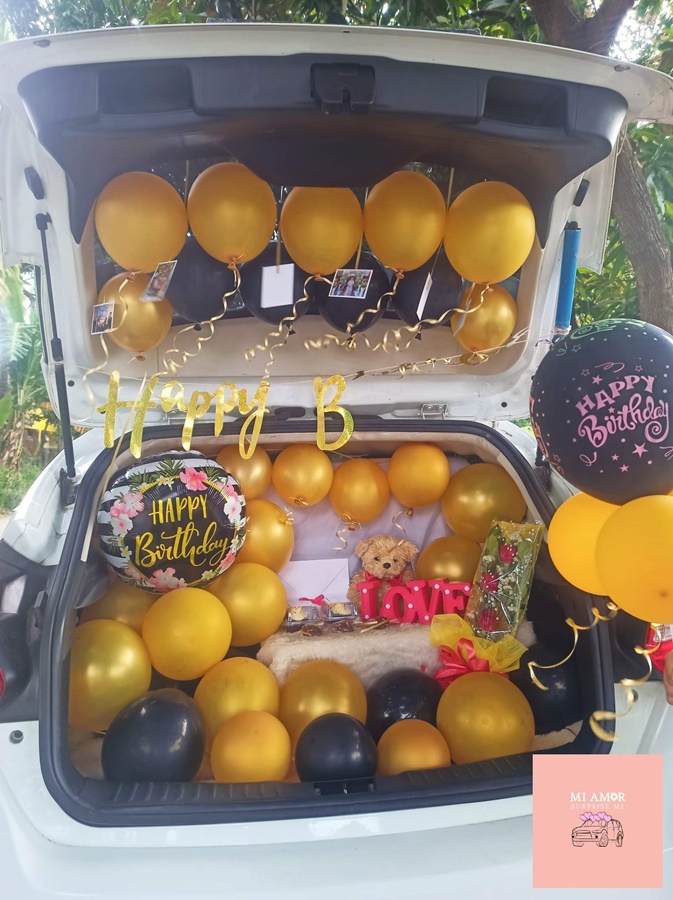 Congratulations, Ms. Babe Ruth Tolentino and sisters, on your thriving business! Indeed, you are helping to make OFWs and their loved ones happy through your car trunk surprises. For more information about their services, please visit the Mi Amor Car Trunk Surprise Facebook page, or contact them directly by calling +63 999 676 1977.
WATCH NEXT: OFW Dad Surprises Daughter with Special Balikbayan Box