We all know that the government is working on its legislative arm to strengthen programmes and policies to protect the welfare and interest of overseas Filipino workers (OFWs), which the Philippine president has expressed great consideration of, even during his campaign days up until now.
However, when it comes to money matters, policy changes aren't easily accepted at first, especially when the situation our kababayans are experiencing overseas does not match the requirements a policy change entails.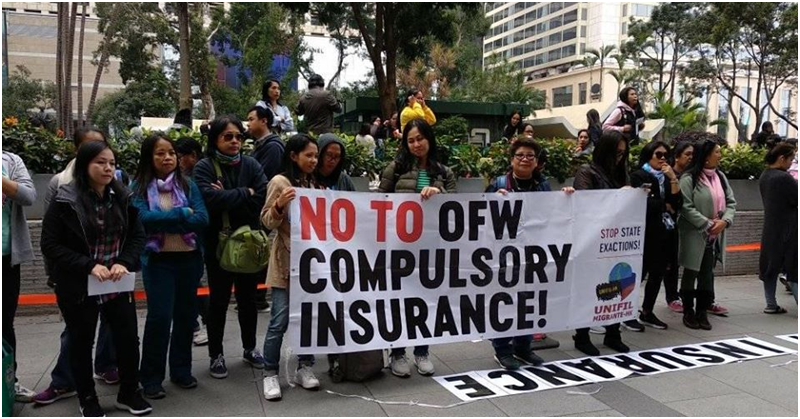 Mandatory SSS, Insurance for OFWs Draw Flak from HK-based Migrant Group
That being said, a group of migrant Filipino workers based in Hong Kong rallied outside the Philippine Consulate on March 21, as shared in a report by the Sun HK.
The protest was staged against a new law, which requires all OFWs to pay for SSS contributions. Republic Act 11199, otherwise known as the SSS Act of 2018, is set to be put into effect starting April this year.
According to the protesters, led by the United Filipinos in Hong Kong (Unifil-Migrante-HK), mandatory SSS contribution, pegged at a maximum amount of PHP 2,400 (HKD 356) per month, would further increase the burden on OFWs struggling to earn a living and to provide for their families back home.
Furthermore, Unifil chair Dolores Balladares-Pelaez pointed out that if the Social Security System (SSS) is worried of going under because an earlier policy amendment sanctioning the additional PHP 1,000 to members' monthly pension, it should simply strengthen its collection efforts instead of putting the burden on migrant workers to solve the problem.
Moreover, Balladares-Pelaez cited that over PHP 13 billion have not been collected from employers and businesses back in 2017, and questioned why the agency can't gather the needed funds from there. Also, the issue with giving fat allowances to its officers and executives was pointed out by the migrants group chief.
To this, however, an SSS representative, John Lester Mata, explained that the fear on the monthly contributions could become an additional burden on OFWs, particularly the new arrivals, may be unfounded.
Under the proposed implementing rules and regulations of the SSS Act of 2018, an OFW departing for the first time will only be charged a month's worth of contribution, and this does not even have to be the maximum amount of PHP 2,400, but only the PHP 960 minimum.
However, OFWs who are up for the renewal of their contracts will be charged three months' worth of contributions.
ALSO READ: OWWA, BI Enforce New Tech Procedures to Make OFW Departures Easier