Whether you are filing for benefit claims or applying for a loan from the Social Security Systems (SSS), use your My.SSS account from the SSS website is quite convenient. Aside from the convenience, the website has empowered the SSS members with features that quickly access their accounts. One such feature is the Disbursement Account Enrollment Module (DAEM).
Also Read: How to Check and View Your SSS Contributions Online
It is important for you to become aware of the benefits of using the DAEM. Please check out the details below for more information.
What is Disbursement Account Enrollment Module (DAEM)?
The Disbursement Account Enrollment Module (DAEM) is a My.SSS feature allows employers and members to credit SSS benefits and loan proceeds directly to the enrolled bank account. It is a feature available to every SSS member-from employer to employees and individuals who are either self-employed, voluntary or even OFWs. 
Though this is an option available to everyone, those with the UMID ATM cards may opt not to enroll their bank accounts, as the proceeds, either benefit or loans, may be deposited directly to their UMID-ATM account if they so desire. There are certain restrictions, which we will be listing down in detail later.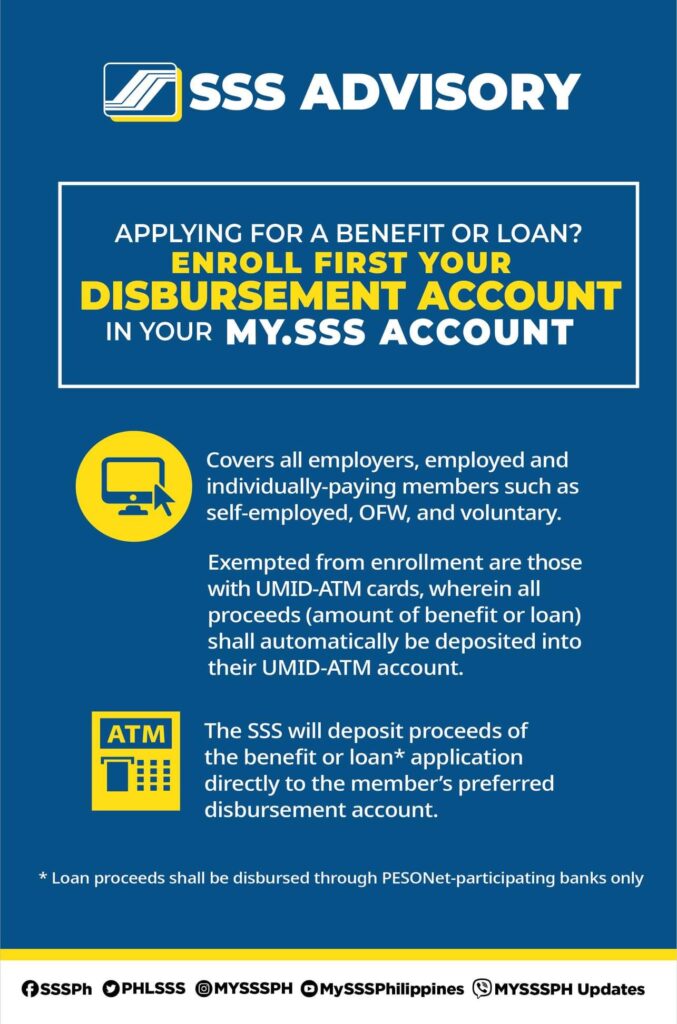 How to Enroll your Disbursement Account Bank Payment Information?
Step 1: Log in to your My.SSS account.
Step 2: Navigate to the E-SERVICES tab. 
Step 3: From the dropdown menu, select the Disbursement Account Enrollment Module.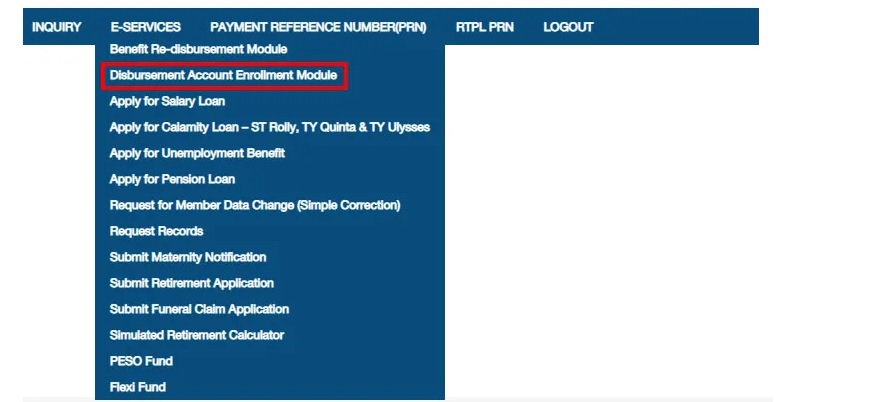 Step 4: Read the reminders and tick the checkbox to certify your understanding of the reminders, then click Proceed.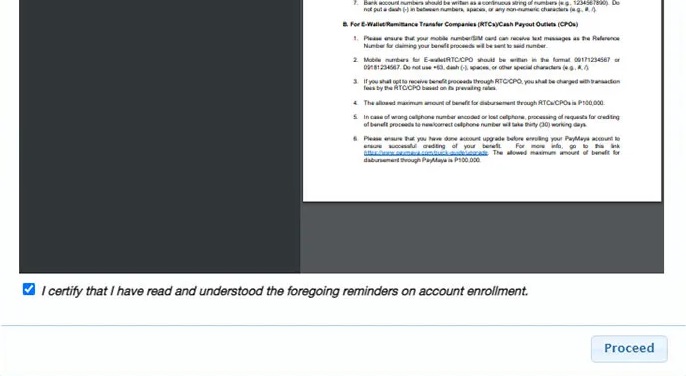 Step 5: Choose your preferred disbursement option. You may choose either a PESONet-participating bank, an e-wallet, a remittance transfer company (RTC), or a cash payout outlet (CPO). 
Step 6: Once done, choose your preferred bank or e-wallet from the dropdown field.
Step 7: Enter your bank account number or e-wallet account number without spaces or special characters.
Step 8: Confirm your bank account or e-wallet number by keying it in again.
Step 9: Select and upload your document type in either JPEG or PDF format:
ATM card with account number and name

Bank certificate or statement (issued not earlier than 2019)

Foreign remittance receipt

Passbook

Screenshot of online/mobile banking account

Validated deposit slip
Step 10: Tick the checkbox to agree to the Data Collection and Usage Clause.
Step 11: Confirm your account information and submit by clicking Enroll Disbursement Account, then OK.
Step 12: Check your email inbox for an email confirmation notice from SSS.

Step 13: On the DAEM page, you can find a list of all your enrolled disbursement accounts and their statuses. If you wish to cancel your SSS bank account enrollment, click the Cancel button.

What are the things that to remember when enrolling a My.SSS Disbursement Account?
Make sure to use only valid and active bank account details or mobile numbers.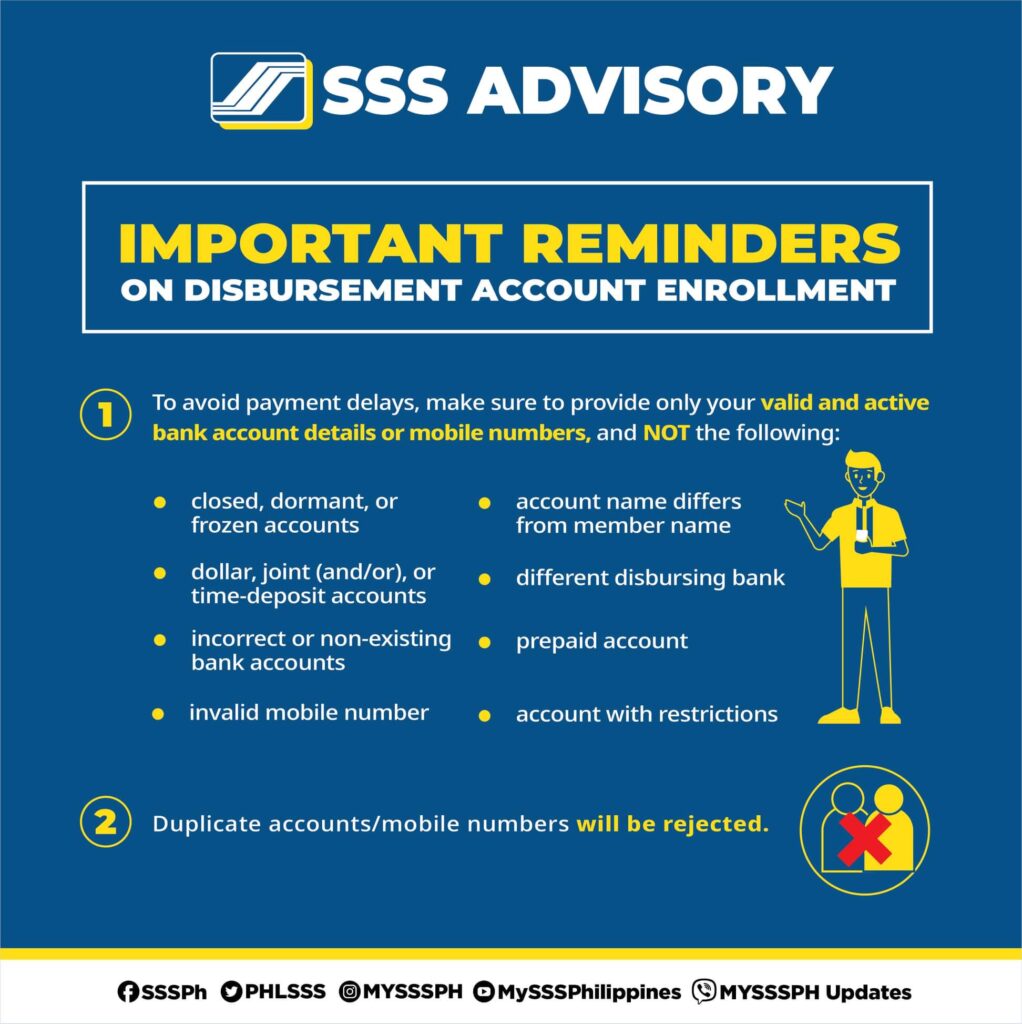 Avoid making the following mistakes:
Closed, Dormant, or Frozen Accounts.

These are bank accounts that are not in active use for a certain period. These types of accounts were either closed by the bank or were made dormant due to inactivity.
Dollar Account.

Note that the disbursement bank account should be a Peso Account.
Joint (and/or) Accounts.

These are bank accounts that are named after you and/or another person.
Time-Deposit Account

Invalid Mobile Number.

If you are enrolling an e-wallet account (e.g., Paymaya or Gcash), make sure that you are entering the correct mobile number digits
Account Name differs from Member Name. 

To avoid problems, make sure that your bank account bears the same name as the one registered in your SSS account.
Different Disbursing Bank.

Make sure that you are enrolling with the correct disbursing bank. That is, if your bank account is with BDO, then make sure you are selecting BDO when registering a disbursing bank account.
Prepaid Account

Account with Restrictions
Ensure that you are not using duplicate accounts or mobile numbers as they will be rejected upon registration. 
If you plan to use another person's mobile number as your e-wallet disbursement account, make sure that the other person has not used it as his/her SSS Disbursement account. It is best to use your mobile number when you register or make your disbursement account to avoid your benefit or loan disbursement problems.
Make sure that all the details are error-free.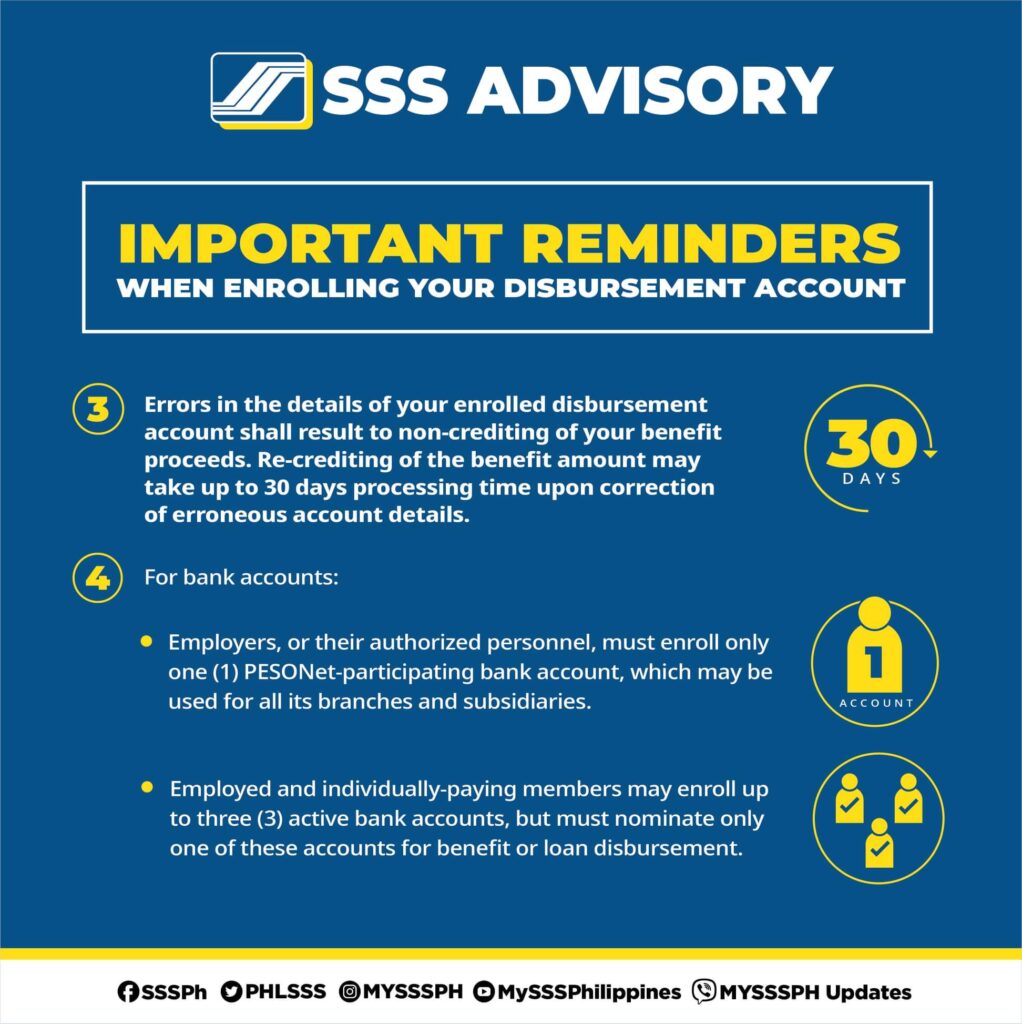 Errors in your enrolled disbursement account details may result in the non-crediting of your benefit or loan proceeds. Requests for re-crediting the benefit or loan amount also take time as it may take up to 30 days of processing time upon correcting the incorrect account details.
When using bank accounts, do note the following:

Employers, or their authorized personnel, must elect only one (1) PESONet-participating bank account for all branches and subsidiaries.

Employed as well as all individually-paying members may enroll up to three (3) active bank accounts but must nominate one of these accounts for benefit or loan disbursements.

Make sure that you are entering the bank account number and not the ATM card number. If unsure, double-check the correct bank account number from your preferred disbursing bank.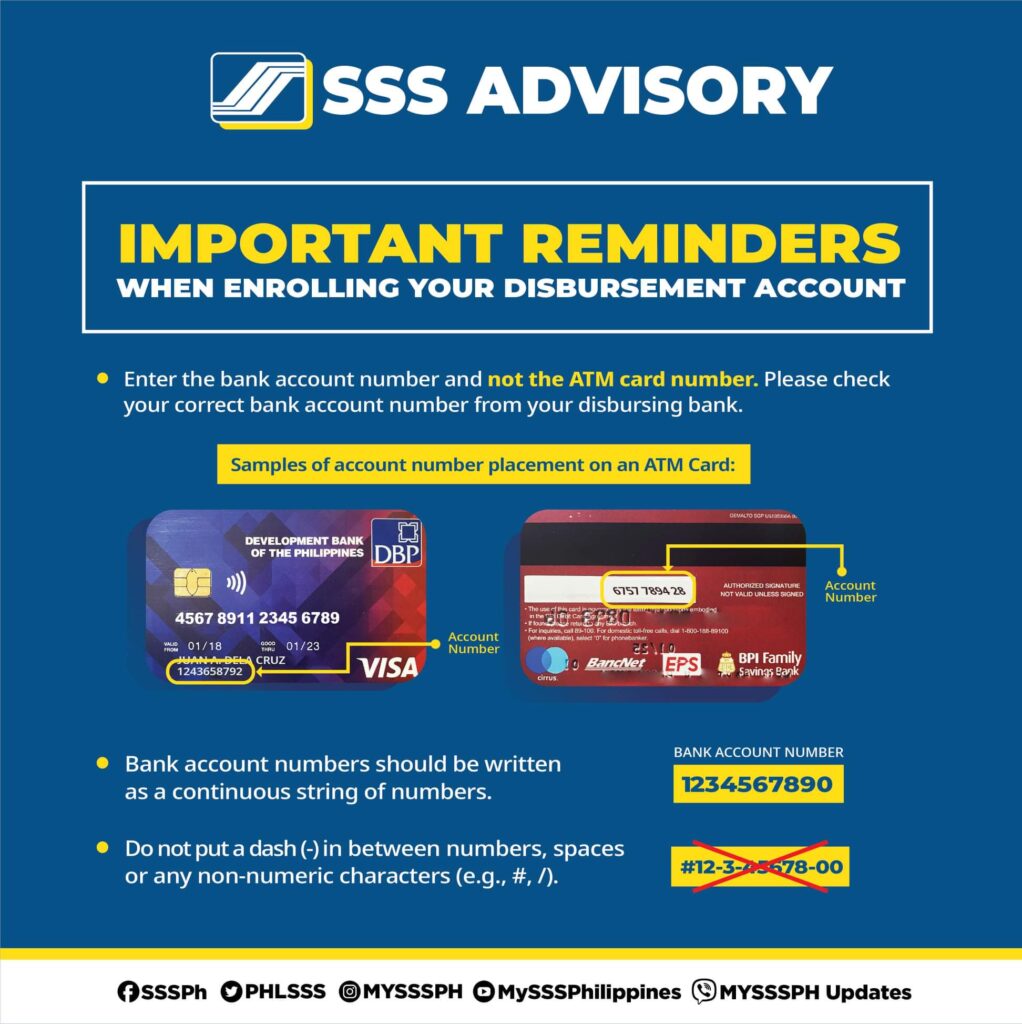 Bank account numbers should be written as a continuous string of numbers, without special characters like dash or other symbols in between.

When using a cash card, make sure that the issuing bank allows the use of the card for SSS disbursement.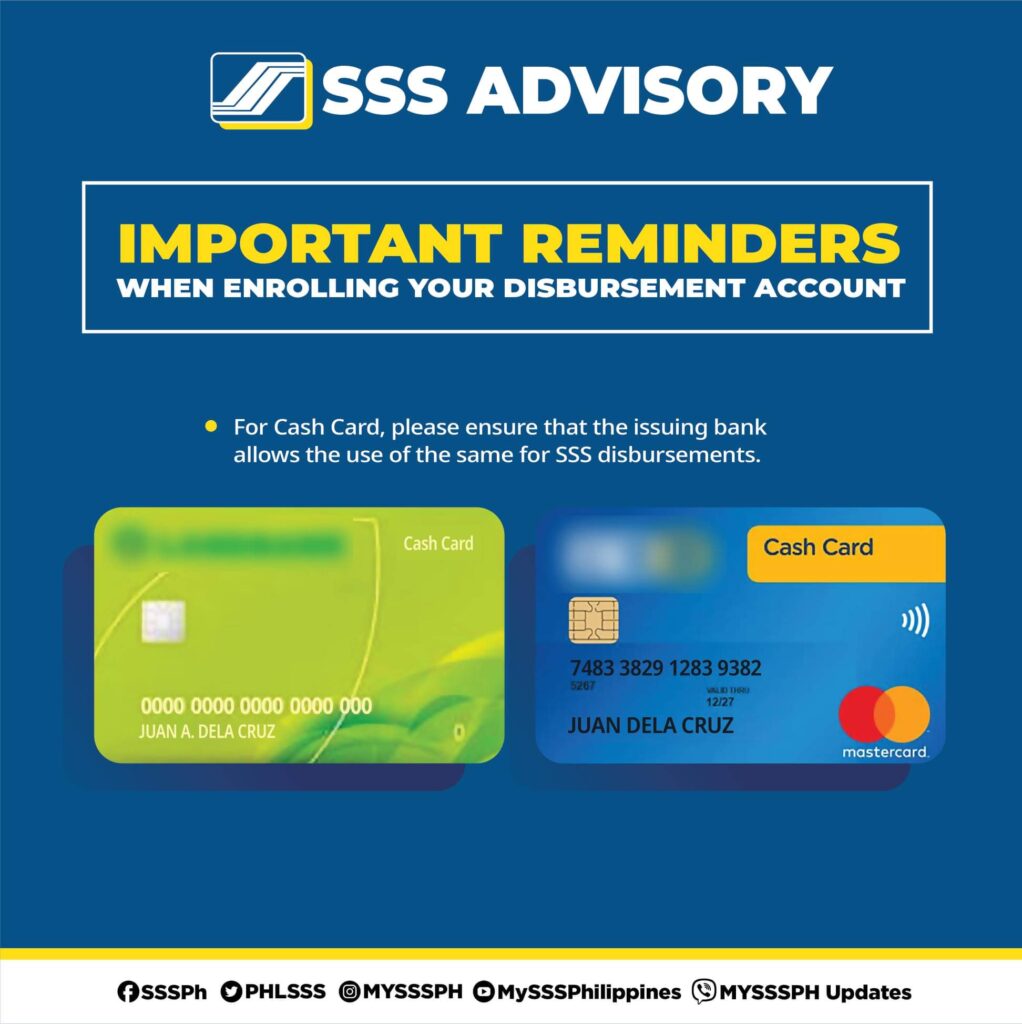 When choosing to enroll a Remittance Payout Company (RTC) or a Cash Payout Outlet (CPO),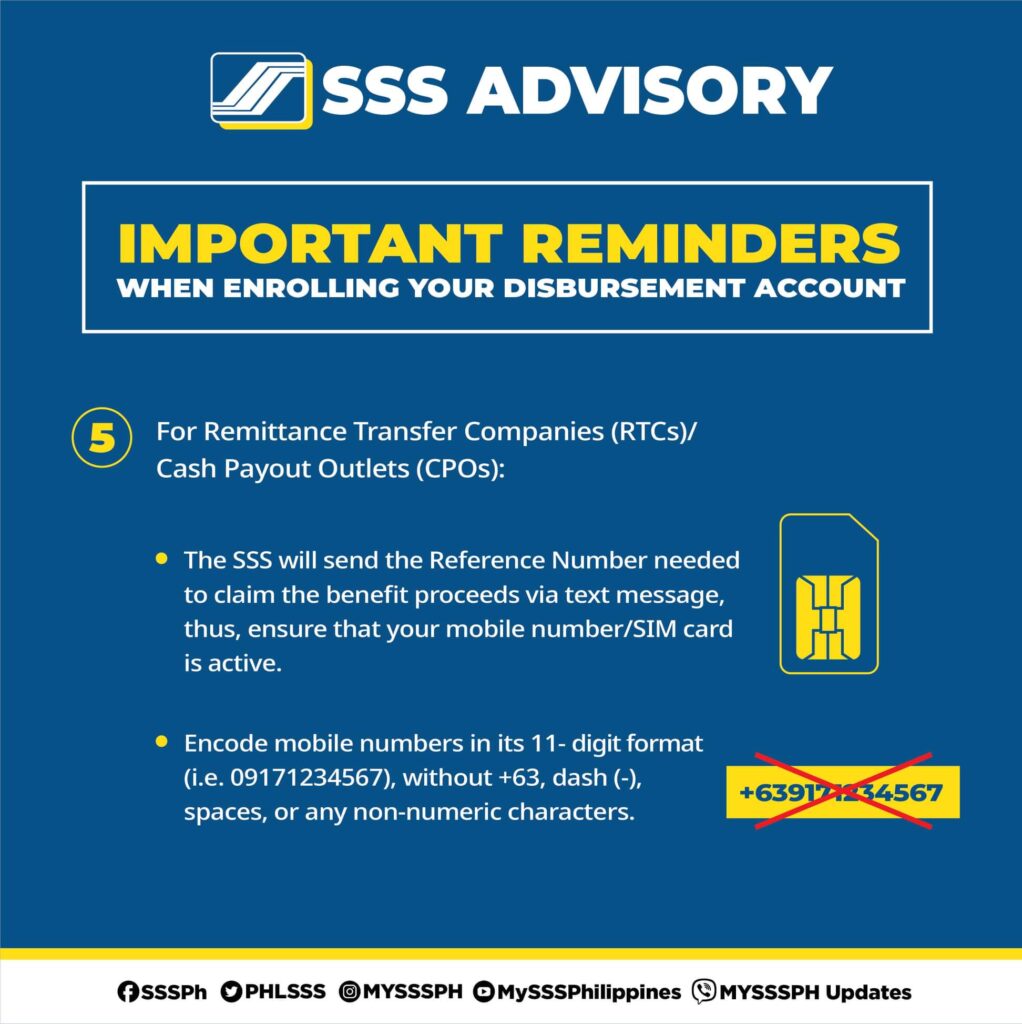 Note that SSS will send the reference number that you will need to claim the benefit or loan proceeds via text message (SMS), so make sure that your mobile number is correct and active.

Encode mobile numbers must be in their 11-digit format (e.g. 0917234567). Do away with the +63, or dash (-), or any non-numeric characters.

There is a maximum allowable amount limit when disbursement is made via RTC or CPO. It is Php100,000.00. 

RTC or CPOs like MLhuillier will charge a transaction fee, which will vary depending on its current prevailing rates.
When using e-wallets, like Paymaya or Gcash,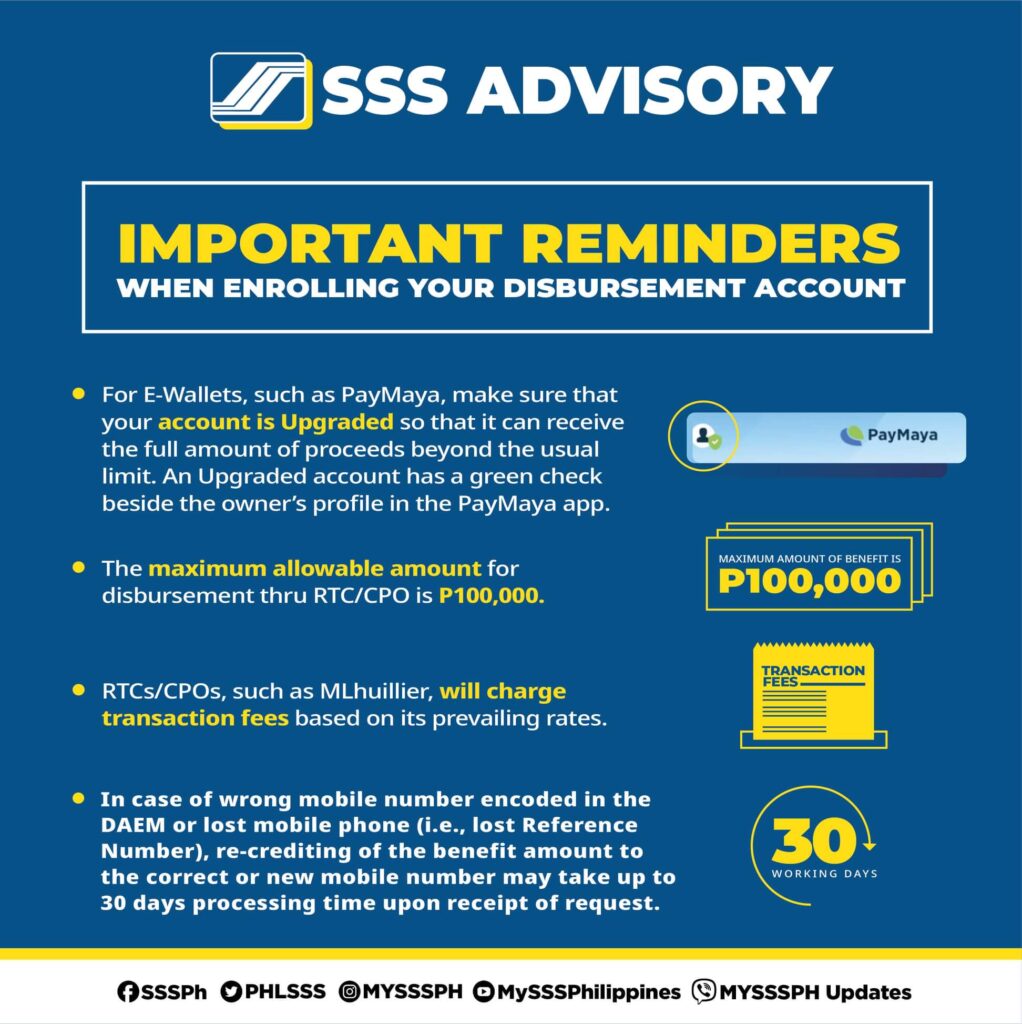 Make sure that your account is upgraded or verified so that it can receive the full amount of proceeds beyond the usual limit. An Upgraded Paymaya account will have a green checkmark, and a verified GCash account will have a Fully Verified note next to the owner's profile in the e-wallet app.

If you encoded the wrong mobile number upon enrollment in the DAEM, or if you lose your registered mobile phone (i.e., Lost Reference Number), note that the re-crediting of the benefit or loan proceeds to the correct or new mobile number may take up to 30 days processing time upon receipt of correction or change data request.
Which PESONet-Participating Banks can be registered via DAEM?
If you are not sure if your bank account is an SSS Payment Partner, check the following list of PESONet Participating Banks eligible for SSS bank enrollment.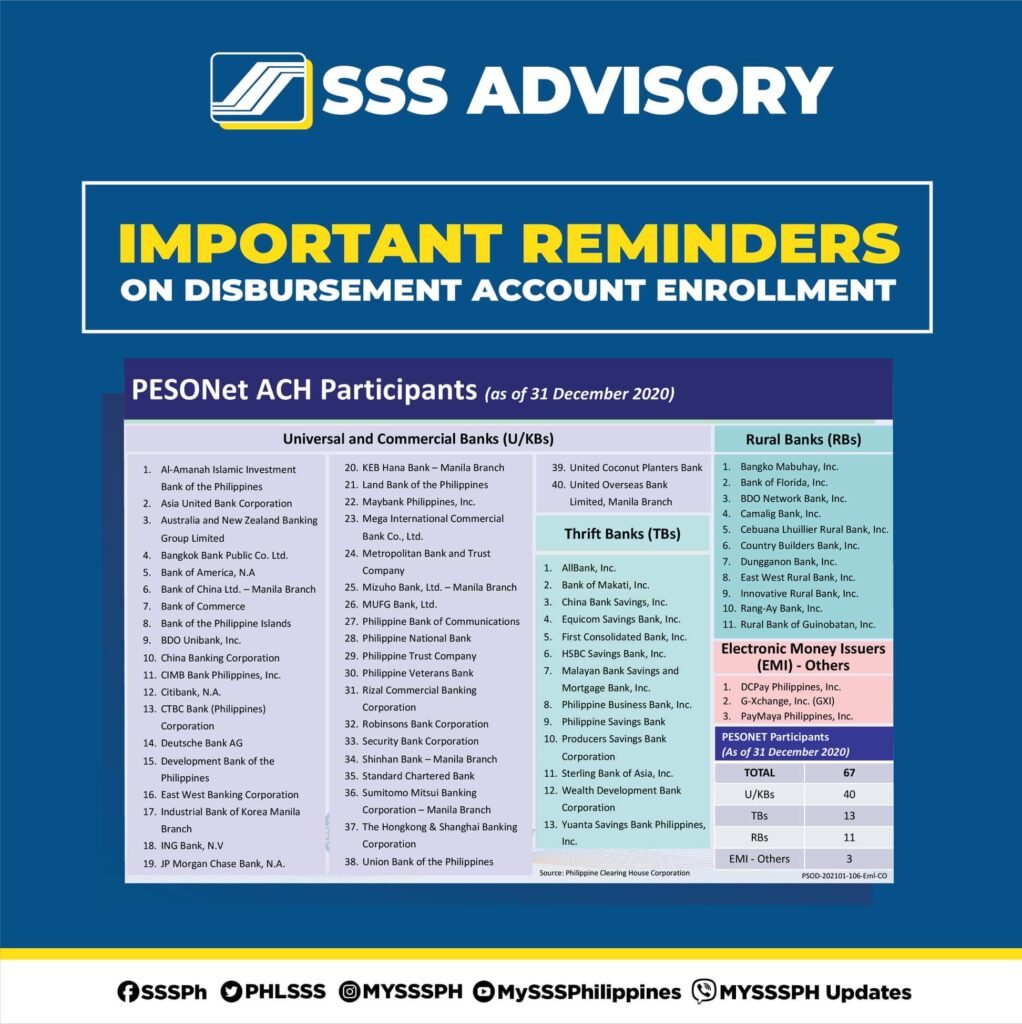 Accounts with the following banks can be enrolled via DAEM for the disbursement of your SSS benefits and loan proceeds:
Al-Amanah Islamic Bank

AllBank (A Thrift Bank), Inc.

Asia United Bank

Australia and New Zealand Banking Group

Bangko Mabuhay (A Rural Bank), Inc.

Bangkok Bank Public Co.

Bank of America

Bank of China Unlimited

Bank of Florida, Inc. (A Rural Bank)

Bank of Commerce

Bank of the Philippine Islands (BPI)

BDO Network Bank, Inc. (A Rural Bank)

BDO Unibank, Inc.

Camalig Bank, Inc. (A Rural Bank)

Cebuana Lhuillier Rural Bank, Inc.

China Bank Savings

China Banking Corporation

CIMB Bank Philippines

Citibank, N.A

Country Builders Bank, Inc.

CTBC Banking Corporation

DCPay Philippines

Deutsche Bank

Development Bank of the Philippines (DBP)

Dungganon Bank, Inc.

East West Rural Bank, Inc.

East-West Banking Corporation

Equicom Savings Bank

First Consolidated Bank

Industrial Bank of Korea

ING Bank, N.V

JP Morgan Chase Bank

KEB Hana Bank

Land Bank of the Philippines

Malayan Bank Savings and Mortgage Bank

Maybank Philippines, Inc.

Mega International Commercial Bank Co. Ltd.

Metropolitan Bank and Trust Company (Metrobank)

Mizuho Bank, Ltd.

MUFG Bank, Ltd.

Philippine Bank of Communications (PBCOM)

Philippine Business Bank

Philippine National Bank (PNB)

Philippine Savings Bank (PSBank)

Philippine Trust Company

Philippine Veterans Bank

Producers Savings Bank

Rang-ay Bank (A Rural Bank), Inc.

Rizal Commercial Banking Corporation (RCBC)

Robinsons Bank Corporation

Rural Bank of Guinobatan

Security Bank Corporation

Shinhan Bank

Standard Chartered Bank

Sterling Bank of Asia

Sumitomo Mitsui Banking Corporation

The Hongkong & Shanghai Banking Corporation (HSBC)

Union Bank of the Philippines

United Coconut Planters Bank (UCPB)

United Overseas Bank (Philippines)

Wealth Development Bank

Yuanta Savings Bank
Which benefit or loan works with each SSS disbursement channel?
Not all disbursement channels are created equal. That said, not all benefits or loan disbursements can go through the same channel. For your guidance, you may refer to this table to check which disbursement channel would work for your specific loan applications and benefit claims.
| | | | | | |
| --- | --- | --- | --- | --- | --- |
| Online Transaction | UMID ATM Card | UnionBank Quick Card | PESONet Banks | E-Wallets | RTC/CPO |
| Loans (Salary, Calamity) | Yes | Yes | Yes | No | No |
| Pension Loan | Yes | Yes | No | No | No |
| Unemployment Benefits | Yes | Yes | Yes | Yes | Yes |
| Retirement | Yes | Yes | Yes | Yes | Yes |
| Funeral | Yes | Yes | Yes | Yes | Yes |
| Employer Sickness/Maternity Reimbursement | No | No | Yes | No | No |
| SE/VM/OFW Sickness/Maternity Application | Yes | Yes | Yes | Yes | Yes |
If the information above does not contain the information you need or if you have other questions or comments, please feel free to reach out to SSS through the following contac information:
SSS Hotline: 1455
SSS Email: member_relations@sss.gov.ph