The launching of the Overseas Filipino Bank last week has certainly caused much rave and excitement to all Overseas Filipino Workers around the world. It naturally did not take long for people to start asking for details on how to setup their future OFB accounts; be it savings accounts, checking accounts, time deposit, etc…
The Department of Labor and Employment Secretary, Silvestre Bello III, discussed that the requirements and qualifications to open an OFB account will just be the same as any other bank.
Even if there are already a number of OFW bank accounts that Filipinos can open from Philippine private banking companies, this OF bank is a great opportunity for OFWs to have a digital-only and branchless bank they can call their own.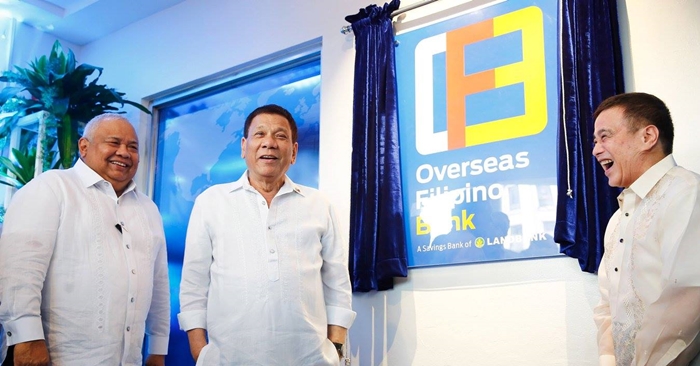 DOLE Secretary Answers Questions Setting Up an Account with Overseas Filipino Bank
Here is a quick list of items that are typically needed when opening a bank account:
• 2 valid government IDs (may be any of the ff: Passport, Voter's ID, Unified Multipurpose ID, Senior Citizen Card, PRC, Postal ID, Philhealth, Driver's License, etc…)
• Proof of Billing
• photo picture, 2x2s (some banks require extra 1x1s )
• Initial deposit amount
With the branch that just opened in Liwasang Bonifacio, OFWs should be able to just walk in and easily setup an account to their liking; although as of the moment, this option is only limited to the OFWs themselves that are currently in Philippines.
Secretary Bello assures everyone that plans are already in the works to extend these services to the OFWs' own family members as well as the OFWs who can not come home for the application.
First on the list of locations where these expansions will take place would be Bahrain, Abu Dhabi and Dubai. People in these areas can already look forward to processing their application next month, February.
Residents in other countries should not feel bad since the OFB website is now being developed and should be able to process online enrollments where ever they are in the world.
It is to be highlighted that once their services become more universal across the globe, OFWs will be able to take advantage of lower remittance fees when sending money to their loved ones. Although the true goal is to eventually make it free.
OFBank History
Since its establishment in 2017, the Overseas Filipino Bank (OFBank) has easily positioned itself as the go-to bank dedicated to overseas Filipino workers (OFWs) by offering products and services catering to the needs of Filipino migrant workers abroad as well as their families in the Philippines.
In its unique commitment to delivering world-class quality financial services, the OFBank, very recently, has now become a "digital-only, branchless" bank, allowing clients to open accounts and conduct banking transactions anytime and anywhere across the globe.
Overseas Filipino Bank Benefits – Why You Should Apply for an Overseas Filipino Bank Account
As the OFBank specifically caters to the banking and financial requirements of overseas Filipinos, Overseas Filipino Workers (OFWs), and their beneficiaries, the state-run bank is committed to providing reliable and secure financial products and services to meet its target market's requirements, including the delivery of quality, secure, and efficient foreign remittance services, among others.
As mentioned, the OFBank was designed and established with the migrant Filipino community in mind. The financial institution aims to solve the common problems and issues encountered by this population such as difficulty opening a bank account abroad; expensive remittance charges and investment scams; and inadequate access to banking and investment tools particularly suited to the needs of OFWs and their beneficiaries.
Products and Services
At present, the OFBank offers 15 banking products and services, including:
peso ATM savings,
time deposits,
checking accounts,
investment products (e.g., Unit Investment Trust Fund),
loan products,
payment services, and
remittance services.
On the other hand, the investment product offered by OFBank enables Overseas Filipinos to invest in the preferred shares of OFBank, and thereby allowing them to become co-owners or the bank.
As for its payment services, the OFbank enables OFWs to pay from abroad their beneficiaries' telephone and water bills, business and housing loans, OWWA, PhilHealth, and SSS dues, insurance premiums, credit cards, and tuition fees, among others.
How to Apply for an Overseas Filipino Bank Account
With the advent of an "all-digital, branchless" OFBank, Filipinos based overseas will no longer have to locate Filipino banks abroad for their banking and financial needs. The OFBank offers these hassle-free and straightforward steps:
To open an OFBank account, download the OFBank Mobile Banking App via Google Play or App Store and follow the steps provided for account opening:
Enter your credential (user ID and password) on the login screen.
Click "Continue" on the welcome page to proceed.
Choose the appropriate description that applies to you (OFW, Overseas Filipino, or beneficiary), then click "Proceed" on the reminders page.
Click "Confirm" to indicate that you have read and agreed to the terms presented in the Terms and Conditions Agreement.
Fill out the required information in the Profile Details section.
Input the one-time PIN (OTP), and click "Submit" to verify the mobile number linked to your account. Follow the same procedure to authenticate your e-mail address.
Create a user profile and password.
Proceed to the selection of Security Questions and Answers, and click "Next" to continue.
Input your personal, financial, and account purposes information.
Upload your ID and take a selfie.
Review all the information provided and click "Confirm".
Wait for a confirmation e-mail to verify if you have successfully created an OFBank account.
Overseas Filipino Bank Requirements
The general requirements needed to open an Overseas Filipino Bank Savings Account/ Dollar Account are the following:
A completely filled out application form (available via https://ofbank.com.ph/)
2 Valid Government Issued IDs (original and photocopy)
One these IDs should be your OFW ID and the other could be ANY of the following:
passport,
driver's license,
voter's ID,
OWWA ID,
SSS ID,
postal ID,
PRC ID,
NBI clearance,
Barangay Certification, or
other government-issued valid IDs.
Overseas Filipino Bank Location
As the OFBank has established itself as a digital-only, branchless bank, it does not have a physical branch. All of its features such as account opening or fund transfers can be accessed via the OFBank Mobile Banking App and the OFBank official website (https://www.ofbank.com.ph/) for the safe and fast delivery of transactions from anywhere in the world.
However, should you wish to process transactions in person, LANDBANK branches may be able to accommodate the following types of transactions:
Claiming of ATM/Debit Card
Replacement of ATM/Debit Card
Deposit of Cheques and Cash (for areas without LBP Cash Deposit Machines)
Overseas Filipino Bank Loan
One of the products and services the OFBank offers to its members is its loan packages. And while the website does not currently support this transaction, the OFBank, in its establishment back in 2017, has offered non-collateral loans of up to Php 350,000. Higher packages are also available but these may be subjected to collaterals. The interest rate for these packages is at 6% annually.
Here are some of the general requirements for the application of loans via the OFBank:
Completely filled-out application form
Certificate of Employment (COE) – this has to be authenticated by the Philippine Consulate
Crew Contact and Exit Pass (Must bre authenticated by the POEA)
Your payslips covering the last three months before applying for a loan.
One (1) 2×2″ picture
At least two (2) valid government IDs such as:
OFW ID or iDole ID,
OWWA ID,
passport,
driver's license,
SSS ID,
PRC ID and
other government-issued IDs
The government-run OFBank, as mandated by President Rodrigo Duterte, aims to ease the process and charges placed on OFW remittances while creating OFW-specific products that promote investment as well as ease of transactions for bills or retail payment wherever you may be in the world.
As the OFBank online platform is still being developed, OFWs only have the option to use the bank's mobile app services to create an account, facilitate transactions, place investments, or take out a loan from the bank.
And while some of the features and services of the OFBank are still in development, OFWs may also look into other Filipino banks with overseas presence such as BPI, BDO, Landbank, and Metrobank.